2020 Jefferson Gala Honors Two Difference-Makers with New Student Award
Michelle Ho, Sidney Kimmel Medical College class of 2021
Two Jefferson students will be celebrated at the 18th Jefferson Gala with the Algernon Brashear Jackson Student Award.
Michelle Ho, a member of the class of 2021 at Sidney Kimmel Medical College, and Allyson Naiken, part of the class of 2021 at the Jefferson College of Nursing, are student standouts for their resourcefulness, drive, and care for others.
Ho was a Health Design Research Fellow who has pioneered and published a number of clinical 3D printing works. Her efforts were critical to Jefferson's COVID swab project, which decreased reliance on third-party swabs. She served as representative for the Association of American Medical Colleges' Organization of Student Representatives and was part of the prestigious Student Leadership Forum.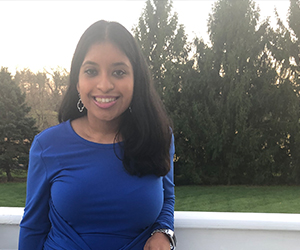 Allyson Naiken, Jefferson College of Nursing class of 2021
Naiken worked as a volunteer doing FIT testing of N95 and duck-bill masks for new students and administered flu shots during the Flu Fest inoculation program. She has been an admissions ambassador and led campus tours and was part of a nursing-student panel that answered questions from new students. Naiken has a special passion for working with children and hopes to be a nurse in a pediatric unit.
The Algernon Brashear Jackson Award recognizes Jefferson students for their initiative, creativity, and commitment to changing society. It will be awarded annually at the Jefferson Gala.