Make Them Proud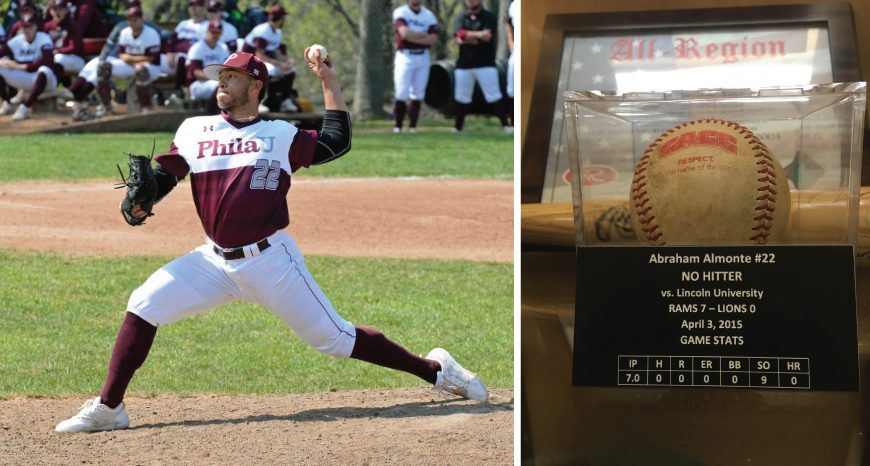 Abe Almonte, BS'16, watched a lot of baseball on television when he was a kid, but he didn't play. He enjoyed trying to strike out his dad when they played backyard wiffle ball, but it wasn't until his third-grade teacher handed out Little League sign-up sheets that he brought one home and said to his parents, "Hey! We always watch baseball. Can I play?"
As a youngster and in high school, Almonte wasn't a standout, although he was good enough to land baseball scholarships to help pay for college. "I wasn't the best player," he says. "I just worked hard every single day. I used not being the best as motivation to become the best—the best version of myself."
That single-minded work ethic comes from his parents, who emigrated from the Dominican Republic, his dad at age 3 and his mom at 18. Every morning they woke at 5 and commuted to factory jobs. The family watched baseball together whenever possible because in his parents' homeland, he observes, "baseball is like a religion."
By the time he graduated from Jefferson, MLB scouts were filming him pitching for the Rams, aiming radar guns at his fastball, and handing him business cards embossed with logos from big league teams like the Yankees, the Red Sox, and the Phillies.
Almonte is the first in his family to go to college, which was priority number one for mom and dad. He earned an undergraduate degree in accounting and currently is working on his MBA at Jefferson while coaching Rams pitchers and doing off-season training for playing pro ball in an independent baseball league. 
My parents are a huge reason why I'm the way I am. I'm in college and doing things they wish they could do, if they had the opportunity ... I just want to make them proud—every time they see me.            
"My parents are a huge reason why I'm the way I am," he says. "I'm in college and doing things they wish they could do, if they had the opportunity. So I'm going to run with it. I just want to make them proud—every time they see me."
His parents drove from Connecticut often to see him on the ball field when he pitched for the Rams. In his first season, Almonte was one of the team's winningest pitchers. He turned in an even stronger performance his second year, throwing the Rams' first no-hitter since 1999. But near the end of the season, a nagging elbow injury gave way to a torn UCL, which benched him for the following year. "I thought baseball was over for me," he says, "but I definitely didn't want it to be over."
He immediately underwent surgery at Jefferson Hospital to repair the injury and went home for a summer of PT, but even more importantly, for the emotional support of family. "I told my parents, 'If I'm going to come back, I'm going to come back stronger.'" It was the first time he uttered the words, if only to himself, "I want to play professionally."
Although Almonte couldn't pitch the following season, he was with the team at every practice and every game. Head coach Pat Horvath noticed that something had shifted. "Before his injury, Abe was one of those kids who stood above everybody else for his work ethic," he says. "After the injury, he kicked it into a higher gear. You could just tell he was a different person. He wanted to get drafted. He wanted to be the best."
With his arm healed, Almonte returned to the mound the summer before his final season, pitching in the prestigious Valley League. In the fall, he attended prospect camps where MLB scouts surveyed the talent. "I ended up throwing 96 miles an hour," he recalls, "the hardest I've ever thrown."
When the season started, the scouts where there too, recording his pregame stretches, measuring the velocity of his pitches, assessing his poise on the mound, even texting him during classes. That year, Almonte was named to the All-Central Atlantic Collegiate Conference First Team and led the conference with 71 strikeouts. He was invited by several MLB teams to their pre-draft workouts, where the scouts take a closer look at player prospects.
Almonte returned to his family to monitor 40 rounds of the MLB three-day draft. He received phone calls from the Yankees and the Cardinals asking whether he'd sign if they drafted him, but after two days no team had picked him up. When day three started, his parents had gone to work, and only his sister was home.
"I walked away from the TV and went to the kitchen to wash dishes. I was thinking, 'This isn't going to happen,'" he says. "As soon as I started to wash my first plate, during round 26, I heard my name." The Arizona Diamondbacks had picked him up.
Someone from the organization called soon after and said, "Congratulations. Can you get on a flight to Scottsdale tomorrow?"
Almonte pitched in the Diamondbacks' minor-league system for two seasons, and was let go in March of this year. Over the summer he pitched for a pro team, the Evansville Otters in the Frontier League, and signed a contract to play for them again next summer.
"A lot of people get drafted, and then they get cut right away," says Horvath. "Just to be able to stay with it and pitch in the pros for three years is great. I think he has the makeup and the determination to be picked up by a major league team. He just has to be in the right situation and somebody has to take a chance on him."
For now, Almonte is back on campus taking classes, and training and coaching with the Rams. "That's put me mentally back where I was in my senior year," he says. "I'm finishing my MBA, which I never thought I would do. I know my parents are extremely proud—probably more proud of me getting my MBA than playing professional baseball.
"I had a lot of ups and downs, so I told myself, 'Hey! If this is what God wants, if this is his plan for me to be let go by one team and play for a team in Indiana, if this is the road I need to travel, I'm going to do it. I'm going to continue to work hard. I don't want to say it's going to happen, but I'm extremely confident that if I continue to do what I'm doing, things should turn out well."