Charity, Compassion, Culture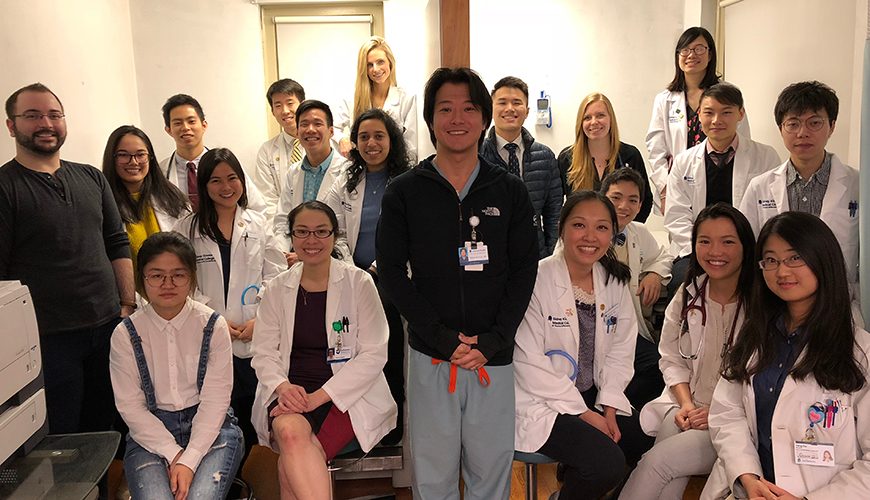 Free Clinic Provides Healthcare for Chinatown Community
Biblical cartoons, children's drawings, and the subtle hint of incense in the air is a far cry from the stainless, sterile halls of your typical hospital. But nonetheless, every Wednesday at 5 p.m. the Holy Redeemer Chinese Catholic Church, set in the heart of Philadelphia's Chinatown neighborhood, transforms into Jefferson's Chinatown Clinic. A chorus of different languages echo through the halls of this Sunday school–turned–emergency room as Wayne Bond Lau, MD, rushes from room to room helping the underserved citizens of Chinatown.
A Jeffersonian through and through, Lau graduated from Jefferson Medical College, now Sidney Kimmel Medical College, in 2004. He went on to complete his residency here, where he served as chief resident. He continues to works at Jefferson today as both a physician and professor of emergency medicine.
Lau initially began working with the clinic after his sister, an emergency medicine doctor at Drexel, suggested he volunteer there. Lau helped out at the clinic several times and recognized the need to help the residents of Chinatown. After finishing his residency in 2007, he has dedicated his time every Wednesday to supporting the clinic and its patients.
The Chinatown Clinic was founded in 1998 by Vincent Zarro, MD, out of Drexel University after he recognized the growing need for access to healthcare for undocumented individuals. With Zarro's retirement several years ago, Lau has taken over as director of the clinic.
"These people are trying to make their way in America, trying to make their dreams come true, but they have got no place to go to for help and they find it hard to trust anybody in the community," Lau says about his patients. "Here, we can really make a difference."
While the clinic has moved locations in its lifetime, it has called the Holy Redeemer Church its home for more than a decade. The church, under the leadership of Father John Daya, has provided space for the clinic rent-free, and it is thanks to this generosity that the clinic has been able to operate for so long.
"I'm just so happy that we're able to help people in the greatest need with their health issues," says Father Daya. "The whole team here is phenomenal and their dedication, commitment, and giving of their time, expertise, and talents for the sake of others is just remarkable."
Although resources and equipment are scarcer and the space is smaller, the clinic effectively operates as an emergency room. Lau and his team treat between 20 and 50 patients every Wednesday—except Christmas and New Year's Day—and have seen everything from hypertension and heart attacks to late-stage cancer.
Lau's parents— his mother is a retired baker and his father is a medical technologist—instilled in him the importance of helping others from a very young age. He's carried this ideology from childhood, through medical school and residency, into his career as an emergency medicine physician.
This spirit of giving is something that Lau strives to pass on to the volunteers that give their time and energy to the clinic week after week. Each volunteer is personally screened by Lau, and he admits that while extensive résumés and good grades are impressive, they aren't the determining factor in selecting a volunteer.  
"It's really crucial that I pick a volunteer that has got a good heart," Lau says.
He looks for a certain level of dedication to the clinic's mission and willingness to be there every week. Volunteers at the clinic wear many hats—physician, nurse, translator, patient navigator, and friend—to ensure that their patients feel safe and understand their situation.
One such volunteer is Dina Xie, a cardiothoracic surgeon from China now working as a Jefferson researcher. She came to America to start a career, but she's found something more in the Chinatown Clinic.
"I want to help people—that's the basic thought," Xie says. "I love my work, I love to help people, and being a doctor, this is what I can do for them."
One of the clinic's frequent patients initially came after discovering a massive tumor in her breast. She was apprehensive at first, but like so many other clinic patients, she didn't have any other access to healthcare. Lau connected her with oncologists at Jefferson and she is responding amazingly well to the chemotherapy.
"All the doctors here have mercy," the patient conveys through a translator. "They comfort me in a lot of ways. They talk to me and give me comfort in times when I'm scared—they reassure me. It's a place that makes me feel safe."
Since opening its doors more than 20 years ago, the Chinatown Clinic has existed without an operating budget. All of the physicians, students, and translators freely dedicate their time and energy because they believe so deeply in the clinic's mission, and all supplies and equipment are either donated or bought using grant funding. The Chinatown Clinic is fully dependent on the kindness and generosity of others, and will continue to need the philanthropic support of the community and benefactors to provide treatment to those who need it most.
"Philanthropy gives people with passion a way to continue that passion for the bettering of human kind," Lau says, envisioning a brighter future.