Dr. Andrew Chapman Named Director of the Sidney Kimmel Cancer Center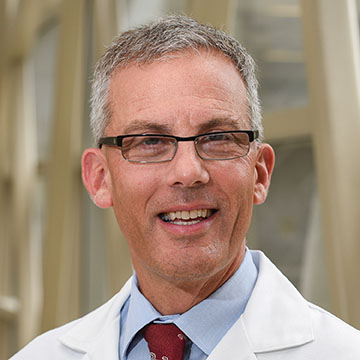 Andrew Chapman, DO, FACP, has been named director of the Sidney Kimmel Cancer Center – Jefferson Health (SKCC), and EVP, Oncology Services. Dr. Chapman served as the Center's interim director for the past year and was instrumental in continuing to advance the important work of the Sidney Kimmel Cancer Center, one of only 71 NCI-designated centers in the US.
As SKCC's director, Dr. Chapman guides the Center as a nationally recognized leader and cancer care destination for superior personalized treatment and exceptional clinical outcomes. He drives the continued growth of the spectrum of cancer research across campus, encompassing basic, clinical and population science components. His role features the expansion of cancer research depth in select programmatic areas, innovation in the translation of new bench discoveries, and the application of new approaches and technologies that will contribute to cancer prevention, diagnosis and treatment strategies.
Dr. Chapman is also responsible for ensuring that Jefferson's world-class cancer care is consistently delivered to all patients throughout our large, complex network, which now includes new facility additions at our Abington, Torresdale, Cherry Hill and Washington Township locations.
Dr. Chapman received his bachelor's degree from the University of Pennsylvania and his D.O. from the University of Health Sciences College of Osteopathic Medicine in Kansas City, Missouri. He completed his residency at Presbyterian-University of Pennsylvania Medical Center and his fellowship in medical oncology/hematology at Fox Chase Cancer Center.
After a successful career in private practice, Dr. Chapman joined Jefferson to serve as the division director of regional cancer care in the Department of Medical Oncology. At Jefferson, he formed and serves as the founding director of the Senior Adult Oncology program and developed the NCQA-recognized Patient-Centered Specialty Practice within the Department of Medical Oncology. Dr. Chapman has spearheaded the integration of the cancer service line for Jefferson Health and currently leads the geriatric oncology program in the Department of Medical Oncology where he serves as its vice chair of operations.
Throughout his career, Dr. Chapman has been recognized with numerous awards and honors, including the 2020 ASCO B.J. Kennedy Award for Scientific Excellence in Geriatric Oncology, Fellowship in the American College of Physicians, and the 2018 Sidney Kimmel Medical College Outstanding Clinician Award – Subspecialty Medicine. The American Society of Clinical Oncology has also recognized him for his achievements in various areas of cancer research, with a specialty in geriatric oncology.
Dr. Chapman began his new position on March 15, and continues his work to expand SKCC's research mission and further develop the population science program in an effort to achieve NCI-designation as a Comprehensive Cancer Center.
"It is impossible to ignore the significant contributions that Dr. Chapman made while serving as the Center's interim director," said Bruce Meyer, MD, MBA, President of Jefferson Health and Senior Executive Vice President of Thomas Jefferson University. "His breadth of experience and expertise, dedication to patient care and success in cancer research make him the ideal fit for this critical role with the Sidney Kimmel Cancer Center."
To learn how you can make a difference and support the Sidney Kimmel Cancer Center, or for more information, please contact Andrew Kitaeff at Andrew.Kitaeff@jefferson.edu or 617-838-3659.
Contact
Senior Director of Development, Sidney Kimmel Cancer Center, Office of Institutional Advancement