Return of the Hack
Jefferson Welcomes Innovators for 5th Annual Jefferson Health Hack
For three days, from November 1-3, the Dorrance H. Hamilton Building came alive with creative energy as innovators from Thomas Jefferson University and the greater Philadelphia region came together for the 5th Annual Jefferson Health Hack. Each year, this hackathon brings together medical students, physicians, designers, programmers, and many more to create an environment of spontaneous, organic inspiration. This year's Health Hack hosted 26 teams—consisting of more than 300 participants—and 30 mentors who lent their expertise to the eager hackers. 
"Hackathon really is an event that we put on every year to encourage folks to come together from different backgrounds," says Robert Pugliese, PharmD, BCPS, director of Innovation Design at Thomas Jefferson University. "Whether you're a student here at Jefferson, or you're a professional, or you're a patient, you can come together and work on improving issues in healthcare."
The Health Hack is divided into three tracks, or categories, that act as loose guides for hackers to frame their projects. The tracks are selected to reflect current issues in healthcare and are judged by a panel of experts who have volunteered their time. 
Health by Zip Code—Disparity Solutions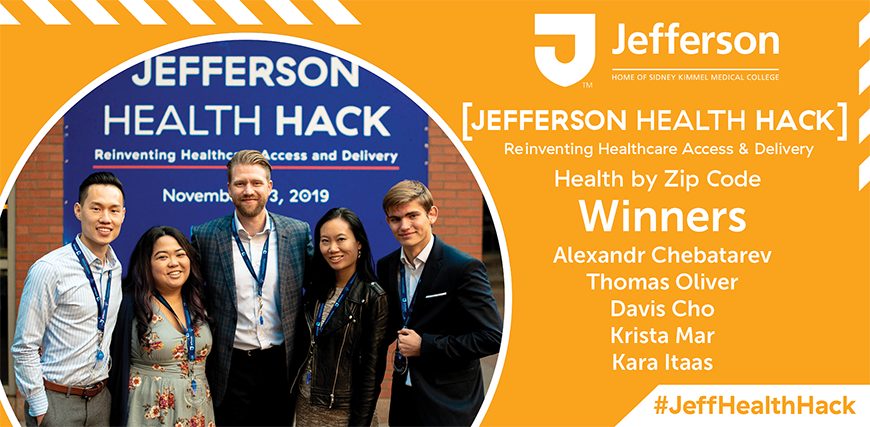 Despite only being separated by a few miles, a person living in Center City has a higher life expectancy than a person living in North Philadelphia. The "Health by Zip Code" track focused on transcending boundaries between neighborhoods, making healthcare more accessible to everyone and closing the gap in healthcare inequality.
This year's "Health by Zip Code" track was won by team OncMate. The team consisted of Alexander Chebatarev, a computer science student from Arcadia University; Thomas Oliver, DO, chief resident at Main Line Health; Davis Cho, a medical student at Philadelphia College of Osteopathic Medicine; Krista Mar, a data scientist at Jefferson; and Kara Itaas, BSN, RN, a graduate student in Jefferson's Master of Nursing Informatics program.
The concept behind OncMate is to create a chatbot that cancer patients can use via text message to manage symptoms and receive appropriate care when necessary. In underserved populations, emergency rooms are often heavily relied on as a means to receive care, which is neither timely nor cost effective. OncMate removes barriers such as transportation and medical literacy, and help patients navigate their healthcare systems. OncMate also possesses the potential for further telehealth capabilities—that could be easily implemented into programs such as JeffConnect—if a patient's risk was deemed high enough.
"Disparities do not only affect those directly involved," says Oliver. "They affect the entire community and health system. [Addressing these disparities] is essential for decreasing our overinflated spending on healthcare."
What Are You Wearing?—Health Driven Wearables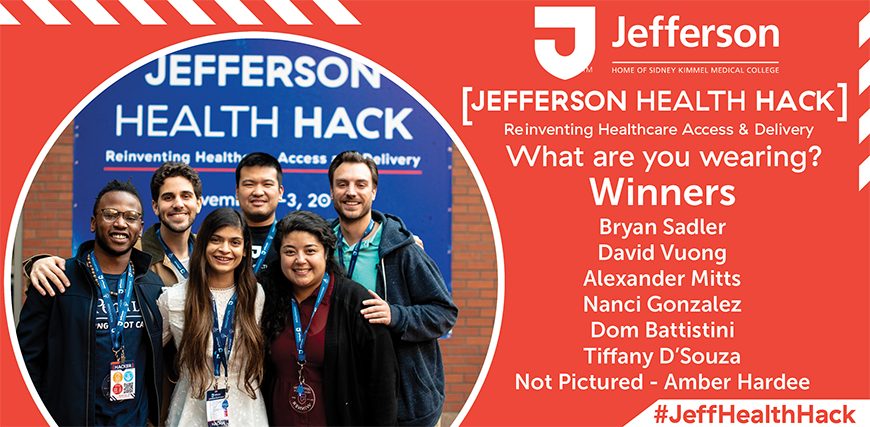 From Fitbits, smartwatches, and Google Glass to hearing aids and smart fabrics, wearable tech is becoming more and more prevalent in today's medical landscape. The hackathon track "What Are you Wearing?—Health Driven Wearables" inspired the hackers to give thought to how wearable tech can be used to break new ground in the future of healthcare.
This year's wearable tech track was won by the AuTherapy team. The team consisted of members from Jefferson's DICE group, including mobile app developer Bryan Sadler, design researcher Alexander Mitts, software engineer Dom Battistini, digital experience designer Nanci Gonzalez, clinical fellow Tiffany D'Souza, and data analyst David Vuong.
AuTherapy's roots lie within the practice of applied behavioral analysis (ABA) therapy, techniques used by autistic or neuro-differentiated patients to perform self-calming behaviors during times of stress. By measuring biometrics, such as heart rate and body temperature, this device could track a person's anxiety in real time and play back prerecorded messages from therapists or caretakers to help patients calm down. Typically, ABA therapy can require upward of 40 hours a week working in-person with a therapist. With AuTherapy, the device would monitor patient biometrics, intervene when necessary, and allow patients to regain their independence by utilizing ABA therapies as needed—without a therapist present.
Reimagining Death—Designing End of Life
Each year, Jefferson tries to include at least one track that pushes the envelope and encourages open conversation and innovative thinking about sometimes-controversial subjects. In 2018, the Health Hack included a track that focused on medical marijuana and hemp, an industry that has been met with opposition despite its medical benefits. This year, the hackathon included the track "Reimagining Death—Designing End of Life," which encouraged creative thinking in regards to end-of-life care and how death is treated in our culture.
"Everyone has to face death someday and we can all benefit from redesigning the lead-up," says Miranda Sill, SKMC '21, the track leader for "Reimagining Death."
The winning project for this track was the MemAR team, consisting of Peter Locharernkul, a freelance developer and creative technologist; designer John Kang; and Sonny Misa, an occupational therapy doctoral student at Jefferson.
The MemAR pitch centered around merging memory with augmented reality (AR). The concept combines geocaching—a recreational activity that involves finding hidden objects based off of GPS coordinates—and prerecorded audiovisual messages from deceased friends and family. Using a smartphone, people would be able to visit certain locations and replay a message from a loved one in real time using AR. While many teams chose to focus on improving quality of life near death, MemAR focused on the celebration of life and healthy mourning.
"Working with designers allowed me to step outside of the box," Misa said. "It allowed those wild creations to flourish, grounded in the restraints that my programming colleague set on the table. We were able to wed the humanitarian with the hard, polished mechanistic view to create a product with the end-user in mind."
The Jefferson Health Hack embodies the innovative mission at Jefferson to bring together people from a variety of backgrounds to effect real change and breed creative new ways of approach healthcare.
"We want everybody who works at Jefferson and everybody who interacts with Jefferson to experience innovation in their own way," Pugliese says. "What can we do tomorrow? What can we do in a year? What can we do in the next 10 years to not just improve healthcare as we understand it today, but to reimagine what healthcare is going to be in the future and how to get there as quickly as possible."