Jefferson Receives Hearst Foundation Grant for New Nursing Program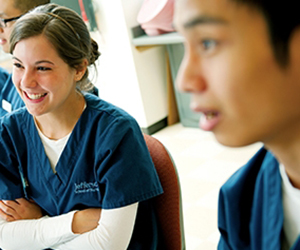 The William Randolph Hearst Foundation granted $150,000 to the Institute of Emerging Health Professions (IEHP) to support the launch of a new Certified Nurse Aide (CNA) program within the Stephen Korman Center for Community Engagement. 
Philadelphia is known as a city of "eds and meds," home to world-class universities and healthcare institutions, yet we have made little progress in closing economic disparity gaps. Our 25.9% poverty rate is the highest among the 10 largest U.S. cities. The CNA program is part of IEHP's larger commitment to creating rigorous healthcare workforce development programs to enable local talent to compete in emerging career fields. Programs in the Korman Center are specifically designed provide hard-to-employ populations with the training needed to obtain stable jobs to support themselves and their families.
The CNA program has the dual benefit of helping to employ historically disadvantaged people, while also developing a workforce for a rapidly-growing sector of the healthcare industry. Students will learn skills including: the measurement of blood pressure, temperature, pulse rate, and respirations, as well as correct techniques for safely assisting patients with bathing, hygiene, and exercise. The program will mix in-class training, clinical rotations, and a strong employment component including interview skills and resume workshops.
The gift from the Hearst Foundations, which is committed to addressing evolving healthcare needs through programs designed to enhance skills and grow the workforce, will help to employ dedicated faculty and develop a curriculum—and ultimately enable students to become fully-certified and employable nurse aides.