Howard Weitz, MD, Inducted into the Royal College of Physicians of London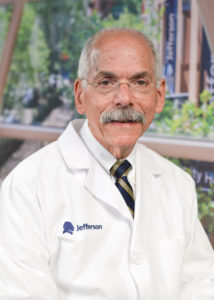 Howard Weitz, MD, MACP, FACC, FRCP, is a Jeffersonian through and through. Dr. Weitz graduated from Jefferson Medical College—now Sidney Kimmel Medical College—in 1978, stayed at Jefferson for his residency in internal medicine, served as chief resident in medicine, and remained here for his fellowship in cardiovascular diseases.
This past September, Dr. Weitz, who is the Bernard L. Segal Professor of Clinical Cardiology and a senior associate dean at Sidney Kimmel Medical College, achieved another milestone when he was elected as a fellow of the Royal College of Physicians (RCP) of London.
The RCP was established in 1518 by King Henry VIII to raise the standard of healthcare. The RCP is the oldest medical college in England and plays a major role in public health, medical education, and research in the United Kingdom and throughout the world.
The American College of Physicians (ACP) draws on influences from the RCP after its founder, Dr. Heinrich Stern, attended a conference in England in 1913. That conference inspired him to create a similar organization stateside; two years later the ACP was established, and in the last 100 years has grown into a diverse community of almost 160,000 internal medicine specialists. Since its inception, the ACP has served an educational and advocacy role for U.S. internal medicine physicians and their patients.
There are several levels of membership in the ACP: medical student membership, associate, member, fellow, honorary fellow, and master. To become a fellow, a member must be recognized by their peers for excellence in internal medicine; fellows are elevated to masters based on "integrity, positions of honor, eminence in practice or medical research, and other achievements in science and the art of medicine" in addition to their involvement in the ACP.
In 2013, Drs. Weitz and Geno Merli, MD '75, co-director of the Jefferson Vascular Center, were elevated to the title of master within the ACP. Gregory Kane, MD '87, the Jane and Leonard Korman Professor of Pulmonary Medicine, and Edith Mitchell, MD, director of the Center to Eliminate Cancer Disparities, were both elevated to master in 2019. Thomas Nasca, MD '75, former Jefferson Medical College dean and current president of the Accreditation Council for Graduate Medical Education, is also counted among living Jeffersonian masters in the ACP.
In addition to meeting the above criteria, Dr. Weitz was specifically elected to the RCP based on his research on the identification and reduction of risk for patients with heart disease that undergo noncardiac surgery, as well as his work in development of the Master Clinician Program at Jefferson.
Of the nearly 160,000 members of the ACP, less than 1 percent have been designated as masters. Since 2016 the RCP has elected approximately 5 percent of ACP masters as fellows of the RCP.
As a master himself, Dr. Weitz knows how important it is to pair medical practice with medical education, and is dedicated to training the next generation of master clinicians.
"Jefferson lives the life of the patient-focused, patient-oriented medical school and academic healthcare center," Weitz says. "We put so much effort into focusing on the knowledge, the teaching of the students in terms of science and a humanistic approach to the patient."
As an American master and a British fellow, Dr. Weitz's contributions to the field of cardiology and medicine, and his commitment to training the next generation of master-class physicians, can't be overstated. Dr. Weitz's recognition by the Royal College of Physicians demonstrates his—and Jefferson's—dedication to becoming a force for good and reimagining the future of healthcare for patients around the world.