Alumnus, Employee, Coach—and a Kid at Heart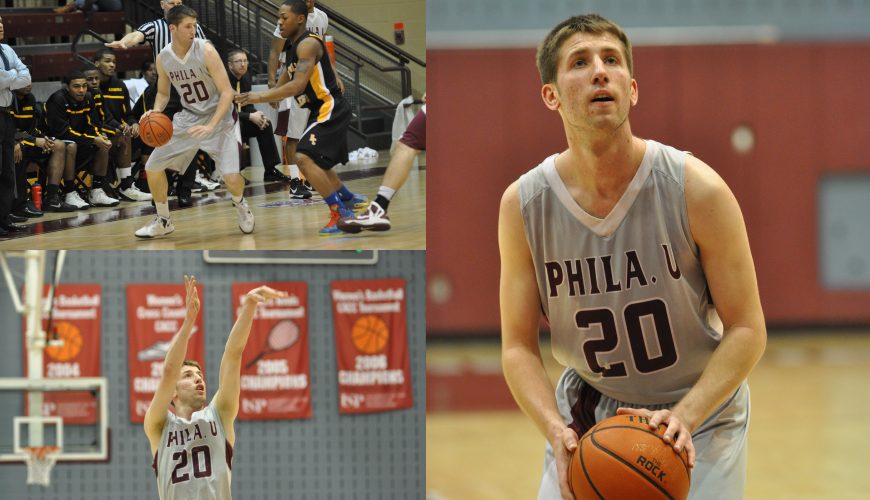 For his day job, James Connolly,'13, MBA '14, is budget analyst for Jefferson's East Falls campus. He deals with payroll, monitors spending, facilitates capital purchases, and makes sure all the number columns add up to a balanced budget.
At night and on weekends, he's the assistant women's basketball coach for the Jefferson Rams. He scouts teams and players, does recruitment, leads drills and workouts, and sweeps X's and O's across a whiteboard during pregame strategy sessions. At practices, Connolly often serves as a living X, imitating the moves and style of an opponent so a Rams player can learn to defend against her in an upcoming game.
"If you can shut down Jimmy Connolly," observes head coach Tom Shirley, "you can shut down anybody."
Shirley started seeing Connolly's name in the local paper when he played basketball for Souderton Area High School, and he remembers him as a Rams star. "He's one of the top-10 players I've seen at this institution," says Shirley, who's been coaching the Rams women's basketball team for 30 years. "Once Jimmy became a regular starter midway through his freshman year, the team didn't lose a single game 'til the championship tournaments."
Connolly, a 1,547-point career scorer for the Rams, recalls that experience as one of the highlights of his time as a player.
"We lost in the conference championship that year, but we had a good enough season to get the number four seed in the regional tournament for the NCAA," he says. "That's where we really caught fire. We ended up winning the first round, and then we won the second round and got to the regional championship, which is like the Sweet 16, but we lost to a very good Bentley University team—one of the best in the country. Being able to come in as a freshman and play a Sweet 16 tournament game was an incredible experience. I still am best friends with a lot of those players, and we still talk about that season all the time."
Connolly is part of a basketball family. His three brothers and one sister were all standouts at Souderton. Three of them played in college, as did their father, whose performance in a Philadelphia Catholic League championship game is the stuff of Philly basketball legend.
"Jim is a terrific young man who comes by it naturally," says men's coach Herb Magee. "He was a great shooter, who was all-conference a couple years, and a guy we depended on to score, especially late in the game from the foul line." In senior year, Connolly shot 85 percent from the free-throw line, led the Rams in making three-pointers, and was second on the team in scoring and steals. "As a coach you look for guys like Jim Connolly," Magee adds.
Connolly, who's going into his fifth season as assistant coach, is putting to use a lot of what he learned from Magee's coaching. "I've had four years of experience with coach Shirley now and four years' experience with coach Magee," he says. "They're the winningest men's and women's duo in college basketball, so I can say I'm learning from the best in the business."
The women's basketball team is coming off a 29-3 season, during which they captured the CACC championship. Three of last year's starters were seniors, one the conference MVP, and another is out for the season with a torn ACL.
"Anytime we have that amount of turnover in the starting lineup, we expect the newcomers to step in," Connolly says. "We have a lot of good kids returning who helped us as bench players last year. We expect a few growing pains early in the season, but we think there's more than enough talent to have a successful year and compete for the conference championship."
Connolly has been out of college for only five years, but he's already calling the undergrads "kids." Perhaps it's because they get to play. They get to run and jump and be excited about winning and losing.
There's something a little too orderly about the spreadsheets and number columns of his day job. Connolly still needs to be right in the middle of the X's and O's that swarm, not just around a whiteboard, but back and forth across the court, even if it's from the assistant coach's seat on the bench.
"I love to compete," Connolly says. "I like the excitement of a close game. I've never lost the desire to win. I still have that drive in me. That's why I keep coming back. That's why I enjoy being around the kids."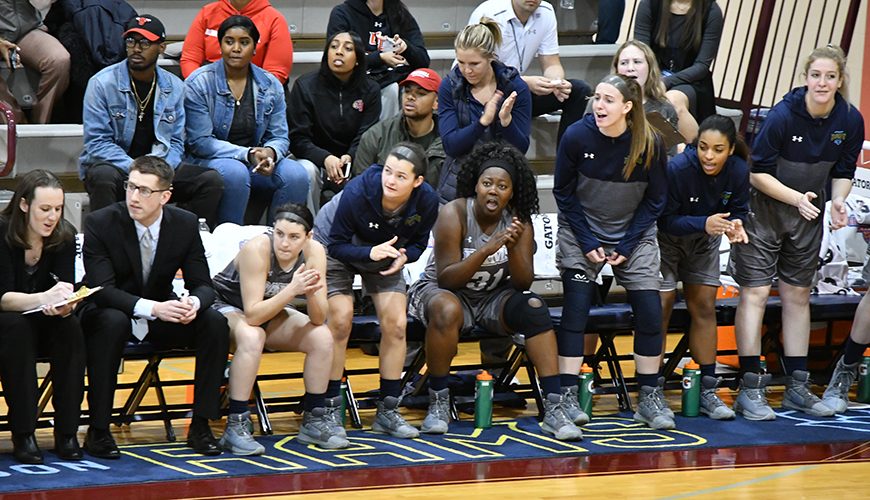 James Connolly, second from left, coaching Jefferson Women's Basketball