Remembering Jane Korman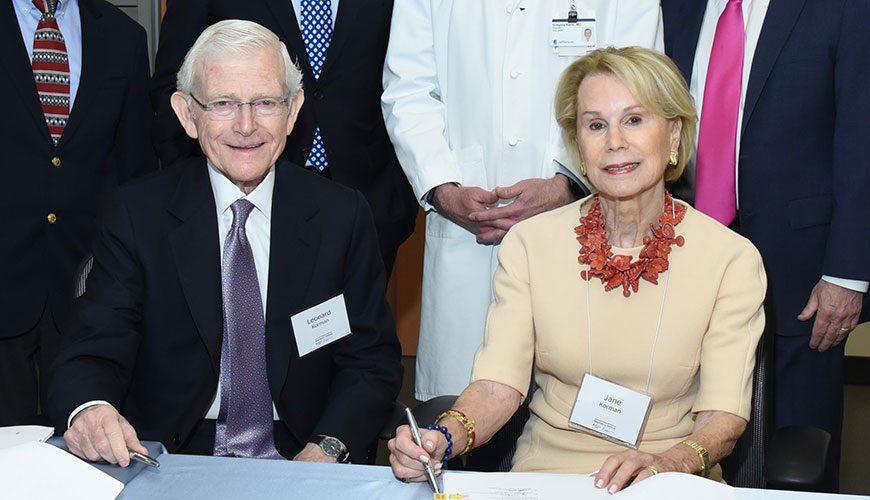 It is with great sadness that we report the passing of our dear friend, passionate advocate, and generous benefactor, Jane Korman.
Jane was widely admired and acclaimed in the Philadelphia arts and philanthropic communities. Together with her husband, Leonard, the Kormans made many extraordinary contributions to Jefferson—in giving and in governance—which have changed this institution and touched multitudes whose lives have been made better through clinical care, education, and discovery.
The Kormans have been among Jefferson's most generous philanthropic partners and have transformed respiratory care at Thomas Jefferson University and Jefferson Health. In 2012, they provided funding to launch a center for lung diseases, and in 2017 they made the lead gift that enabled Jefferson and National Jewish Health to create the Jane and Leonard Korman Respiratory Institute. The partnership has powered Jefferson to better understand and treat lung disease through innovative research and expanded clinical programs.
In addition to funding high-quality clinical care, Jane and Leonard have generously supported Jefferson's educational and research missions. Their gifts established the Jane and Leonard Korman Professorship in Pulmonary Medicine and the Robley Dunglison Professorship in Pulmonary Research. They also gave generously in support of the Dorrance H. Hamilton Building campaign. In 2013, Jane and Leonard were honored with the Award of Merit at the 11th Annual Jefferson Gala.
At the dedication ceremony for the Jane and Leonard Korman Respiratory Institute, Jane spoke about her fight with lung cancer. "After my surgery," she said, "I would describe my life as if someone had cleaned my glasses: The world seemed so bright to me."
With Jane Korman's passing, the world will seem less bright to the Jefferson family.