Remembering Leonard Korman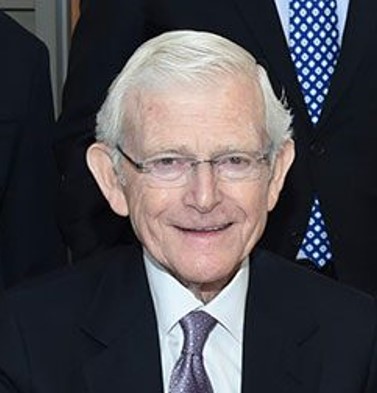 It is with heavy hearts that we share the news of the passing of our dear friend, dedicated trustee and generous benefactor Leonard Korman.
Leonard, with his late wife, Jane, left an indelible mark on Jefferson and the Philadelphia region as a whole. His countless extraordinary contributions to Jefferson—in giving and in governance—have enhanced our institution and touched multitudes by his generosity, whose lives have been improved through clinical care, education and discovery.
The Korman family has been among Jefferson's most generous philanthropic partners, making major investments that transformed respiratory care. In 2012, they provided funding to launch a center for lung diseases, and in 2017, their philanthropy catalyzed Jefferson and National Jewish Health to collaborate in creating the Jane and Leonard Korman Respiratory Institute.
In addition to funding high-quality clinical care, the couple established the Jane and Leonard Korman Professorship in Pulmonary Medicine, held by Gregory Kane, MD, and the Robley Dunglison Professorship in Pulmonary Research, held by Raymond Penn, PhD. They conceived and funded the beautiful Healing Garden at Jefferson Einstein Montgomery Hospital, a space that provides comfort and serenity to patients and families. In 2013, Jane and Leonard were honored with the Award of Merit, Jefferson's highest civic honor.
Leonard served with distinction as a trustee of: Thomas Jefferson University from 1998 to 2014; the TJUH System and Thomas Jefferson University Hospitals, Inc. Board of Trustees from 2014 until his passing; and Einstein for four decades from 1982 to 2011 and thereafter as an emeritus trustee, including a transformational tenure as chair of the Real Estate Committee and the Project Oversight Committee to establish Jefferson Einstein Montgomery Hospital. In the Kormans' Gala tribute video, past CEO of Einstein Barry Freedman described Leonard as "a mix between E.F. Hutton and Midas. When Leonard talks, people listen. And when he touches something, it turns to gold."
The Korman family requests that memorial gifts be designated to the Jane and Leonard Korman Healing Garden at Jefferson Einstein Montgomery Hospital. Memorial gifts can be made online at Jefferson.edu/GiveKorman or mailed to:
Jefferson
Office of Institutional Advancement
Department 825434
P.O. Box 71331
Philadelphia, PA 19176-1331
 
As we mourn the loss of a truly elegant and exceptional individual, we also celebrate the immense impact he has had on our community. We extend our deepest condolences to Leonard's family and loved ones during this difficult time.