Partners in Design—and Life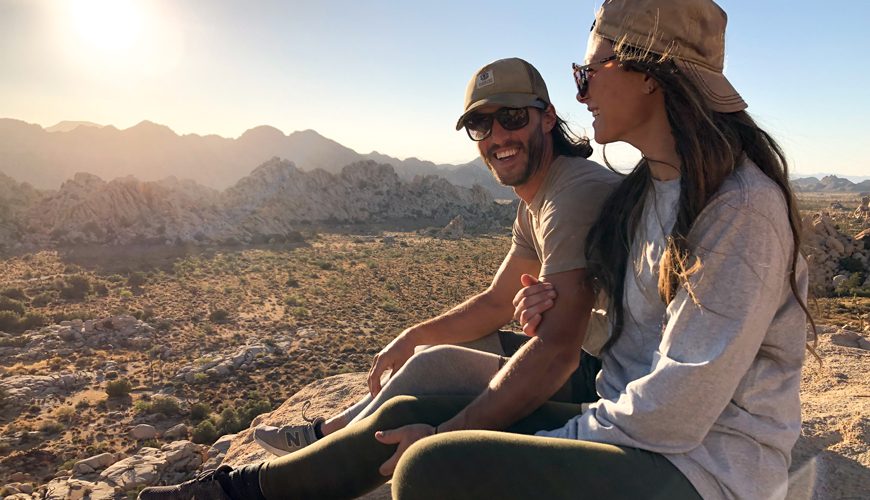 Alumni Build a Relationship, Business
Vincent Murphy and Emily Manera met in 2008 as freshmen at Philadelphia University and started their relationship the only way the architectural design students knew how—first, by laying a strong foundation of friendship. Throughout the years, they built on that friendship brick by brick—studying together, bouncing ideas off of each other, and hanging out together on campus. Two years after graduating—and after both had moved to California—their friendship was remodeled into love. They put the capstone on their story in September 2018 when they said: "I do."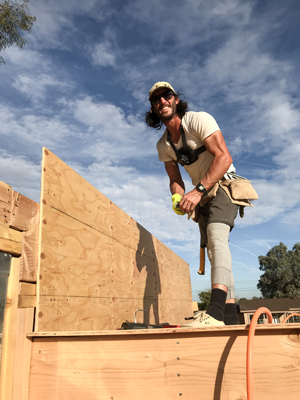 Vincent and Emily, owners of V&E Collaborative, a design-build firm in Joshua Tree, California, are 2012 graduates of the College of Architecture and the Built Environment. Both had planned on attending other schools in the heart of Philadelphia, but ultimately ended up at the bucolic Philadelphia University.
Born and raised in the small dairy farm community of Nicholson, Pennsylvania, Vincent says when he pulled up to the beautiful lush campus in East Falls, "it was a feeling of almost being home." Emily, from Mount Laurel, New Jersey, says she, too was taken by the verdant open spaces—and also by the affordability of the tuition.
"We both fell in love with PhilaU," Vincent says. Subsequently, they fell in love with each other. They credit the university for bringing them together because at other schools their majors would never have intersected, and they would not have crossed paths.
We both fell in love with PhilaU.
"It's so diverse in its curriculum that you end up spending a lot of time working with people not in your base," he explains. For example, graphic design majors will find themselves working with landscape and architectural designers; interior design majors often collaborate with fashion and science students.
While they never collaborated on projects during college, the two had classes together, and were always in the studio together trading ideas for individual projects.
"We gravitated towards each other from the beginning," Emily says.
Vincent, who has a degree in architectural studies and construction management, moved to Los Angeles six months after graduating to join a high-end developing company there. Emily, whose degree is in interior design, remained in Philadelphia, working for some of the top designers in the area. The two stayed in touch, and in 2014, Emily decided to make the move across the country to join Vincent.
"I did it mostly for my career—and a little bit for him," Emily admits, quickly adding, "But mostly for my career." She took a job with a design firm specializing in hotel design both nationally and internationally.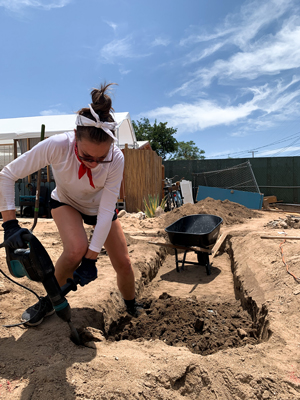 She and Vincent started dating immediately—and began collaborating on projects soon after.
V&E Collaborative grew out of a side job the couple took in 2016 to help one of Vincent's coworkers who was having trouble finding a contractor.
"She had purchased a dirt yard and was looking to turn it into a usable space," Vincent explains. "So, we gave her a design. She loved it and asked if we wanted to do the work."
The couple worked nights and weekends on the project while working their regular jobs during the week. "And we kicked butt!" Vincent says proudly.
After that, the referrals came rolling in, and the couple's side jobs turned into a part-time business. They decided to take the leap of faith and leave their corporate positions to open V&E Collaborative full-time in January of 2019. The couple has since moved the business—and themselves—from the Los Angeles area to Joshua Tree (near Joshua Tree National Park).
In the future, the couple hopes to increase the size of their business, to add employees, and to become bi-coastal so that they can spend more time with their families in the Delaware Valley.
For now, they both say they are grateful for PhilaU—and their love of architecture and design—for bringing them together.
"We knew from college we were always able to feed off of each other and be creative," Emily says. "We knew that together we just worked."