One Goal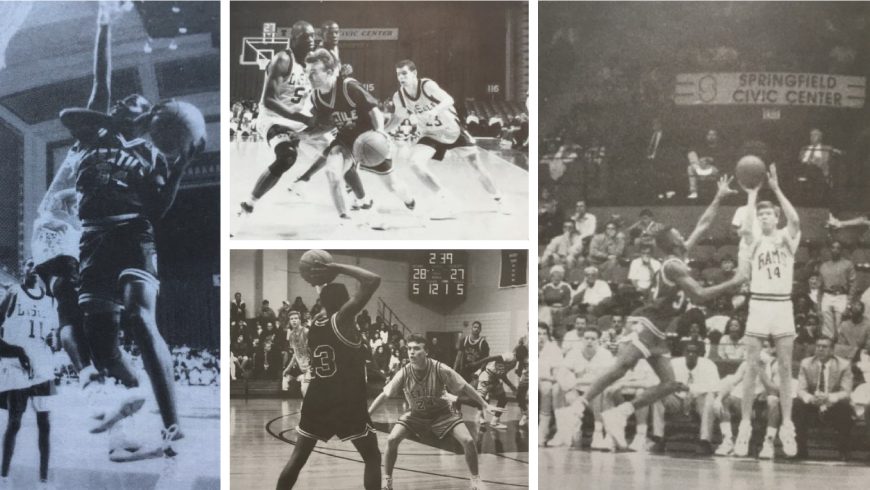 1992-93 Men's Basketball Team Inducted into Jefferson Athletics Hall of Fame
"They were not only terrific basketball players, each and every one of them," observes Coach Herb Magee, "but they were terrific young men, and they had one goal in common: to win basketball games."
Magee is talking about the Jefferson Rams 1992-93 men's basketball team, which will be inducted into the Athletics Hall of Fame in 2020.
"I never had to raise my voice to them or discipline them," he adds. "They came every single day and played hard in practice and in the games. You combine that with talent, and now you've got yourself a pretty good team."
By "pretty good," Coach means a school-record 30 wins (30-2), a number two ranking in the nation, New York Collegiate Athletic Conference and East Region champions who advanced to the Elite Eight in the NCAA Division II national tournament, and a 28-game win streak until losing to Wayne State by a heartbreaking two points in the quarterfinals. And that doesn't even count individual achievements like all-time assist leader Pat Chambers '94 or all-time blocks leader Eugene Haith '95, not to mention thousand-point career scorers Nai-te Watson '93 and Ed Malloy '93.
Each and every one of them, as Magee suggests, was a standout basketball talent, but it was the whole team that made the difference—number one in the nation by scoring margin (winning by an average 19.4 points), number one in scoring defense (holding teams to 59.3 points), and  number one in free throws (shooting 78 percent from the line).
Other than the Rams 1969-70 men's basketball national championship team, which is already in the Hall of Fame, the 1992-93 team is one of Jefferson's most dominant. Being among the best of the best in the university's athletics program history earns the team a spot in the Hall of Fame.
After two wins to start off the season, the team dropped a game to Division I LaSalle on their home court. But following that 59-53 loss, notes Magee, "we proved to everyone, including our opponents, our league, the media, and most of all ourselves, that we could compete on any level with any team." And they did for 28 games straight.
"Most of the time, they crushed opponents," Magee recalls. "They never really were challenged that many times during the whole year. We handled the East Region tournament, and then we ran into a hot team from Wayne State. We picked a bad night to have a bad night. It was a difficult situation in the locker room afterward because the team had supreme confidence. They didn't think anybody could beat them. I still think the team we had was the best team and that we could have won the whole thing."
The loss ended the Rams' season but not the friendships that carried the team to the Elite Eight. "It was a great group of guys, says Magee, "and, boy, were they good. I mean they were really good and great fun to coach. They had a lot of fun together—maybe more fun than they should have. They're still buddies today."
Three members of the team went on to careers in basketball. Pat Chambers '94 is head coach for the Nittany Lions men's basketball team at Penn State. Jesse Balcer '96 coaches the men's team at Chestnut Hill College, and Ed Malloy '93 is a highly regarded NBA referee who's often tapped to officiate playoff games.
After 53 years as the Rams basketball coach, Magee has learned that individual honors like MVP trophies and basketballs for thousand-point careers aren't what matter most to players. "They're nice," he says, "but they don't mean anything. Every season, I try to impress upon my players that what they'll remember—10, 20, 30 years from now—is how well their team did and the friends they made on the team."
1992-93 Hall of Fame Team
Steve Alston '96
Jesse Balcer '96
Patrick Chambers '94
Frank Chiliberti '95
David Fields '95
Eugene Haith '95
Ed Malloy '93
Michael Mascolo '93
Mark McCarthy '93
Chris McShane '96
Kevin Towns '96
Nai-te Watson '93
Head Coach: Herb Magee '63
Assistant Coaches: Dave Duda, Andy Franz, Chris O'Brien