Shining the Spotlight on Memory Loss
Jefferson Students and Clinicians Take the Stage to Discuss Dementia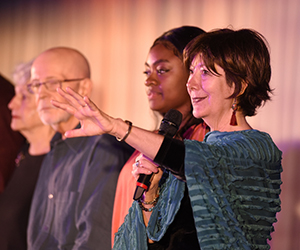 It is often difficult to talk about diseases such as Alzheimer's and dementia, but it is necessary to address these issues in order to understand and process them appropriately. Jefferson medical students and clinicians, alongside patients and their families, are sharing their own stories and are bringing these complex issues to center stage through Tangles in Time. 
Tangles in Time is a collaborative project between Thomas Jefferson University and the Theater of Witness, with support from the Pew Center for Arts & Heritage, that brought together 12 strangers to tell their stories of dealing with these difficult and complex topics.
The mission behind the project was to highlight the experience of the people—patients, family, and friends—affected by diseases such as Alzheimer's and dementia. As the project evolved, Tangles in Time transformed to fit the experiences of the performers, reflecting deeply personal losses: loss of family, loss of language, loss of connection, loss of independence.
"The goal was really to create a kind of long-term enriching experience for them to build empathy across what might ordinarily be sort of societal divides," says Megan Voeller, director of humanities at Thomas Jefferson University and a producer for Tangles in Time.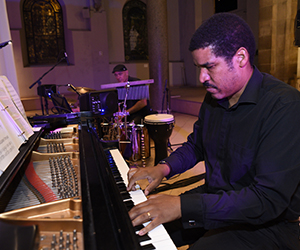 Under the direction of Teya Sepinuck, founder and artistic director of Theater of Witness, this project brought together people from all walks of life, including patients, healthcare professionals, students, artists, and musicians, to tell their stories. The mission of Theater of Witness is to explore complex societal issues "across divides of difference to bear witness to truth, healing, and reconciliation."

One performer, Kailyn Kim, is a third-year medical student at Sidney Kimmel Medical College pursuing internal medicine. Kim met Sepinuck during her participation with HeART Stories—another Theater of Witness project focused on how dementia affects patients and their families—and decided to join her next project.
Kim's performance centered around her family's refusal to discuss her grandmother's undiagnosed mental decline. This project became a form of therapy for Kim, and she was pleasantly surprised when her story resonated with others. The experience showed Kim how humanistic projects such as HeART Stories and Tangled in Time can help her grow as a healthcare professional.
"So much of our lives revolve around studying and books that I think it's important to remember why we chose to pursue medicine," Kim says. "I was reminded that it is the person that I want to help, not a diagnosis to treat."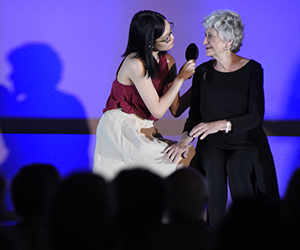 Another performer who followed Sepinuck from HeART Stories is Sunny Lai, MD, MPH, a family medicine doctor at Jefferson. Dr. Lai was looking for a creative outlet to process what she was experiencing as a young physician. Tangles in Time gave Lai a space where she felt truly in control, and could reflect on the sorrows, joys, and personal growth she's experienced in the hectic day-to-day life of a physician.

"The act of being listened to is so powerful. As a physician, I listen to other people's stories all the time, but I rarely have someone listen to my story," Dr. Lai reflects. "It is so validating and affirming to have someone reflect your worth back to you. Maybe that's what I offer my patients when I listen to them."
Bill Dougherty and his wife of 55 years, Nora, used Tangles in Time to talk about their personal experiences with dementia. Bill, who has worked for 30 years as manager of outpatient pharmacies at Jefferson Health, was diagnosed with dementia, and Nora has been his caretaker in addition to working as a hematology medical technologist and a phlebotomist at Jefferson Health.
Other Jeffersonians that participated in Tangles in Time were Brienne Bush, a recent graduate of Jefferson's College of Nursing; Salena Cui, a medical student at Sidney Kimmel Medical College; and Kimberly Mellon, a certified hemodialysis technician at Jefferson Health – New Jersey and a recent graduate of the College of Nursing.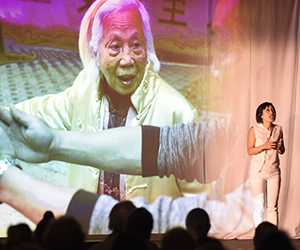 In September 2019, the hard work and dedication of the past two years culminated in three performances at the Philadelphia Episcopal Cathedral. The performances were only loosely related to one another thematically, and differed even more theatrically—ranging from scripted scenes, songs, dances, and even a collection of carnival games.

"It was hugely significant to me that these people took the time out of their lives to do this," Voeller says. "I think that says a lot about how generous they are as people."

Projects like Tangled in Time embody the mission behind the humanities at Jefferson: to ensure that medical professionals are not only knowledgeable, but are also deeply compassionate healthcare providers.
"We're always asking how we can expose these learners to experiences that are arts- and humanities-based, and [how we can use] the techniques and tools of those trades to school folks in empathy and skilled communication," Voeller says.