17th Annual Jefferson Gala
Save the Date
December 5, 2019, at the Pennsylvania Convention Center
The Jefferson Gala is one of the highlights of our year, a chance to celebrate Jefferson's recent advancements in healthcare, education, and discovery. At this annual gathering, we also recognize our outstanding friends—successful thought leaders, change agents, and philanthropists who are transforming the medical world—with the Award of Merit and the Achievement Award in Medicine.
2019 Honorees
Please join us on Thursday, December 5, 2019 as we honor Robert H. Rosenwasser, MD, MBA, FACS, FAHA with the Achievement Award in Medicine, and Andréa W. and Kenneth C. Frazier with the Awards of Merit.
Award of Merit
The Award of Merit is presented to accomplished Philadelphians who have enhanced the medical experience through leadership, contribution, and innovation.
Achievement Award in Medicine
The Achievement Award in Medicine honors individuals who have achieved and maintained excellence in their profession and who have actively contributed to the growth and development of their field.
$15M
The Jefferson Gala has raised over $15 million over the past 16 years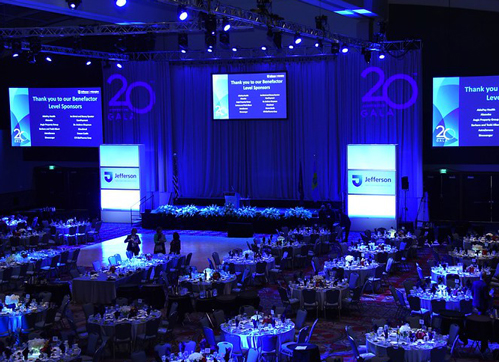 About the Gala
Each year, the extended Jefferson family gathers together to look back on the year's shared success and ahead to our new dreams. This tradition began in 2003 and we will be embarking on our 17th Annual Jefferson Gala this year.