Every year, the Gala honors members of the Jefferson family who inspire us through their achievement, their commitment and service, and their dedication to the values Jefferson stands for.
Achievement Award in Medicine
The Achievement Award in Medicine honors a Jefferson physician who has embraced Jefferson's mission, provided exemplary care to their patients, and has been a recognized leader in their field.
---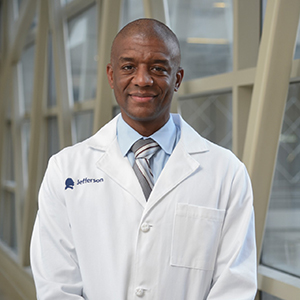 Nathaniel R. Evans III, MD, FACS, FCCP
Professor of Surgery
Director, Division of Thoracic and Esophageal Surgery
Chief of Cancer Services, Sidney Kimmel Cancer Center, Center City
Associate Director for Surgical Services, Jane and Leonard Korman Respiratory Institute
Nathaniel R. Evans III, MD, FACS, FCCP, grew up in the Philadelphia suburbs and graduated from Moorestown Friends School in 1994. He then attended Princeton University, receiving his BA in 1998 in molecular biology. He received his MD from Stanford University School of Medicine in 2002.
Dr. Evans began his surgical training at Massachusetts General Hospital (MGH), a teaching hospital of Harvard Medical School, in 2002. After completing an internship and residency in general surgery, he completed a fellowship in thoracic surgery at MGH. During that time, he spent several months as a visiting fellow at University of Pittsburgh Medical Center, where he focused on minimally invasive esophageal surgery, and at Memorial Sloane Kettering, where he focused on thoracic oncologic surgery.  He completed his thoracic surgical training in 2010.
In 2010, Dr. Evans joined Jefferson's Section of Thoracic and Foregut Surgery as an Assistant Professor of Surgery. In 2013, he assumed leadership of the section and was promoted to Associate Professor in 2014. In 2017, he became the inaugural Division Director of the new Division of Thoracic and Esophageal Surgery within the Department of Surgery at Sidney Kimmel Medical College.
His clinical focus brings the latest in surgical expertise and technique to Jefferson Health. Under his leadership, Jefferson has become a regional and national leader in minimally invasive and robotic thoracic surgery, providing thousands of patients in the Philadelphia area and beyond with the best possible care for lung cancer, esophageal cancer, and other diseases of the chest.
Dr. Evans is a member of the Society of Thoracic Surgeons, the American Association for Thoracic Surgery, and the Society of Black Academic Surgeons. He is a fellow of the American College of Surgeons and the American College of Chest Physicians. He is the recipient of the Dean's Award for Excellence in Teaching in 2012 and a graduate of Jefferson's Leadership Academy. In 2020, he received the Outstanding Clinician Award for Surgical Specialties and was promoted to Professor of Surgery.
During his time at Jefferson, Dr. Evans has led and participated in numerous multidisciplinary efforts to improve the lives of Jefferson patients. Highlights include:

Development and implementation of a comprehensive lung cancer screening program
Research to understand and address disparities in lung cancer screening, which includes a $2.8 million grant to assess and improve lung cancer screening in vulnerable populations
Participation in Jefferson's multidisciplinary, patient-centered program for care and management of esophageal cancer
Dr. Evans leads a research team at Jefferson focused on early detection and treatment of lung cancer and the improvement of outcomes and patient experience after lung surgery and esophageal surgery. Their research has also been dedicated to identifying and alleviating disparities in care.
Within the Sidney Kimmel Cancer Center, Dr. Evans has served as a member of the Clinical Operations Committee and the Oncology Coordinating Council for several years. In 2020, he was appointed Chief of Cancer Services for the center city division. He also serves as the clinical lead for the SKCC lung cancer program and multidisciplinary clinic. 
Within the Jane and Leonard Korman Respiratory Institute, he serves as Associate Director for Surgical Services and has led the development of a standard for excellence across Jefferson Health for thoracic surgical care.
---
Award of Merit
The Award of Merit recognizes and celebrates transformative leaders who exemplify Jefferson's values of putting people first, thinking differently, and doing the right thing.
---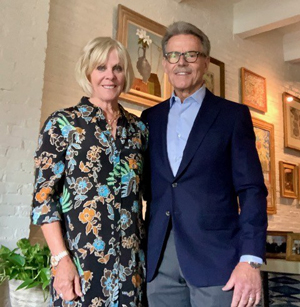 Nancy and Jim Baxter
What started as a glance on the PATCO High Speedline in 1971 grew into a long, happy marriage—and a shared dedication to philanthropy. Jim and Nancy Baxter have optimistic philosophies of life. The couple has been kind and has given much to improve lives in their community, generously supporting Thomas Jefferson University and Jefferson Health.
In 2012, the couple established the Hemant Desai Research Grant Fund, which champions the work of neonatology fellows in Jefferson's Department of Pediatrics. The fund, which they continue to support today, is in appreciation of the outstanding care and compassion they received when their first son, Andy, was born with persistent fetal circulation in 1979. The couple credits the medical staff at Jefferson for Andy's complete recovery.
When Jim sold his manufacturing business and retired in 2015, the couple created the Baxter Family Foundation to further their philanthropic efforts and "to improve the lives of underserved minority children and young adults in the Greater Philadelphia Area."
Through the foundation, they established scholarships at Sidney Kimmel Medical College for underrepresented minorities, and instituted two pipeline programs to help promote diversity in medical education. The Summer Training and Enrichment Program (STEP-UP) and Saturday Academy provide students from underrepresented minorities in 5th grade through high school with a head start on the process of becoming medical professionals.
Jim explains the desire to support underserved minorities stems from the 16 years he spent in his North Philadelphia office where he saw "the struggles of the underserved and the effects poverty had on the population."
The Baxters are hopeful that their contributions will help reduce health disparities in the city and inspire the next generation of physicians.
Aside from Jefferson, the Baxters also support many other charitable organizations, including Cathedral Kitchen in Camden, NJ, and various minority elementary schools in the Philadelphia area. The couple has always been hands-on in their community work, Jim through volunteering in pre-school classrooms, and Nancy through participating in a program for 5th grade students that teaches the children about nutrition and preparing healthy meals.
When they are not volunteering, the couple enjoys spending time with their four young grandchildren and traveling the world.
Natives of New Jersey—Jim is originally from Pitman, Nancy from Palmyra—the couple now calls Philadelphia their home. Along with Andy, the couple has two other sons, Brett and Dustin, two daughters-in-law, Jenni and Christine, and four grandchildren.
---
Faegre Drinker Healthcare Hero Award
The Faegre Drinker Healthcare Hero Award recognizes a healthcare professional, caregiver, or worker whose skillful performance and deep compassion exemplify Jefferson's commitment to always putting people first.

---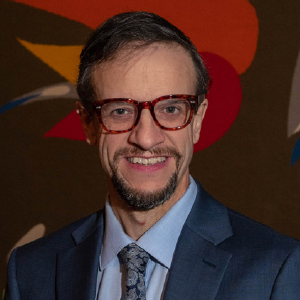 Rev. John Olsen, MDiv, BCC
Chaplain
RISE Team Program Manager
Jefferson Abington Hospital
RISE Enterprise Co-lead
Jefferson Health
John Olsen, MDiv, BCC, is a chaplain at Jefferson Abington Hospital, where he also manages the Resilience in Stressful Events (RISE), a peer support team for distressed healthcare workers. RISE was launched at Abington in the spring of 2018. Since the COVID-19 pandemic, Rev. Olsen has worked closely with other staff wellness leaders to implement the RISE program throughout the Jefferson Health enterprise. Rev. Olsen has a deep, abiding commitment to building stronger communities through caring for the caregiver. In addition to his work as a night shift chaplain and manager of the RISE team, he facilitates a bereavement support group for community members. He has participated as a guest panelist in the Schwartz Rounds and seminars on clergy wellness. He is also involved with Abington's bioethics committee. In 2009, he published "Improving Identification of Religious Affiliation in Inpatients," which appeared in the peer-reviewed journal Chaplaincy Today, reporting on a GE-LEAN process improvement project resulting in a more than 50% improvement in religious affiliation identification. In 2013, he presented at Collaborating Across Borders IV, an international conference on Interprofessional Education (IPE). In 2022, he co-authored an abstract that was selected for presentation at the Vizient Healthcare Summit on "Implementing an Enterprise Psychological First Aid Program for Distressed Healthcare Workers," which will also appear in an upcoming issue of the American Journal of Healthcare Quality.
---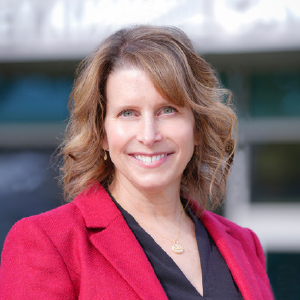 Diane M. Yaple, MS, LPC
Behavioral Health Specialist
Department of Nursing Education
Jefferson Health – Northeast
Diane Yaple shares Jefferson's vision of cultivating compassion in healthcare. She embodies the attributes we espouse at Jefferson Health: treating patients with integrity, active listening, care, and empathy. And she does it day in, day out.
Through her work, Diane nurtures the goal of ensuring staff incorporate a patient-centered model of care. This is reflected in her coordination of the Schwartz Center Rounds program, where she provides a forum for staff to engage in conversations about the emotional side of their caregiving experiences. She has facilitated multiple Schwartz Rounds to help staff cope with major healthcare events, such as the Amtrak train derailment and the COVID-19 pandemic. As a Resilience in Stressful Events (RISE) lead for the Jefferson Northeast campus, she is passionate about the emotional health and wellness of Jefferson staff. She finds that "people are oftentimes more comfortable talking with a peer because they intrinsically understand the stressors that can arise in healthcare."
She approaches her role through a trauma-informed lens, whether working with a patient or family suffering from addiction or a colleague experiencing a work-related stressful event. She also offers the Handle with Care de-escalation course, and she provided 1:1 support to staff and patients during the pandemic's peak. Diane is considered the "go-to" person to contact to intervene or provide de-escalation approaches for patients struggling with emotional trauma.
For the past decade, Diane has exemplified and advanced the ideals that all of the Healthcare Heroes at Jefferson Health strive to impart: kindness, compassion, and heart.
---
Algernon Brashear Jackson Student Award
Presented to Thomas Jefferson University students who make a difference through initiative, creativity, and commitment to changing society for the advancement of all.
---
Erin Avanzato, BS '22, MPH '23
Erin Avanzato graduated in 2022 from Thomas Jefferson University East Falls with a major in pre-medicine with a minor in psychology. She is currently a graduate student in the Masters of Public Health program at Thomas Jefferson University, class of 2023, and is applying to medical school and the Navy. Erin hopes to create a safe atmosphere for patients to become the healthiest version of themselves.
During her time as an undergrad, Erin was able to create a community on campus through her involvement as a resident assistant, the president of the campus activities board, and an orientation leader.
Erin remains involved with the East Falls campus community, where she is a peer mentor for first-year seminar classes as well as an adjunct professor in the biology department. She is also involved in athletics, as a member of the women's lacrosse and cross-country teams.
Throughout her time at Jefferson, Erin made it her personal goal to cultivate an environment in which students could become themselves, and grow not only academically, but also personally while in college.

Erin is very proud to be a Ram, and hopes that through her involvement, she has instilled a feeling of pride within her peers.
Go Rams!
---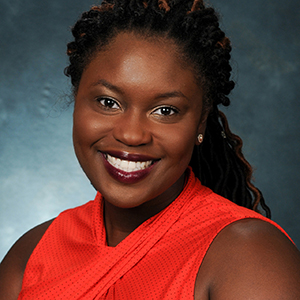 Kayla Holston, MPH, SKMC '23
Founder & CEO, Melanin Med LLC
President, Gold Humanism Honor Society SKMC Chapter SKMC '22
Kayla Holston graduated from the University of Virginia in 2018, earned a Master of Public Health at Emory University in 2019, and began her journey at Sidney Kimmel Medical College (SKMC) the next week. She has served as the President of the Gold Humanism Honor Society and was part of the prestigious Student Leadership Forum led by Dr. Mark Tykocinski. She also completed an internship with the SKMC Physician Executive Leadership Program, working with an interdisciplinary team to develop a novel labor and delivery suite design at Queen Elizabeth Central Hospital in Malawi. Her role was to perform a needs assessment to identify the current privacy concerns of obstetrics professionals and postpartum mothers.
Throughout her time in medical and graduate school, she has used her experience as a Black woman in the medical field to advocate for patients and professionals of color. For example, she has served as the National Policy Statements Director for the Student National Medical Association (SNMA), leading medical students across the country in publishing policy statements on current topics affecting minority patients and health professionals. During her second year at SKMC she founded a business called Melanin Med to create products for medical professionals displaying important taglines, such as "Black Patients Matter." Her goal was to uplift and inspire, while also donating a portion of her proceeds to various SNMA chapters across the country. Additionally, she launched a scholarship and mentorship program to help Black students at her high school alma mater pursue their own dreams in the medical field. Finally, she will donate a portion of profits to underrepresented SKMC students to fund their study material subscriptions.
---
20 Years of Gala Honorees
At the 20th Annual Jefferson Gala, we celebrated 20 years of Gala honorees with video tributes to our past Achievement Award in Medicine and Award of Merit recipients.
---
Achievement Award in Medicine
The Achievement Award in Medicine honors a Jefferson physician who has embraced Jefferson's mission, provided exemplary care to their patients, and has been a recognized leader in their field.
---
Award of Merit
The Award of Merit recognizes and celebrates transformative leaders who exemplify Jefferson's values of putting people first, thinking differently, and doing the right thing.