Every year, the Gala honors members of the Jefferson family who inspire us through their achievement, their commitment and service, and their dedication to the values Jefferson stands for.
Achievement Award in Medicine
The Achievement Award in Medicine honors a Jefferson physician who has embraced Jefferson's mission, provided exemplary care to their patients, and has been a recognized leader in their field.
---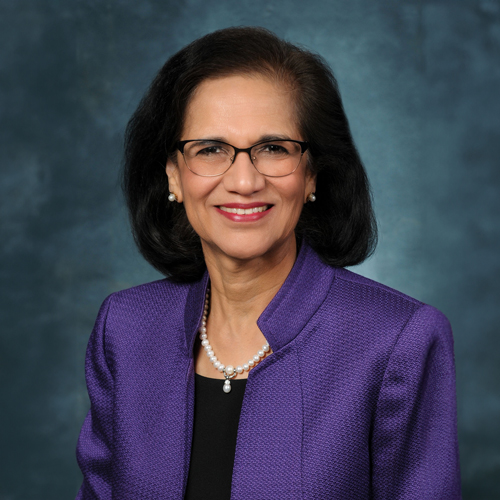 Vijay M. Rao, MD, FACR, FAAWR, FCPP
David C. Levin Professor and Chair Emerita of Radiology
Sidney Kimmel Medical College, Thomas Jefferson University
Senior Vice President, Enterprise Radiology and Imaging
Jefferson Health
Dr. Vijay M. Rao is a distinguished leader in radiology worldwide. A leading expert in imaging of the head and neck, she is also widely recognized as a thought leader in health services research in radiology.
In today's value-driven era of healthcare, Dr. Rao has been a strong advocate of radiology's role in transforming healthcare delivery through innovative initiatives that embrace the power of emerging technologies to drive excellence in patient care. She has published more than 250 peer-reviewed articles, a dozen book chapters, and 275 abstracts in medical literature. She has given 300 presentations at national and international radiology meetings, including invited talks at other academic institutions and several named lectures, and has served on the editorial boards of multiple prestigious radiology journals.
Dr. Rao is a graduate of the All India Institute of Medical Sciences, India's premier medical school. After completing her radiology residency in 1978 at Thomas Jefferson University Hospital, she remained on the faculty. A passionate educator, she served as residency program director, associate chair, and then vice chair for Education, as well as co-director of the Neuroradiology/ENT division.
In 2002, Dr. Rao was appointed chair of Jefferson's Department of Radiology, becoming the first female chair of a clinical department in Jefferson's history. She led this outstanding nationally recognized academic department until 2022, and in addition has served on the Thomas Jefferson University Hospitals, Inc. Board of Trustees since 2012.
Dr. Rao has held many leadership roles in national organizations, including president of the Radiological Society of North America (RSNA), the American Society of Head and Neck Radiology (ASHNR), the Association of Program Directors in Radiology (APDR), and the American Association for Women in Radiology (AAWR). She formerly served as the RSNA's R&E Foundation board chair.
Dr. Rao was honored by the Philadelphia Business Journal in 2005 as one of 25 Women of Distinction throughout the region. In 2006, she was named in the Top 10 by Medical Industry. She has been chosen by her peers over 20 times to be included on Philadelphia Magazine's annual list of Top Doctors.
An outstanding clinician, educator, researcher, and a visionary leader, Dr. Rao is a source of inspiration for many radiologists worldwide. She has received numerous awards, including the highest honor Gold Medals from the Radiological Society of North America, the Association of University Radiologists, the Asian Oceanian Society of Radiology, and the American Society of Head and Neck Radiology. She has also received the American Association for Women in Radiology Marie Curie Award, the APDR Achievement Award for her contributions to national education in radiology, the American Association of Radiologists of Indian Origin Distinguished Radiologist Award, the American Medical Women's Association Local Hero Award, and the SKMC Dean's Lifetime Distinguished Service Award in recognition of lifetime excellence in Research, Education and Service. She holds honorary memberships in the Israeli Radiological Society; the European Society of Radiology; the Chinese Congress of Radiology; the Indian Radiological and Imaging Association; and the French Society of Radiology. She has also received the Medal of Honor from the French Society of Radiology.
---
Award of Merit
The Award of Merit recognizes and celebrates transformative leaders who exemplify Jefferson's values of putting people first, thinking differently, and doing the right thing.
---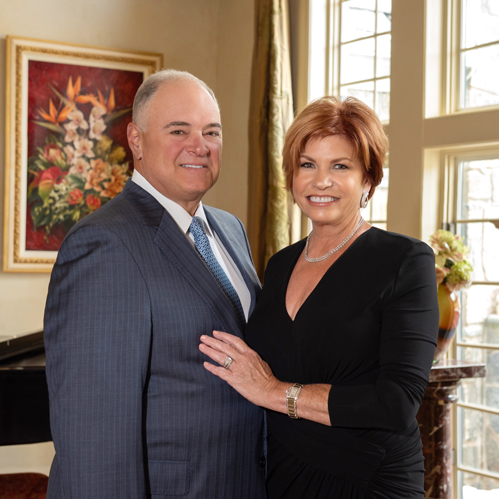 Ann and John P. Silvestri
John P. Silvestri is Chairman of Interstate Commercial of Mount Laurel, New Jersey, a multi-faceted real estate development firm, and is actively engaged in the development and management of retail centers and office complexes throughout Southern New Jersey and the tristate area.

For more than 30 years, Mr. Silvestri has served the institution, beginning with his leadership on the former Kennedy Health System Board, where he was Chair for 15 years, and continuing with his service today on the Jefferson Health New Jersey Board of Trustees.
Since Kennedy's merger with Jefferson in 2017, Mr. Silvestri has served as a Thomas Jefferson University Trustee and is a member of the Finance Committee.
In 2006, Mr. Silvestri received the New Jersey Hospital Association's Healthcare Leader Award, presented annually to an NJHA member healthcare system trustee who "has contributed significantly to the health of the system through exceptional leadership, guidance and service to the healthcare system and communities it serves." He was named the Nonprofit Organization Chairman of the Year in 2015 by the Nonprofit Development Center of Southern New Jersey, and in 2021, was honored with a Lifetime Achievement Award by the National Italian American Foundation alongside Tony Bennett and Stanley Tucci.
Mr. Silvestri is strongly committed to community philanthropy. He has been instrumental in the success of major fundraising events over the years and has personally contributed generously. The Silvestri Tower on the campus of Jefferson Washington Township Hospital, which opened mid-2021, was supported by a cornerstone gift by Mr. Silvestri and his family.
He has served on the Boards of Commerce Bank/Shore, University of Pennsylvania Football Club, and Galloway National Golf Club, Inc. Ann Silvestri served as an executive in the jewelry industry, holding various leadership positions in the merchandising, sales, and marketing of luxury goods at Zale Corporation, Cartier, and LVMH before retiring. She is a current Board Member and former Board Chair of the Favell Museum in Klamath Falls, Oregon. Mrs. Silvestri is devoted to her family, including her 10 grandchildren, and enjoys interests including travel, tennis, and golf.
The couple resides in Haddonfield, New Jersey.
---
Faegre Drinker Healthcare Hero Award
The Faegre Drinker Healthcare Hero Award recognizes a healthcare professional, caregiver, or worker whose skillful performance and deep compassion exemplify Jefferson's commitment to always putting people first.
---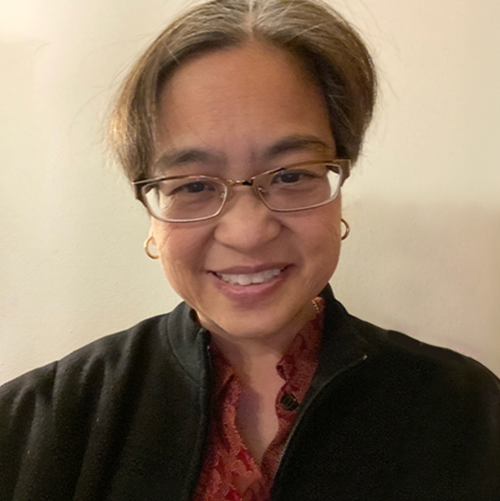 Cindy Hou, DO, MA, MBA, CIC, CPHQ, CPPS, FACOI, FACP, FIDSA
Infection Control Officer and Medical Director of Research
Jefferson Health
Dr. Hou is the Principal Investigator for Project ROLE – Reducing Risk for Readmission, Optimizing Language Access and Improving Equity. Project ROLE is sponsored by a federal grant from the Office of Minority Health's Promoting Equitable Access to Language Services in Health and Human Services Initiative. Through this grant, Dr. Hou has been working collaboratively to improve knowledge of federal rights to interpreters, educate the public on key health concerns, and to disseminate best practices of "Your Health in Your Language."
At Jefferson Health locations in New Jersey, Dr. Hou serves as the Infection Control Officer and Medical Director of Research. Dr. Hou's research interests include the role of nursing in antimicrobial stewardship, infection prevention, and COVID-19. She is the Principal Investigator as a sub-award recipient from the American Nurse's Association on their CDC Project FirstLine initiative to educate nurses about infection prevention, as well as from the National Council on Aging for education and vaccination against COVID-19 and influenza. Furthermore, she is the physician lead for the system's Antimicrobial Stewardship Committee, and is active in sepsis efforts at Jefferson. Dr. Hou is the co-editor for the book, "COVID-19 Viral Sepsis: Impact on Disparities, Disability, and Health Outcomes."
Dr. Hou has previously received national recognition as a Hero of Infection Prevention for Patient Safety from the Association for Professionals in Infection Control, as a COVID-19 Osteopathic Hero Award from the American Osteopathic Foundation, and as Researcher of the Year from the American College of Osteopathic Internists (ACOI). She has a Certification in Infection Prevention and Control, is a Certified Professional in Healthcare Quality, and a Certified Professional in Patient Safety. Dr. Hou is a Fellow of the ACOI, American College of Physicians, and Infectious Diseases Society of America.
Outside of Jefferson, Dr. Hou serves as the Chief Medical Officer for Sepsis Alliance and is a member of the Board of Directors. She is a Medical Advisor for the Sepsis Innovation Collaborative. In addition, Dr. Hou is a member of the Advisory Board of the Lupus Asian Network (LANtern) for the Hospital for Special Surgery in New York.
Dr. Hou enjoys spending time with her husband Brian, and they love to travel and to explore foodie destinations.