Dr. Robert H. Rosenwasser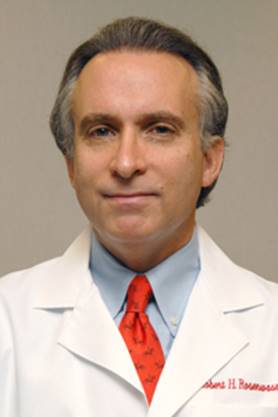 Robert H. Rosenwasser, MD, MBA, FACS, FAHA, attended Louisiana State University in New Orleans and graduated with a BS from Nicholls State University in Thibodaux, Louisiana, in 1975. He received his MD from Louisiana State University in Shreveport in 1979. Dr. Rosenwasser completed a general surgery internship and residency in neurological surgery at Temple University Hospital in Philadelphia. In 1984, he was a fellow in neurovascular surgery under Dr. Charles Drake and Dr. Sydney J. Peerless at the University of Western Ontario in London, Ontario, and from 1992 to 1993 he completed a fellowship in interventional neuroradiology under Dr. Alex Berenstein at New York University.
In 1994, Dr. Rosenwasser became professor of neurosurgery at Thomas Jefferson University and Director of Interventional Neuroradiology at the Jefferson Hospital for Neuroscience. He served as chief of the Division of Cerebrovascular Surgery and Interventional Neuroradiology at Thomas Jefferson University Hospital from 1994 to 2009. In 2004, he was appointed as chair of the Department of Neurological Surgery. He is also a fellow of the American Heart Association.
In 2017, Dr. Rosenwasser completed his MBA in Finance and Data Analytics at Villanova University. He is a member of the American Association of Neurological Surgeons, Congress of Neurological Surgeons, American Academy of Neurological Surgery, and American College of Surgeons. He is past president of the Society of University Neurosurgeons and past chair of the Joint Section on Cerebrovascular Disease. He has been heavily involved in research, particularly in neuroradiology and neurosurgery cooperative projects.
His current laboratory research involves stem cell therapy for stroke, as well as brain-computer interface for reanimation after stroke and spinal cord injury.
He has published more than 450 peer-reviewed publications, abstracts, and book chapters. He has co-edited four textbooks on cerebral ischemia, cerebral arteriovenous malformations (AVM), and interventional neuroradiology/endovascular neurosurgery.
Dr. Rosenwasser provides treatment for all types of neurovascular illness, including both open surgical and endovascular techniques. These include craniotomy for excision of AVM, craniotomy for aneurysmal clip ligation, carotid endarterectomy, glycerol rhizotomy, endovascular aneurysm coiling, embolization for AVM, stereotactic radiosurgery for AVM (Gamma Knife), carotid stent placement, balloon angioplasty, and thrombolysis for ischemic injury.