Jefferson Announces the David Farber ASPIRE Center
$2.5 million gift from the Farber Family to launch comprehensive suicide prevention center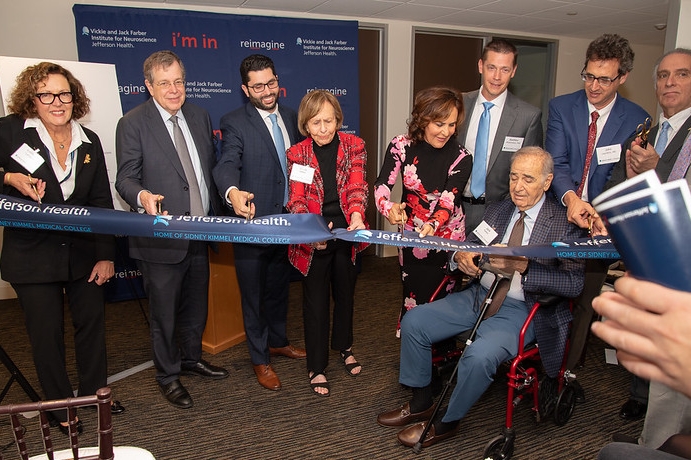 Philadelphia, Pa. - Thomas Jefferson University and Jefferson Health have received a $2.5 million gift from longtime benefactors the Farber Family to establish the David Farber ASPIRE Center (Advancement of Suicide Prevention, Intervention, Research, and Education).
Named in memory of beloved son, brother and father David Farber, and part of the Vickie and Jack Farber Institute for Neuroscience's Department of Psychiatry and Human Behavior, the ASPIRE Center unites multiple existing suicide prevention efforts at Jefferson, leveraging the myriad strengths of the institute and the broader Jefferson enterprise to accelerate advances across three key areas: clinical care, research, and education.
"Our high-quality clinical program will focus on suicide prevention and related behavioral health constructs such as depression, anxiety, and post-traumatic stress," says center director Matthew B. Wintersteen, PhD, Associate Professor and Director of Research in the Division of Child and Adolescent Psychiatry at Jefferson's Sidney Kimmel Medical College.
Suicide is the second leading cause of death in individuals aged 13-30, and the 10th overall cause of death in the United States. Suicide rates have increased by 60% worldwide in the last 45 years, with deaths in adolescents and young adults increasing more than any other age group over the past five years; and middle-aged men accounting for the largest number of annual deaths.  
David Farber had a profound impact on his family and those around him. "My dad was larger than life—and one of a kind," says Bill Farber, David's son. "With an unforgettable, singular sense of humor and energy to match.  Everyone wanted to be near him, and he was more beloved than he knew. We are honored to carry on his legacy through the ASPIRE Center, which will raise awareness around suicide and help save lives."
"The ASPIRE center will stand out from other treatment centers through its intentional focus on family and family-based intervention, enabling family support to aid in advancing treatment outcomes, as well as integration of families impacted by the suicidal thoughts and behaviors of their loved ones," says John Lauriello, MD, the Daniel Lieberman Professor and Chair of the Department of Psychiatry and Human Behavior.
The education and training arm of the ASPIRE Center will include broad-based dissemination of suicide prevention trainings for clinicians, educators, and community stakeholders based on Attachment-Based Family Therapy (ABFT), in which a mental health professional works with parents and children to repair ruptures in their relationship in order to develop or rebuild an emotionally secure relationship.
"The Farber family are true visionaries whose leadership and generosity will enable the David Farber ASPIRE Center to provide the power of hope to families throughout the region and across the nation through the establishment of this life-saving program," says Robert H. Rosenwasser, MD, MBA, the Jewell L. Osterholm, MD, Professor and Chair of the Department of Neurological Surgery and President of the Vickie and Jack Farber Institute for Neuroscience.
A special ribbon cutting ceremony for the center was held on October 25, 2022.
For inquiries about the center, please contact the David Farber ASPIRE Center at 215-503-7077.
Media Contact:
Angela Showell
215-520-3154
angela.showell@jefferson.edu
###
About Jefferson
Jefferson, located in the greater Philadelphia region and southern New Jersey, is reimagining health care and education to create unparalleled value. Jefferson is more than 42,000 people strong, dedicated to providing the highest-quality, compassionate clinical care for patients, preparing tomorrow's professional leaders for 21st century careers, and conducting research leading to new discoveries on the basic science, clinical, population science and applied levels. Thomas Jefferson University, home of Sidney Kimmel Medical College, dates back to 1824 and today comprises 10 colleges and four schools offering over 200 undergraduate and graduate programs to 8,400 students. Jefferson Health serves patients through millions of encounters each year at 18 hospitals (ten are Magnet® designated by the ANCC for nursing excellence) and over 50 outpatient and urgent care locations throughout the region. Jefferson is also home to Health Partners Plans, a not-for-profit managed healthcare organization serving more than 290,000 members in Southeastern Pennsylvania with a broad range of health coverage options through Health Partners Medicare, Health Partners (Medicaid) and KidzPartners (Children's Health Insurance Program.