Jefferson Neurosurgeon Receives Honor
Pascal Jabbour, MD, Named to Endowed Professorship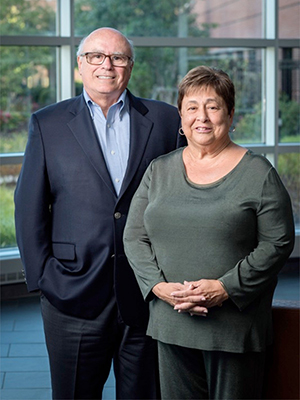 Richard T. Clark and Angela Clark
Jefferson Health neurosurgeon Pascal Jabbour, MD, will become the first Angela and Richard T. Clark Distinguished Professor and Division Chief of Neurovascular Surgery and Endovascular Neurosurgery.
The newly-endowed position was established by Angela and Richard T. Clark, of Doylestown, Pennsylvania. Richard (Dick) Clark, retired chairman, CEO, and president of Merck & Co., Inc., credits Jabbour with saving his life after a fall left him with a subdural hematoma. Jabbour performed emergency surgery to stem a severe brain bleed, and today Clark is completely recovered.
"I wanted to recognize Dr. Jabbour for his reputation for excellence in surgery and research," Clark says. "But I also wanted to recognize how he takes care of his patients—his outstandng bedside manner and empathy."
Clark says that endowed professorships are an important aspect of philanthropy because they support the education of tomorrow's medical leaders, as well as crucial clinical studies.
Robert H. Rosenwasser, MD, MBA, the Jewell L. Osterholm Professor and Chair of the Department of Neurological Surgery and President of the Vickie and Jack Farber Institute for Neuroscience – Jefferson Health, calls professorships "one of the highest honors in academic medicine, recognizing those who are truly masters of their craft."
"In the field of neurovascular surgery there are few physicians more deserving than Dr. Pascal Jabbour," Rosenwasser says. "His skills, compassion, and spirit of innovation are extraordinary, and his commitment to his patients is unparalleled."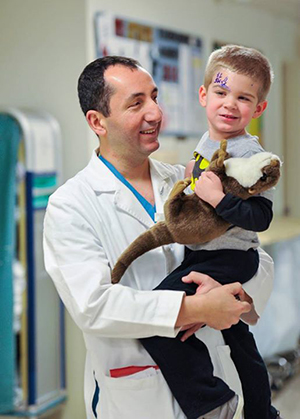 Pascal M. Jabbour, MD
Jabbour is a world-renowned neurosurgeon, dually trained in open and minimally invasive endovascular techniques. He is a pioneer of neuroendovascular robotics, and specializes in the treatment of patients with diseases in the blood vessels in their neck, brain, or spinal cord. He is also the author of more than 425 papers in peer-reviewed journals, many based on his clinical studies. Jabbour's research, along with the dedicated work of Jefferson research fellows, has provided numerous patients with access to novel clinical trials for aneurysms and other life-threating neurological conditions.
Jabbour says he always draws inspiration from his patients' tremendous courage, and greatly appreciates the distinction the Clarks have bestowed upon him.
"This endowment is a great honor for me, and a valuable tool for our team to be able to continue the groundbreaking neurovascular research in the Vickie and Farber Institute for Neuroscience," Jabbour says. "This professorship will lead to cooperation for the benefit of research and for a better outcome for patients with neurovascular diseases."
According to Rosenwasser, the professorship "will allow continued intellectual and practical discovery into many aspects of neurovascular disease." It will support essential research personnel, finance specialized post-residency training, and establish a lectureship to foster ongoing exchanges among prominent physicians, researchers, and the future leaders of the discipline.
"We are exceedingly grateful for the Clarks' generosity in establishing this position," he says.
Under the leadership of Rosenwasser and Jabbour, Jefferson has gained an international reputation as a leader in the prevention, treatment, study, and education of neurological conditions.