Dee & Jerry Wisler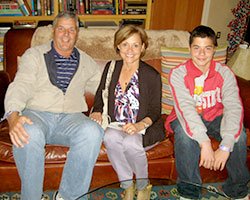 Seventeen years have passed, yet the memories are still fresh.
When Damarys (Dee) and Jerry Wisler visited Abington Memorial Hospital last July, they brought with them their 17-year-old son. It was Michael's return to the Andrew Tesauro Special Care Nursery (SCN) where he had spent the first six weeks of his life.
As moving as that reunion was, the Wislers' story resonates even deeper.
Michael and his twin brother, Mathew, were born prematurely at Abington in August of 1996. Earlier, though – at 25 weeks – Dee learned that Mathew suffered from a Vein of
Galen aneurysm, a rare malformation at the base of his brain.
Mathew had no chance of surviving. However, if he were to fail too early before birth, his twin brother would fail as well. For Michael to live, Mathew also had to survive as long as possible.
Dee was hospitalized at Abington, where she received around-the-clock care until the boys were delivered just shy of 31 weeks. Mathew, as expected, survived for less than two hours – but he had stayed alive long enough to save the life of his brother.
Michael, only two pounds, 10 ounces at birth, remained in the special care nursery for six more weeks until he finally came home at a comparatively robust four pounds, one ounce.
Today Michael is a healthy high-school junior, a fact that was on poignant display when he returned with his parents in July to visit Abington's special care nursery.
"It was a very emotional visit," says his father. "Michael was able to spend time with some of the very same people – physicians and nurses – who took care of him when he was born. Even the nurse who cared for Mathew in his final hours was there, and remembered us, and spoke with us. It was a powerful visit."