The Vickie and Jack Farber Institute for Neuroscience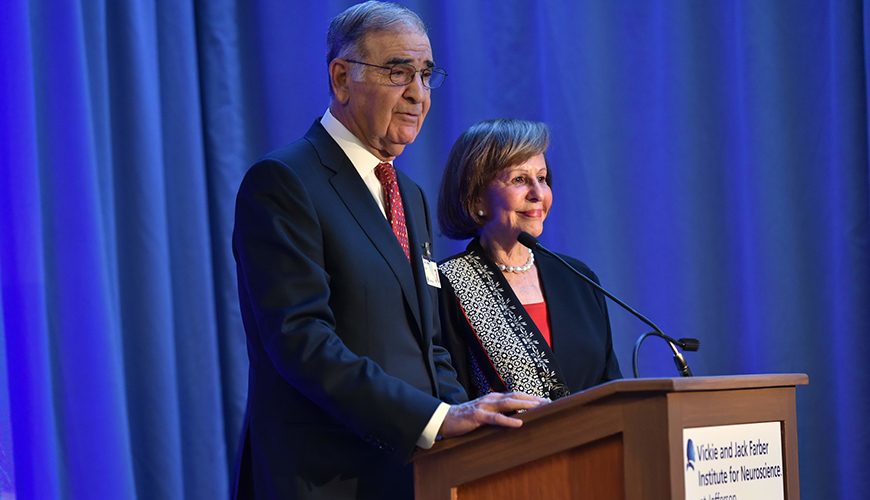 For Vickie and Jack Farber, philanthropy is about more than a financial contribution—it's about their passion behind the cause. "Our hope is that no family has to watch a loved one disappear into the darkness of Alzheimer's or ALS or Parkinson's or any brain disease," Vickie says.
The Farbers have been personally touched by the hardships of neurological disorders; Vickie's father struggled with and eventually succumbed to amyotrophic lateral sclerosis (ALS, also known as Lou Gehrig's disease), and her mother suffered from Alzheimer's disease. Recognizing the potential of Jefferson's physicians and scientists to advance the understanding of brain diseases, Vickie and Jack established the Vickie and Jack Farber Institute for Neuroscience through the Farber Family Foundation in 2002.
Driven to provide even more support for researchers in their quest to translate neuroscience discoveries into breakthroughs in patient care, in April 2016 Vickie and Jack made a new $20 million commitment to the Farber Institute. The gift, which brings their total gift to Jefferson to $35 million, will support the institute's work as Jefferson's first Clinical and Research Integrated Strategic Program (CRISP), an innovative approach to organizing healthcare based on disease focus rather than by departments or specialties. This rethinking of the traditional clinical service line will improve patients' access to and experience with care, and the CRISP model will facilitate deeper collaboration among faculty and speed the pace of research discoveries. The Farbers' investment is also funding the Jefferson Weinberg ALS Center as well as an expansion of the Farber Institute's neurovascular program.
Since their involvement with Jefferson began in the early 1980s, Vickie and Jack's leadership has extended well beyond the field of neuroscience. Together, they established the Farber Fellowship, which has been awarded annually since 1989, in addition to supporting myriad scholarships, professorships, events, and research funds. Jack has been a member of Jefferson's Board of Trustees since 1984, including serving as chair from January 1995 to June 2000—and he recently became chair of the President's Leadership Council, established by Jefferson president and CEO Stephen K. Klasko, MD, MBA, to advance progressive thinking on healthcare, health education, and discovery. Vickie has served on the Thomas Jefferson University Hospital Women's Board since 1995.
Nurturing advances in neuroscience, however, remains the Farbers' top priority. "Research into devastating neurologic diseases has been gaining momentum at Jefferson for years," Jack says. "Vickie and I chose to make this investment now because we want to be a part of the transformation we know is in process."