Frederico Family Gives $5 Million to Name Entrance of Jefferson's New Outpatient Center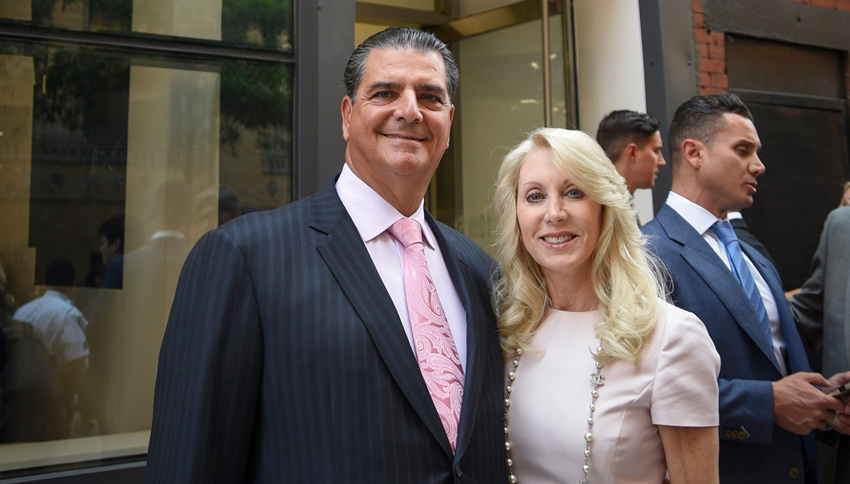 Dominic and Michele Frederico
Dominic and Michele Frederico are dedicated friends and longtime supporters of Jefferson. They have championed numerous programs and projects, including the institution's Neuroscience Network, Neurointensive Care Unit, and Trauma Division, just to name a few.
In 2016, the Fredericos made a gift to name the Dominic and Michele Frederico Building at 137 S. 10 Street, home to the Jefferson Accelerator Zone (JAZ). The high-tech building is a space where Jefferson students and mentors can come together on their way to developing and realizing "the next Big Idea." It is a place that allows students and faculty to partner with other innovators across campus—and across the country.
Now, in honor of their $5 million gift to Jefferson's new outpatient center, the Chestnut Street entrance of the building will be named the Dominic Frederico Family Entrance.
Dominic is president and chief executive officer of Assured Guaranty Ltd., a leading provider of municipal bond insurance and financial guarantees. He holds an MBA and a BS from Drexel University, as well as a Certified Public Accountant designation in the Commonwealth of Pennsylvania.
He is active in Philadelphia's Catholic community, serving on the board of Faith in the Future and generously supporting Bonner Prendergast Catholic High School, which named its gymnasium in his honor.
In 2015, Michele and her daughter, Gabrielle, opened La Belle Mariee, a bridal store in the Summit Square Shopping Center in Langhorne.
The Fredericos are also longtime supporters of the Police Athletic League (PAL) of Philadelphia, catholic education, and numerous other charities in the Philadelphia area and elsewhere.