George and Gretchen Graham
Coming Home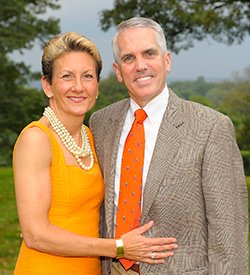 Asplundh Tree Company executives gain a personal understanding of the many regions the company serves. One way Asplundh fosters that understanding is by having its executives move around the country.
George and Gretchen Graham are a good example.
George, now president of Asplundh, has been assigned during his career with Asplundh to a wide variety of regions that included Ohio, New York, North Carolina, and Washington State. In 1990 he was brought back to Pennsylvania.
"Our current home is our tenth home!" George says with a laugh. "Living and working in all of these different parts of the country, you learn a lot about different cultures."
That experience, he says, informs his work today as a head of one of the world's leading international utilities maintenance corporations.
George is a descendent of Griffith Asplundh who, along with his brothers Carl and Lester, founded the company in 1928. The Asplundh family has a long and special relationship with Abington Hospital, where George's father was a Board member and his mother was on the Women's Board.
Gretchen and George, married for 35 years, share a history with Abington that goes back even further. The two, who met in high school at the Academy of the New Church in Bryn Athyn, were early volunteers for the hospital.
"Back in high school," recalls Gretchen, "we'd help his mom carry boxes of things for the Women's Board Galas and June Fete. So the hospital has always been a part of our relationship."
Now the Grahams, through a major personal gift to fund the Asplundh Cancer Pavilion's garden patio café, have further deepened their relationship with the hospital.
Over the years Gretchen has served as Women's Board president, chair of the June Fete, and chair of the Gala twice. George has served as a member of the Abington Health Foundation Board.
Their Abington connection continues to extend through the generations. Their daughter Erica – one of four children – is married to Brian Sweigard, son of Abington's chief of internal medicine, whom she met during the June Fete.
Abington has also profoundly touched their lives medically.
George recalls that his father received wonderful care at Abington during multiple visits ranging from cancer treatments to heart surgery.
"His experience at Abington was excellent," says George. "There are terrific doctors there. That's why we're so supportive of the new cancer center. Abington really deserves a facility that can continue to attract and embrace the highest quality of doctors. Not only will the new Asplundh Cancer Pavilion do that, it is going to be a really beautiful environment as well."
"This," says Gretchen "is our personal gift to support a care facility that's very important to us."
George agrees: "We're supporting a group of people who have proven with their quality that they're a winning team. But the gift is also supporting our home community and all of the people whose lives are being touched here."