Gift Gives Hope to ALS Patients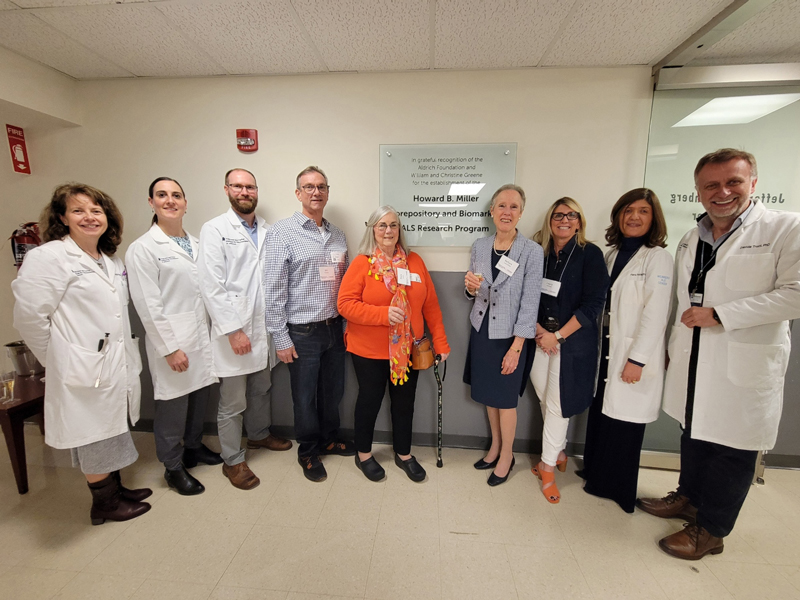 Aldrich Foundation Supports Research at Jefferson's Weinberg ALS Center
Howard B. Miller was in top physical condition, living a healthy lifestyle and swimming competitively. Then the symptoms began. After a year of doctor visits, multiple tests, and a myriad of medical opinions, he finally received a diagnosis—Bulbar-onset Amyotrophic Lateral Sclerosis. He died two years later at the age of 66.
ALS, a rapidly progressing neurodegenerative disease, leads to paralysis and death usually within three to five years of diagnosis. Approximately 30,000 people in the U.S. are currently living with ALS, and 5,000 more will be diagnosed every year.
For those diagnosed with ALS the best hope for better treatments and a cure lies in research. A recent $1.6 million gift from the Aldrich Foundation to name the Howard B. Miller Biorepository and Biomarkers ALS Research Program at the Jefferson Weinberg ALS Center will enable scientists to work toward a brighter tomorrow for those with the debilitating disorder.
The Center, recognized as a Certified Treatment Center of Excellence by the ALS Association, is a comprehensive program that combines clinical care, basic and translational research, and a clinical trial program.
"The Aldrich Foundation is committed to using its financial strength to support the research program," says William A. Greene, founder of the Aldrich Foundation, and Howard B. Miller's nephew.
Established in 2021, the Aldrich Foundation's first grant went to support ALS research at the Jefferson Weinberg ALS Center. The most recent gift will help scientists to further their investigation into biomarkers, which are any measurable substances that change in quantity, or that appear or disappear with a change in the body's state.
The program collects various samples from Jefferson and non-Jefferson patients, including blood, spinal fluid, and brain and spinal cord to help identify disease biomarkers, which can serve as a diagnostic or prognostic tool, as well as a tool to assess whether a drug is having an effect on the disease.
"We understand that biomarkers are critical to accurate ALS diagnosis, targeted drug therapy, and clinical trials," Greene says. "Our goals are early diagnosis, increased life expectancy, and improvement in the quality of life for patients living with ALS."
"We are grateful to Mr. Greene and the Aldrich Foundation for this generous gift, and more importantly, for partnering with us in the search of disease biomarkers," says Piera Pasinelli, PhD, the director of Jefferson Weinberg ALS Center at the Vickie & Jack Farber Institute for Neuroscience. "For such a highly heterogenous disease like ALS, biomarkers represent the crucial aid in stratifying the patient population in different groups, helping with the development of targeted and more effective therapies. We share the same goals of the Aldrich Foundation and are proud to have their support."