A Legacy Dedicated to Healing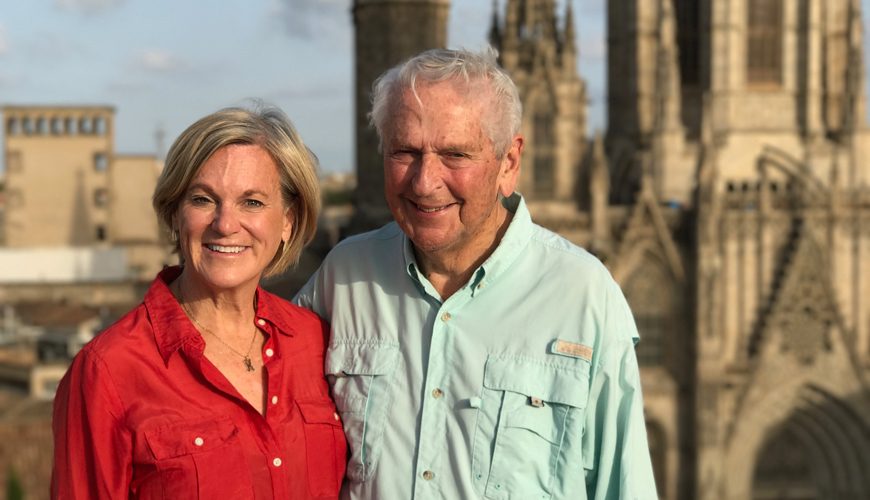 Early in their marriage, Milt Hendricks told his wife, Karen, that their legacy would be philanthropy. He retired from his job as a chemical engineer at 55 and began investing in the stock market, planning to earn enough to champion a good cause.
Although he didn't live long enough to see the ultimate cause his life's work would support, Milt Hendricks' legacy lives on in a research project that aims to cure the very disease he battled for almost three years—T-cell lymphoma.
"My husband said he was going to make money. Then he said we were going to give it away and really make a difference somewhere," Karen Hendricks, 71, says.
In December 2019, the Milton H. and Karen L. Hendricks Family Fund made a $500,000 gift to help fund the Philadelphia T-Cell Lymphoma/Leukemia Initiative, led by Pierluigi "PG" Porcu, MD, director of the Division of Hematologic Malignancies and Hematopoietic Stem Cell Transplantation in the Department of Medical Oncology at Sidney Kimmel Cancer Center – Jefferson Health.
Not only is the gift aimed at finding better ways to diagnose, treat, and cure the cancer, it is spearheaded by the doctor who gave Milt outstanding and compassionate care during his illness and his last days.
PG is a very special doctor. He is an outstanding and caring clinician—and an outstanding researcher. This is the man I wanted to invest in. I believe he can make a breakthrough in T-cell lymphoma.
"PG is a very special doctor," Karen says. "He is an outstanding and caring clinician—and an outstanding researcher. This is the man I wanted to invest in. I believe he can make a breakthrough in T-cell lymphoma."
Dr. Porcu explains that "T-cell lymphoma and leukemia (TCLL) is an insidious group of cancers that highjack and subvert one of the main branches of the immune system. They are rare, extremely diverse, hard to diagnose, and a challenge to treat."
They are also deadly—less than 25 percent of patients survive more than three years following treatment. Complete responses to treatment are rare, remission is short, and average survival at relapse is less than three months.
Currently, there are no reliable screening tools for early detection of the more than 30 subtypes of TCLL, no tests to assess risk, no effective drugs for most patients, and no way of predicting the success or failure of current treatments.
The goal of Dr. Porcu's initiative is to conduct research that will lead to new ways to prevent, detect, and cure TCLL. Philadelphia, he says, is the perfect place to launch the initiative. TCLL types vary by global geographic region and population, and since the city is a melting pot of ethnic diversity, it presents an ideal setting to study the disease at a population health level.
The Henrickses first met Dr. Porcu in 2014 when Milt's T-cell lymphoma took the couple by surprise. Dr. Porcu was a medical oncologist at the Ohio State University Comprehensive Cancer Center – Arthur G. James Cancer Hospital and Richard J. Solove Research Institute at the time.
"We were just in shock," Karen says of the diagnosis. For more than three decades, the couple enjoyed a comfortable and healthy lifestyle. Both chemical engineers, they met while working at Procter & Gamble in Cincinnati. They married in 1979—a second marriage for both of them—and raised his three children and the son they had together.
Eleven years his wife's senior, Milt retired early to devote his life to being "Mr. Dad" and a private investor. Karen continued to work for several years, then eventually joined her husband in retirement. Once their youngest left for college, they went off to see the world, visiting 29 countries in 12 years.
But in 2013, their travels were cut short when Milt was diagnosed with prostate cancer. He was treated successfully, but nine months later tests came back positive for T-cell lymphoma.
Under Dr. Porcu's care, Milt began chemotherapy. But the doctor was honest with them—he admitted he didn't know for sure how to best treat the cancer because T-cell lymphoma doesn't have the clinical data other types have.
The next three years consisted of "a lot of ups and downs," Karen says. Her husband endured three major surgeries, numerous chemotherapies, a broken arm, heart issues, pneumonia—and finally, a liver cancer diagnosis. Milt died October 1, 2017.
In the months that followed, Karen and the children created a family foundation to carry out Milt's wish of doing good in the world, and met to discuss the philanthropic projects in which they would invest. Karen presented Dr. Porcu's initiative, and the children agreed to support the work.
About the same time, Dr. Porcu announced he was leaving Ohio for a position at Jefferson. Karen decided her philanthropy dollars would follow him and his initiative. "My hope is that we're able to advance T-cell lymphoma research and understanding, and make progress toward earlier diagnosis and better treatments," she says.
She also notes that the research could have wider applications: "This is really a start in breakthrough cancer research. We're looking at T-cell right now, but this could have applicability beyond T-cell and into other types of cancers."
Karen says supporting the initiative will not only help Dr. Porcu in his quest to unlock the mysteries of TCLL, but will bring closure for her, and honor the memory of the man she calls "the joy of my life."