James Gilmartin Can't Believe He's Still Alive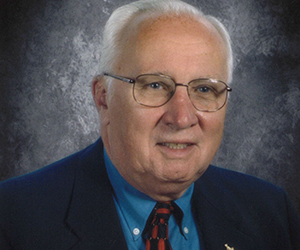 When James Gilmartin was diagnosed with colon cancer in May 1991, James was certain that his bout with the disease would have an unfavorable end—so certain that he left his job of 30 years as a public school administrator and began preparing for the worst.
"I didn't know whether I'd be alive six months later, so I retired," James recalls.
His primary physician at the time—who happened to be a Jefferson graduate—reviewed James' test results and recommended Jefferson as the best place to receive cancer treatment.
James was paired with former Thomas Jefferson University Department of Surgery Chairman, Francis E. Rosato, MD. A renowned pioneer in cancer treatment and surgical techniques, Dr. Rosato was best known for having performed the region's first liver transplant in 1984.
Under Dr. Rosato's care, James received a surgical resection and began 26 weeks of chemotherapy at Jefferson. James says he felt compassion from everyone he encountered at Jefferson throughout the entire process of his treatment and recovery.
"During the recuperation period after my surgery, I was able to walk the halls of Jefferson and everybody treated me with the greatest deal of respect," he said. "The facilities were great, the nursing staff was great. I was very fortunate because I had Dr. Rosato and he was well-known, very well respected, and his bedside manner was great. There was just a feeling of contentment that I was in good hands."
It's been nearly 25 years since James' initial diagnosis, and the condition he once thought would end his life has not recurred.
James' wife Pauline, however, passed away after a nine-month bout with ovarian cancer in 2009. To honor both his wife's fight and the lifesaving treatment he received at Jefferson, James named Jefferson as a beneficiary in his will and established an endowed fund to support cancer research in Jefferson's Department of Surgery.
"When my wife passed away and I had to update my will, Jefferson was uppermost in my thoughts because they had saved my life," he said.
"My wife died of ovarian cancer, and I, of course, am a colon cancer survivor, so I made a bequest to Jefferson for cancer research. It was an easy decision. I'm here today because of Jefferson. My gift is visible evidence of my respect for Jefferson."