Getting a Second Chance at Life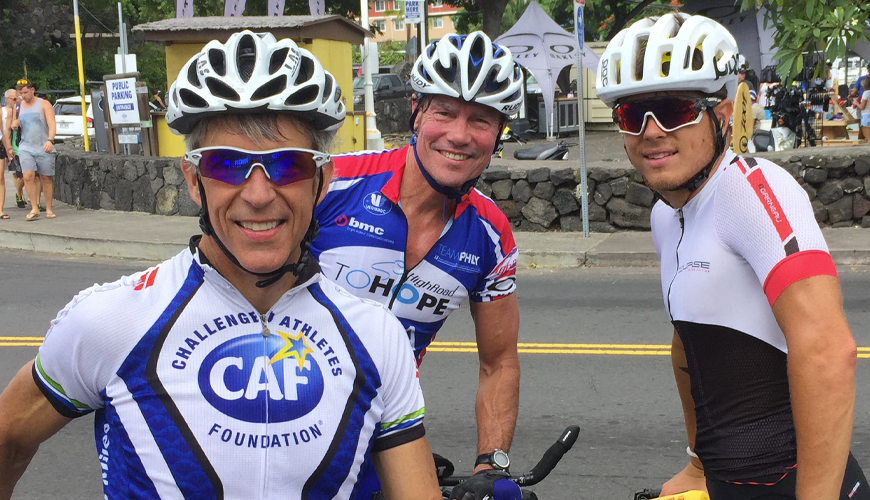 Jamie Maguire is not your average executive.
While he's primarily known as the executive chairman of Bala Cynwyd-based Philadelphia Insurance Companies (PHLY), in the world of sports, Maguire is known as a hardcore competitor.
Over the course of 20 years, he's competed in as many as eight Ironman competitions—long-distance triathlon races that include a 2.4-mile swim, a 112-mile bicycle ride and a 26.2-mile run—and more than 15 marathons.
A naturally athletic individual, Maguire was certain that he could face anything until one fateful summer day in 2014. Maguire was out riding his triathlon bike, training for an upcoming competition, when he crashed into a downed tree in the road while pedaling at a swift 30 miles per hour. His body flipped into the air on impact and landed on the pavement with a hard thud.
When Maguire regained consciousness moments later, he couldn't feel anything beneath his neck—he was paralyzed.
"You never think that something like this is going to happen to you," Maguire says. "When I was lying there on the side of the road and I couldn't feel anything below my neck, I was really shocked. I thought this was the end of my life as I knew it."
Maguire was transported by helivac to the emergency trauma unit at Thomas Jefferson University Hospital, where he learned that he had broken four vertebrae in his neck and that, fortunately, his paralysis was only temporary.
Alexander Vaccaro, MD, PhD, MBA, the Richard H. Rothman Professor and Chair of Jefferson's Department of Orthopaedic Surgery, determined that Maguire would need emergency surgery. It was a decision that Maguire was apprehensive about, but Dr. Vaccaro helped to put his mind at ease.
 "I had a lot of anxiety going into the surgery, but Dr. Vaccaro gave me a good understanding of the procedure," Maguire says. "He talked me down to a place where I could wrap my mind around what had happened and what I needed to do going forward. He was excellent to work with—very professional and very knowledgeable."
Three days after the surgery, Maguire was back at home beginning the process of rehabilitation and recovery. He continues to participate in lighter physical activities like tennis and swimming, but has withdrawn from competitive sports to spend more time with his wife and four daughters—a privilege he says he owes to the doctors at Jefferson who delivered his life-changing treatment.
"It has given me a second chance at living and enjoying my life. If Jefferson wasn't there, there's no telling where I'd be. So, I'm just thankful for the opportunity to enjoy my kids and my family, and to have a second chance at life," he says. "Now, I'm 100 percent, I'm staying active, I've got full range of motion in my neck—it's a success story."
Maguire continues to be a champion for health, wellness, and education by encouraging exercise and athleticism among his employees and colleagues at PHLY and by making philanthropic contributions to a variety of charitable organizations.
While his participation in competitive sports has changed, his belief in philanthropy remains the same: Giving back gives others opportunity.
"Giving back to those who give to you has been sort of a mantra that I've lived by all my life, and that plays a part here with Jefferson, too," Maguire says "I think that they offer a great deal to their patients and to those in need. So it only makes sense that when you receive, you should give back."