Grateful Patient's Generous Gift Helps Expand Headache Hub in Philadelphia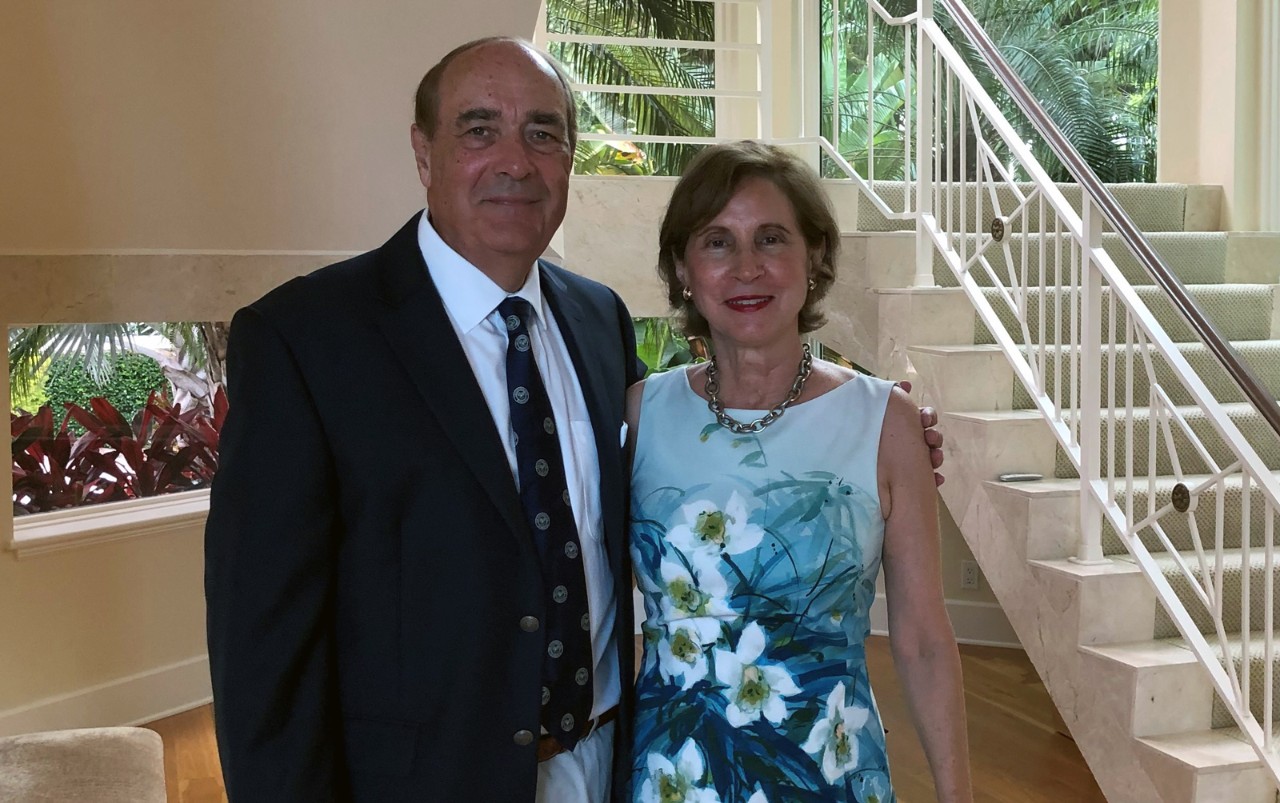 Joyce Schoemaker, PhD '78 in microbiolgy, was on her way to a well-earned retirement in sunny Florida. After working as a researcher and manager in the biotech industry, as well as an educator and writer, she inherited her family's Ohio company, Public Salt Corporation, a wholesale distributor of salt, including deicers and water softener salts. In late 2019, Joyce started experiencing continuous, nagging headaches as well as neck pain.
Joyce bounced around several medical centers in Philadelphia over a period of several months before she was eventually diagnosed with spontaneous intracranial hypotension due to a cerebral spinal fluid (CSF) leak. These leaks occur through an unprovoked tear in the dura—the tough membrane surrounding the spinal column—and cause CSF pressure in the brain to drop. Even a small tear can result in severe symptoms, including debilitating headaches while upright, muffled hearing, and brain fog.
Once diagnosed, Joyce was treated with an untargeted blood patch—a procedure in which blood is taken from the arm and injected into the epidural space in the lower spine to patch the leak. While this provided some temporary relief, the headaches soon returned. Along with the physical symptoms—headaches, neck pain, nausea, weight loss, and numbness in her hands and feet—Joyce also began experiencing anxiety, depression, and a slow but progressive cognitive decline.
Desperate for answers, she began her own research, which eventually led her to the Spinal CSF Leak Foundation, a relatively new group dedicated to raising awareness of this underdiagnosed condition. She learned that two Jefferson neurologists, Stephen Silberstein, MD, and Simy Parikh, MD, were members of the foundation's Medical Advisory Board.

Armed with this hopeful information, Joyce found herself returning to her alma mater, where she once taught medical students. 
"When I talked to Dr. Silberstein, it was like taking a huge weight off my shoulders," Joyce recalls. "I finally found someone who knows what is going on with my illness. Not only that, but he was also so compassionate and generous with his time."
Dr. Silberstein immediately devised a plan of action and was able to locate the leak in Joyce's upper thoracic spine. This discovery paved the way for a more accurate, targeted blood patch procedure. However, the treatment wasn't available at Jefferson at the time.
Dr. Silberstein referred Joyce to colleagues at Duke University. They determined that her leak was caused by a tiny, calcified disc piercing through the dura in her thoracic spine. They performed a targeted blood patch, injecting blood at the site of the tear. However, the symptoms returned almost immediately. Both her doctor at Duke and Dr. Silberstein felt that surgery to remove the calcified disk was her best option. 
Dr. Silberstein referred Joyce to a neurosurgeon at Cedars-Sinai Medical Center in California, Dr. Wouter Schievink, who has pioneered many of the surgical procedures to repair CSF leaks. At this point, eight months after her initial diagnosis, Joyce was frail due to weight loss from nausea caused by the leak and was in a serious depression. However, with the hope that surgery could be the answer, as well as the essential support of her husband, Joyce boarded her cross-country flight and headed to the West Coast. She was successfully operated on in the beginning of 2020, just before COVID-19 became a full-fledged pandemic, which would have delayed her surgery for many months.
While Joyce still experiences residual effects from the surgery itself and from the toll the CSF leak had taken on her body, her quality of life has vastly improved. She attributes much of her ongoing success to the follow-up care provided by Dr. Parikh.
"Dr. Parikh has been absolutely wonderful," Joyce says. "She's a great neurologist and is very enthusiastic about treating CSF leaks."
As an orphan disease—a rare condition with less than 200,000 cases annually—CSF leaks don't have an abundance of research or funding dedicated to understanding and treating them. Grateful for the skillful diagnosis and compassionate follow-up care she received at Jefferson, Joyce and her husband, Paul, decided to make a generous gift to help develop a spontaneous spinal CSF leak clinic at Jefferson.
"Dr. Silberstein and Dr. Parikh have deep knowledge and are very enthusiastic about establishing a spinal CSF leak clinic at the Jefferson Headache Center," Joyce says. "That's really important because there isn't much understanding of this condition by the public and even the medical profession. As a result, too many patients go undiagnosed for far too long leading to permanent pain and disability. Hopefully, Jefferson can become a renowned hub for this condition in the Philadelphia region, the East Coast, and beyond."
Jefferson now has capabilities to perform targeted blood patching and diagnostic radiologic testing. With donor support and enthusiastic internal commitment, the spinal CSF Leak Clinic at Jefferson is expanding. Its goal is to diagnose and treat people with spinal CSF leaks as quickly as possible and to advance clinical research on this condition. Generosity from grateful families such as Joyce and Paul underscores the great urgency and hope for significant improvements to tackle this debilitating, under-treated illness.
Contact us to learn more about investing in Jefferson and making a difference in the future of care.
Name:
Michelle Lee Maslowski, MBA
Position:
Associate Vice President, Neuroscience, Office of Institutional Advancement