Jefferson Receives $5 Million to Support Jefferson's New Outpatient Center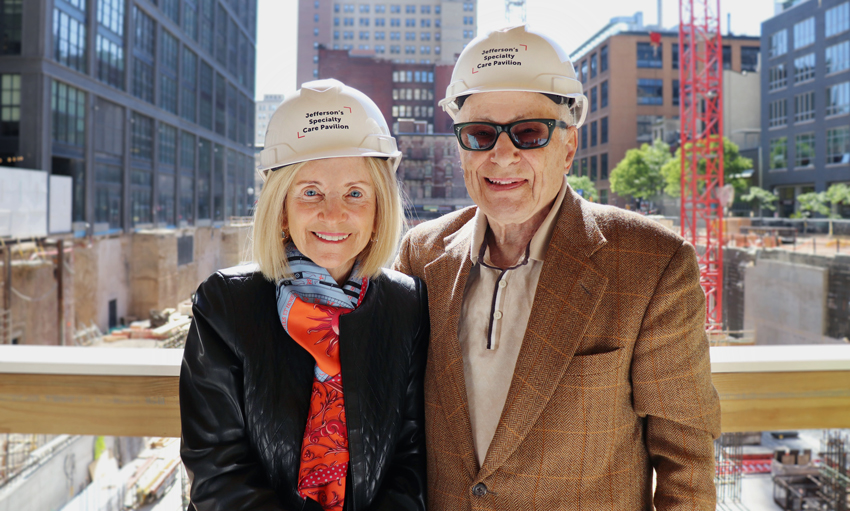 The Hon. Joyce and Herbert Kean, MD
The Hon. Joyce and Herbert Kean, MD, are patrons of the arts, supporters of social justice, and great believers in promoting excellence in medical education, research, and clinical care. The couple have made a $5 million gift to support the Department of Otolaryngology in the new Jefferson's new outpatient center.
A Philadelphia native and Phillies fanatic, Herb received his medical degree from Hahnemann University. He started his long affiliation with Jefferson in 1957 as a resident in otolaryngology, specializing in rhinoplasty.
Herb served as a volunteer faculty member at Jefferson for most of his career, eventually earning the title clinical professor. He retired from Jefferson and his practice in 1999. The Herbert Kean, MD, Chair in Otolaryngology was created in 2001, followed by the Herbert Kean, MD, Otolaryngology Residency Education and Research Fund and the Herbert Kean, MD, Center for Facial Aesthetics.
Joyce received her bachelor's degree from Temple University. She spent three years teaching in the Philadelphia school system before returning to Temple for a law degree to better serve social justice causes she supported. She won election to the Philadelphia Court of Common Pleas in 1997, where she served as a trial judge until retiring in 2006.
Joyce serves as a vice president on the board of the Pennsylvania Ballet. Herb serves on the boards of the Wistar Institute, the Alliance Francaise, and the National Liberty Museum. He also remains active as chairman on the Public Health Committee of the Philadelphia County Medical Society.
In 2010, the Keans received Jefferson's highest civic honor, the Award of Merit, at the Jefferson Gala. While the couple now reside in Key Biscayne, Fla., they make frequent trips to their Center City apartment to visit with friends, patronize the arts, and fulfill their commitments to the community. The Keans enjoy traveling and doting on their six grandchildren.