The Gift of Family, the Gift of Life
It was a life-changing decision.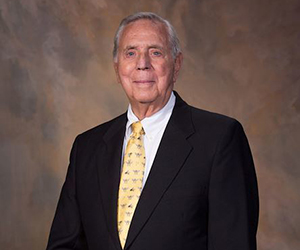 For four years, Robert "Bob" V. Nicoletti's kidneys were progressively failing him—the result of high blood pressure.
Bob initially concealed his worsening condition from his close-knit family. In early 2006, however, his doctors at Jefferson determined that he needed a transplant and Bob told his family. Seven members of the Nicoletti family immediately volunteered to donate a kidney. Ultimately, only one family member was deemed compatible: Bob's youngest daughter, Lori Nicoletti Peruto, Esq. "When we learned of Dad's condition, we knew what we had to do," Lori recalls. "There was no question, no hesitation."
However, it wasn't so simple for Bob. Mountains of emotion complicate the landscape of organ transplants, and it is only magnified when the donor is a family member. Lori and her brother, Mark R. Nicoletti, Sr., describe their father as a proud provider and patriarch, who prided himself on doing for others without a repayment or returned favor.
"He was stuck," says Lori, who remembers earnest conversations with her father as he pondered whether to accept her kidney.
After a period of introspection and many consultations with his doctors, Bob agreed and was scheduled for surgery with Lori as his donor. "The team at Jefferson cracked the code," Mark says. "They were able to take him home and get him to accept Lori's help." From the moment they arrived for surgery, former Jefferson doctor Cataldo Doria, MD, PhD, and the Jefferson transplant team provided hope and compassion, keeping the family informed and comforted every step of the way.
"Everyone at Jefferson was so caring, thoughtful, and encouraging," says Bob's daughter, Donna Nicoletti Ferrier. "They helped ease our fears and became our new friends."
"His demeanor is very calming," Mark says of Dr. Doria. "He is one of the top surgeons in the world, and he made a complicated procedure routine."
The surgery was successful, and both Bob and Lori quickly regained their strength and returned to their normal lifestyles in a few weeks. "Dad loved to tell everyone that he had a new lease on life," recalls Donna. That simple "yes" to a life-saving kidney gave Bob—who passed away in February 2016 at 85 years-old—another 10 loving years with his children and grandchildren.
Inspired by their care, Bob and his family became steadfast and generous donors to Jefferson. "Dad believed in helping in a comprehensive way," says Mark. "The Jefferson team helped us, and he wanted to pass it on for others." The Nicoletti family established the Nicoletti Family Professorship in Transplant Surgery in 2008 and the Beatrice F. Nicoletti Professorship in Nephrology in memory of Bob's wife, "Bea," in 2010.
In 2015, the family made another leadership gift to name the Jefferson Nicoletti Kidney Transplant Center. "With transplantation, you rely on the best process you can get," Lori says. "When you put all the pieces in one place—the coordinators, doctors, counselors, laboratories—you streamline the process for the donor, the recipient, and their loved ones. It takes the anxiety out of it and lets each of us focus on doing our part to solve the transplant puzzle."
"Jefferson took what could have been traumatic and heart-wrenching, and turned it into a heartwarming, loving, and bonding experience," Mark says.