On the Road Again
Jefferson Puts COVID Patient Back on Path to Health—and Highways
This past June Louis B. Colameco III hopped on his Harley Davidson and joined his son for a 10-day motorcycle ride through New Hampshire. Starlit nights, warm summer days, the open road, and no schedules to keep... "There was no time limit to it," Colameco says.

Time is something the 62-year-old retiree is grateful for—in November of 2020 he battled a serious case of COVID-19 and knows he could have easily run out of time to do the things he loves.
Colameco credits the doctors and nurses at Jefferson for saving his life and getting him on the road to recovery—and back on the road with his beloved bike.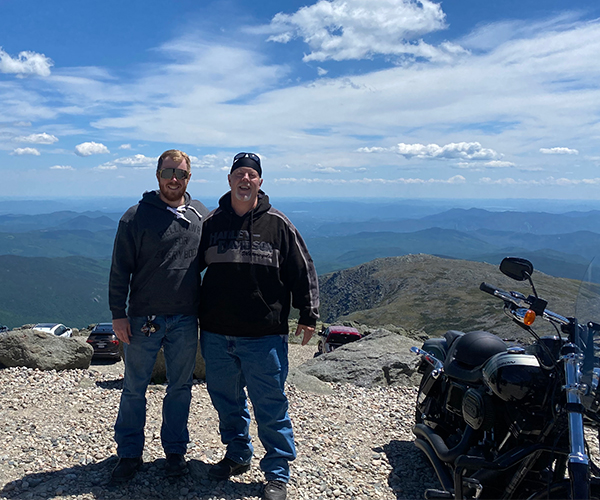 Colameco's harrowing experience began after a family vacation in early November with his wife, Ginny, and his and her adult children and daughter-in-law. They planned a very cautious Las Vegas trip and thought they did everything right. They arranged for small dinners in separate and distanced areas of the restaurant, rode their motorcycles to isolated places, and stayed away from casinos and crowds.

However, shortly after they got home, Ginny fell ill. A COVID test revealed she had the virus.
Colameco felt no symptoms at that point, "but I knew I had been sleeping with the enemy," he says with a laugh. His wife had a mild case and recovered in a few days. Just as she was getting better, Colameco started feeling the effects.
"I'm getting chills, perspiring, coughing… This was a Monday, and I thought it would pass by Friday," he says. But on Friday his wife heard a thud and found him passed out on the floor of the shower.
An ambulance rushed him to the community hospital near his home where they tested him for COVID and diagnosed him as "dehydrated."
By Saturday morning, Colameco still hadn't gotten test results or any medical treatment. His heart rate was elevated and rising, and his oxygen level had dipped to 87, but he was not put on supplemental oxygen. He still hadn't seen a doctor, and was told his COVID test results wouldn't be back until the beginning of the week.
"I felt things were not going in the right direction," he says. When he asked to be taken to another hospital, the doctors refused, saying he wasn't stable enough for an ambulance ride.
As their concern rose, he and his wife discussed options. They knew he needed to be transferred to Jefferson, where they have been longtime benefactors and active in fundraising.
Colameco became involved with the hospital during his first wife's battle with breast cancer. The couple created the Barbara A. Colameco Cancer Transportation Fund that helps secure rides to and from chemotherapy, radiation, and medical appointments for patients who need them. Barbara passed away in 2010; the family continues to support the effort through fundraisers, and also lends their time, energy, and gifts to other endeavors at the hospital.
Ginny decided to contact Jefferson to ask for assistance.
She was told "the JeffSTAT team would arrive at the hospital at 11:20 for transport to Jefferson," Colameco says. "Well, at 11:20, that chopper landed and it was like the Army arrived. A relief came over me. They loaded me in and 12 minutes and 20 seconds later I was landing on the roof at Jefferson."
The medical team immediately took chest X-rays and did tests that revealed he had COVID, as well as bacterial and viral pneumonia. They began treatment right away. There were ups and downs over the course of 10 days as the virus ebbed for a while, then came roaring back, but Colameco says his team was on top of everything. As he improved, a lingering side effect—a dangerously elevated heart rate—had to be corrected with an ablation procedure, extending his hospital stay a few more days.
Although Ginny was unable to visit because of COVID protocols, she talked to her husband on the phone and received regular updates from the nurses. Colameco says those same nurses gave him outstanding care, even taking the time to sit and chat with him when the floor was quiet in the early hours of the morning.
"I give those Jefferson nurses an A-plus," he says.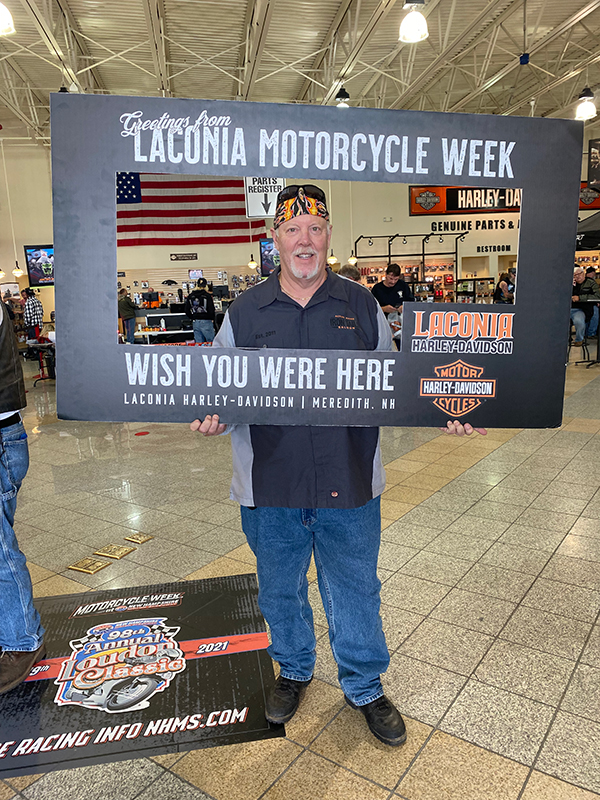 Fifteen days from the time he entered the hospital, Colameco was finally well enough to go home.
After waiting the required amount of time, Colameco got the COVID vaccine to ward off a second round of the virus. Then he got his life back on track—and back on the road. In March he attended Daytona Bike Week with his sons, pacing himself on his rides. He then took his bike on a two-day ride from Florida to South Carolina and back. And in June, he and a son took on the New Hampshire trip.
He's still feeling the "long hauler" effects of the virus—his energy tends to wane late in the day for a few hours—but he says he is getting stronger every day.
Colameco, who owned Wellshire Farms, a processor of all-natural meats for whole foods, says he sold the company and retired three years ago so he could concentrate on doing the things he loves—going on long-distance motorcycle rides across the country, spending time with family, and dedicating his energy to philanthropy.
"It's not about making money anymore," he says. "It's about doing things that make you happy, and helping others. I'm grateful I have the time to do that."