Paying It Forward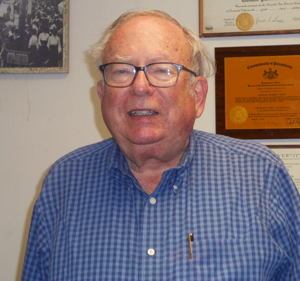 Charles Mond '69
A wizard with numbers and a scholarship recipient, Charles Mond '69 is balancing the ledger by investing in the future of Jefferson students.

Mond, a graduate of Jefferson's School of Business (then Philadelphia College of Textiles and Science), has generously endowed a scholarship through his estate. The Charles H. Mond Scholarship will support students in Jefferson's School of Business, and advance the University's strategic goal of equity in education. In honor of his philanthropy, a room has been named in the Tuttleman Center, where most of today's business courses are held.
He knows firsthand the critical importance a scholarship represents for a deserving student. "Jefferson gave me financial aid as well as a strong foundation, and a good, diverse background," he says.
Mond shares, "People thought the textile field would be good for me as they knew I would one day want to be in business for myself. I originally wanted to be an accountant, and after one semester as a textile engineering major, I switched my major and graduated with a degree in textile management and marketing. After graduation, I realized that I was more the financial type, and started working toward my MBA, taking a lot of accounting courses. I attended Temple University part time while working as a financial analyst in a large commercial bank."  
After learning of an opportunity in California, Mond headed west. "Shortly after, I realized that in order to get ahead in the financial world, I needed a CPA certificate. I passed all four parts of the CPA exam in California," he says.
Mond went to work in public accounting, advanced in the field, and began to take on consulting work while building a practice. "I knew I had a certain mindset and would eventually want to be in business for myself," he confides. "I worked for other CPA firms and corporations, but realized I needed more flexibility."
He became his own boss. "When I decided to build my own practice, I was able to freelance, work for other firms, and make time for myself to work on my own clients," he says.
Real estate became a second passion and aptitude. Mond met his wife, a law student, and married within three years. "I married a very talented young woman," he says. "We began to invest and bought our first piece of property within six months of getting married. We bought more and more properties, and as real estate in California blossomed, it became more of our avocation. We had a good strategy and knew that we would do well."
Mond's college experience was never far from his mind—or heart. "When I look back at it, I made a lot of friends and quite a few long-lasting friendships," he says. "I excelled in statistics and was inspired by my professors, really relating to my accounting professors even though I had limited accounting courses." 
Even now, he still values his unforgettable experience at Textile and the comprehensive, transdisciplinary education that he received. "I obtained broad knowledge from the courses I took that most accountants would not have, and learned about various subject matters that are still in my mind today," he shares.
While his CPA license has been retired, Mond's business interests and property management keep him busy. He now regularly attends Jefferson alumni receptions in the Los Angeles area, and returned to campus for the first time in 2019. "I went to my 50th reunion and reunited with a lot of people," he shares.
Mond's generosity has the power to transform the lives of future Jefferson students just as his life was forever changed. "I felt the need to reciprocate so that someone else could have a scholarship," he says. "I just feel that it's a moral obligation. Jefferson was a major part of my life at the time, and it's always good to give back."