Remembering Jack Farber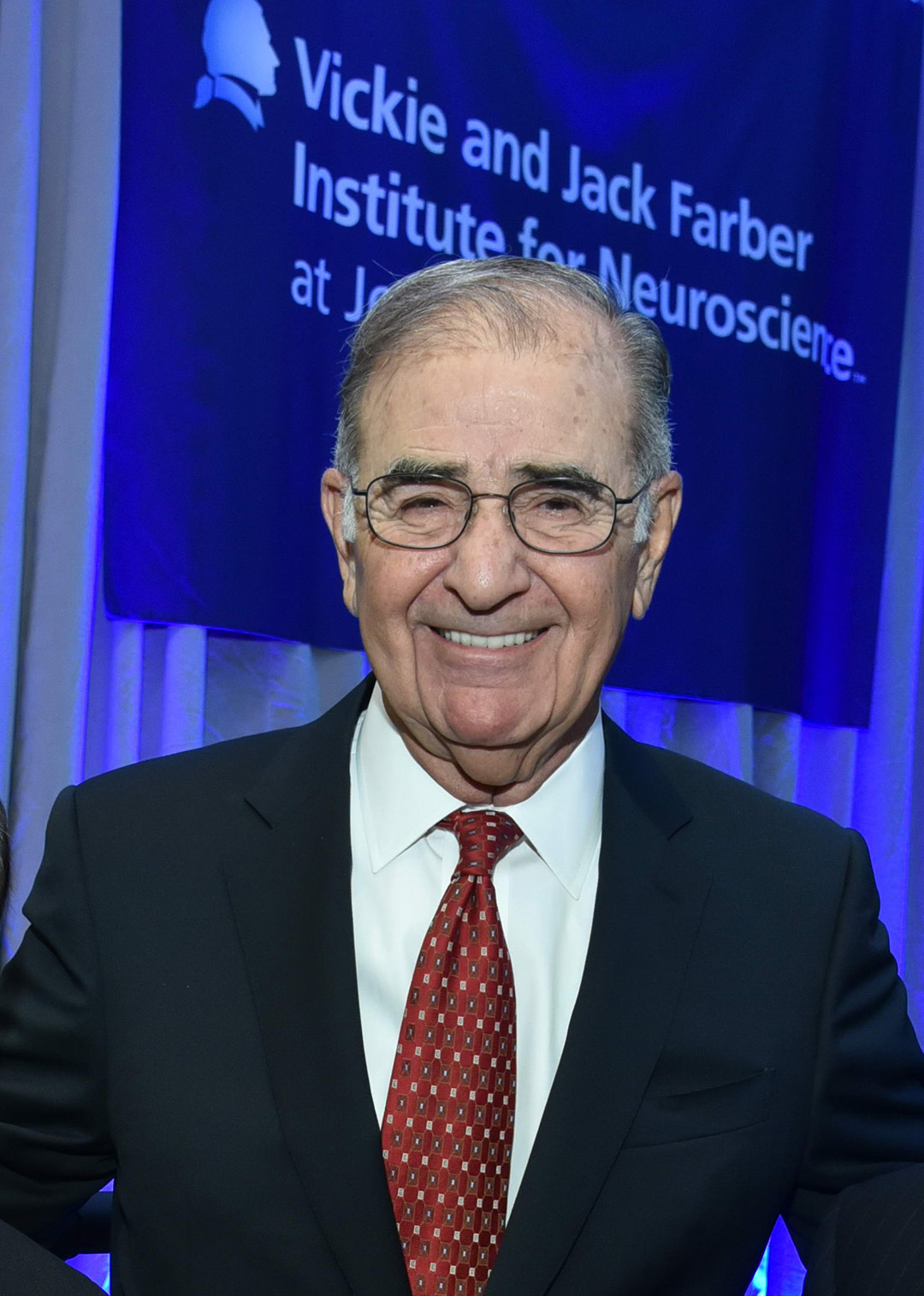 Jefferson mourns the passing of our dear friend, longtime trustee, and generous benefactor, Jack Farber.
For four decades, Mr. Farber was a pillar of the Jefferson community, helping elevate all facets of our mission. In 2002, he and his wife, Vickie, provided philanthropic support to launch the Vickie and Jack Farber Institute for Neuroscience, catapulting Jefferson into the highest echelons of neuroscience research, education, and clinical care. In making the gift, he said the couple's hope was that no family would have to watch a loved one disappear into the darkness of Alzheimer's, ALS, Parkinson's, or any other brain disease.
Mr. Farber's generosity was visionary and wide-ranging. Beyond the institute bearing his name, he and his family supported the Frances and Joseph Weinberg Unit for ALS Research, several endowed professorships, university scholarships, an international partnership in Italy, and our signature events. Most recently, Mr. Farber and the Farber family made a generous gift in memory of his son, David, to establish the David Farber ASPIRE Center (Advancement of Suicide Prevention, Intervention, Research, and Education). In 2004, Jack and Vickie were recognized with the Award of Merit, Jefferson's highest civic honor.
In addition to his considerable generosity, Mr. Farber also made a tremendous commitment of time and energy. Known for his business acumen and uncanny ability with numbers, he helped guide us as a trustee (at Thomas Jefferson University from 1984–2015; at Thomas Jefferson University Hospitals from 1995–2012 and 2015–2022), as chair of the Board (1995–2000), as a leader of multiple committees, and as a trusted advisor to several of our presidents and CEOs.

In his memoir, he quoted Charlie Chaplin, who said, "You'll never find a rainbow if you're looking down." 

Mr. Farber was the type of person who was always looking up and looking out toward what could be. Jefferson is stronger because of his vision, stewardship, and personal involvement, and he will be missed.