A New Appreciation for Life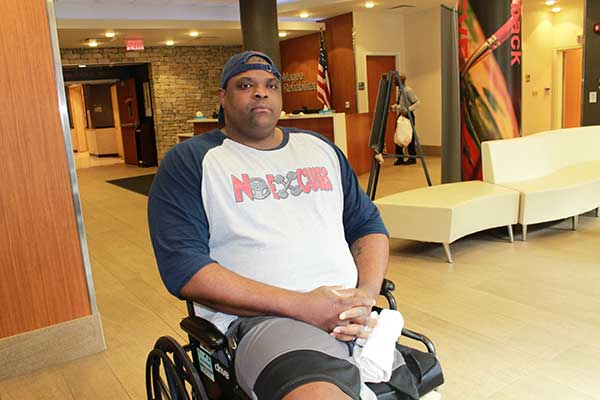 "It's sort of like a fraternity. You're a family member," Ron says. "I look forward to coming back and helping someone with my story."
"It's sort of like a fraternity. You're a family member," Ron says. "I look forward to coming back and helping someone with my story."
From his days on the court at Temple University to playing professional basketball for the Harlem Globetrotters, 37-year-old Ron Rollerson has always had a competitive spirit. When an aortic dissection almost took his life, Ron never stopped fighting.
By September 2016, Ron had retired from playing professional basketball and was working in construction at the University of Pennsylvania. Though he had always had high blood pressure, Ron was in generally good health and, as all signs would indicate, this Wednesday was no different than any other. As fate would have it, that Wednesday would change the course of his life forever.
At around 8 p.m., Ron was settling in for the night and watching TV when he felt a jolt through his body. At first, his legs felt heavy when he tried to walk to the bathroom. Then, a tingling sensation started to spread from his feet to his ankles and beyond. After a few minutes, Ron could no longer walk and called 911.
When he arrived at the hospital, his echocardiogram (EKG) returned normal, and physicians clamored to figure out what was wrong. At that point, Ron was experiencing a horrible burning sensation. Sweating and panicking, he noticed that some feeling had returned to his right leg, and then his left. When things started to get hazy, they rushed him into emergency surgery.
Two and a half weeks later, Ron awoke to discover that he had experienced an aortic dissection, an injury to the innermost layer of the aorta that allows blood to flow between the layers of the aortic wall, forcing the layers apart. Having been given only a 20 percent chance of survival, he had beaten the odds. However, more challenges were yet to come.
Ron arrived at Magee in December 2017 after a long battle with infections, multiple surgeries, and a hip disarticulation amputation.
"After a few days, I felt like coming to Magee was probably the best thing that happened to me. I felt like I couldn't have had a better physical therapist [Aliah Keirsey] or occupational therapist [Mia Camhi]," Ron said. "They helped to lift my spirits, and even though it was a fight for them to get me going, they kept pushing and pushing me. I will forever be grateful to them and the nurses, CNAs and other therapists. In a lot of ways, they really saved my life."
After three and a half weeks as an inpatient, Ron left Magee. Now a patient at Magee Riverfront Outpatient Center, Ron is making progress each day. Magee will always hold a special place in his heart, and eventually, he hopes to return to the hospital as a volunteer.
"It's sort of like a fraternity. You're a family member," he said. "I look forward to coming back and helping someone with my story."
Ron also shared his advice for those willing to listen, whether they have been through a similar experience or not.
"I would stress to anyone to cherish life because things can change, and God has a way of humbling us even though it's not always the plan that we have," Ron said.
Ron, however, has found a new appreciation for life through his experience.
"I have to remind myself at times that I'm fortunate to be here," he said. "I see life as a blessing; not as a curse. Regardless of what you go through or the situation you have to overcome, adversity is adversity, and there's always someone to help you. Magee is a testament to that."