The Ride of a Century for Rose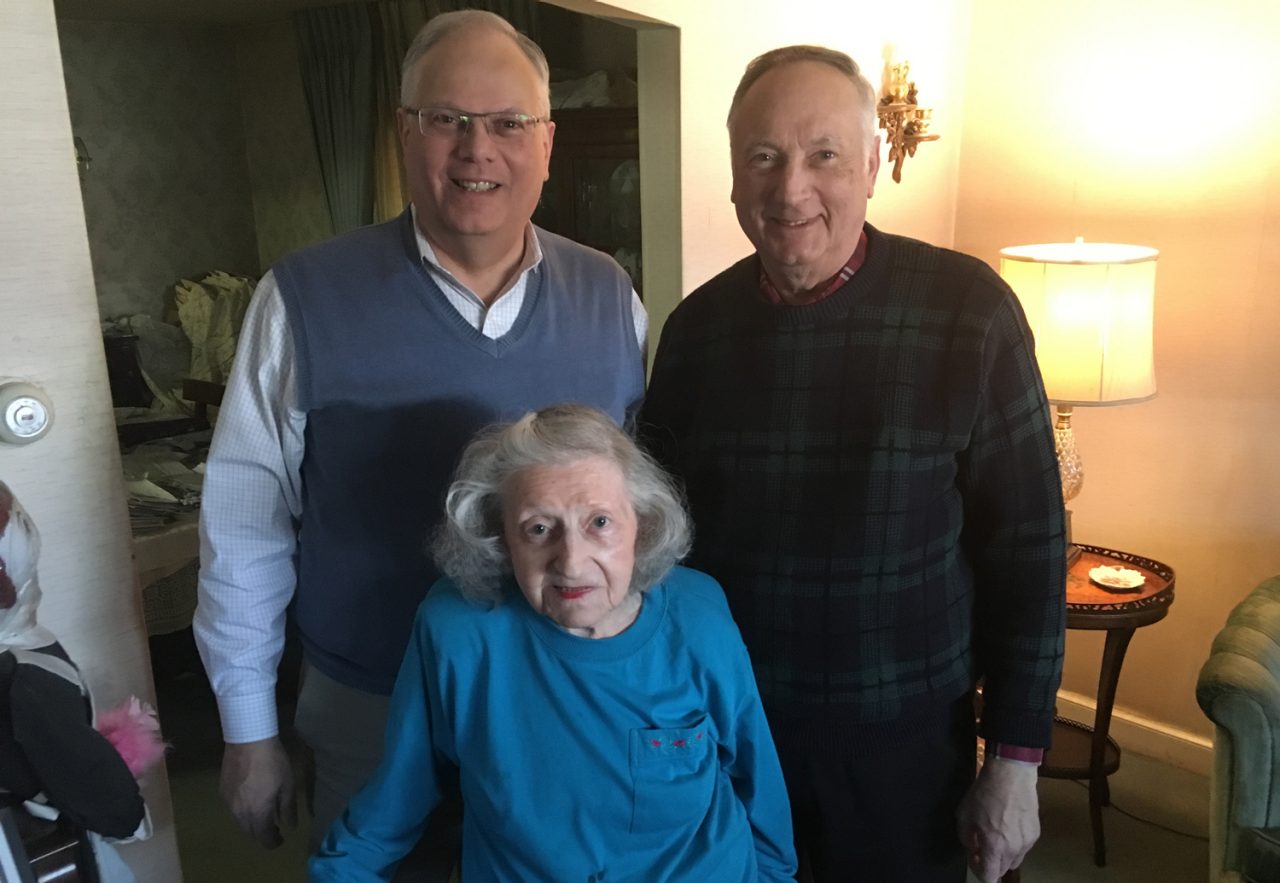 Out of the 7.6 billion people worldwide, only about 316,000 are centenarians, and Rose Mirman is one of them. In late 2017, she took what was literally the ride of her 102-year-old life: strapped down in a helicopter, the wind whipping across her face, as she was rushed to Jefferson for emergency brain surgery.
"I guess I'm a miracle." Rose smiles.
A sprite with still-sparkling eyes, Rose was born August 27, 1915. She's lived in the same house for 65 years, watching an epoch (or two or three) of technology spin by, from 1939 Ford coupes with alligator hoods on the streets of her hometown Glenolden, Pennsylvania, to John Glenn in a rocket ship orbiting the Earth, to phones in pockets that can harness the internet. "I still like my rotary phone best," she says.
Rose's medical miracle started after supper last Thanksgiving. "We had our coats on and were right near the door," she says. "I gave a real hard sneeze and I fell over and I couldn't get up." She'd broken her femur. 
Before that, not counting the births of her two sons, Rose had only been in a hospital a couple of times.
"I've got good genes," says Rose. And the right attitude. "The best piece of advice I ever got was to not worry too much about things."
While in rehab at a local hospital, an occupational therapist noticed Rose slumping over and starting to drool, a possible sign of a stroke. She was immediately taken to the ER for an evaluation, where they called for the JeffSTAT helicopter to get her to Jefferson.
Reid Gooch, MD, a Jefferson neurosurgeon and faculty member of the Vickie and Jack Farber Institute for Neuroscience, was on call when Rose arrived. Dr. Gooch and the team first ran a standard imaging protocol to evaluate for a vessel occlusion. This showed there was a clot in Rose's right internal carotid artery (ICA) in her neck and another in her middle cerebral artery (MCA) in the brain. A second imaging study demonstrated that a large area of the right hemisphere was at risk for developing a life-threatening stroke, but there was still time to prevent this outcome if the arteries could be opened emergently.
"We spoke with her sons, Martin and Dr. Merrill Mirman, and they said before this she was in good health and living independently," says Dr. Gooch. "She fit all the criteria to proceed with the procedure to remove the clots."
First, Dr. Gooch and vascular neurosurgery fellow Michael Lang, MD, opened the ICA occlusion with a balloon. Next, they performed a thrombectomy to remove the MCA occlusion. Overnight, Rose was almost back to normal. But she wasn't out of the woods yet.
The artery in her neck was still very narrow and would need a stent.
"There was one more problem," says Rose's son Martin. "Mom didn't want to have another surgery."
After talking with Rose further, Dr. Gooch realized that her hesitancy was about the word itself. "Surgery" sounded like breathing tubes, being put to sleep, pain, and helplessness, conjuring a kind of existential crisis. 
"Dr. Gooch was absolutely fantastic with mom, and with me and my brother," says Martin. "We felt like we were part of the decision-making process throughout. And so we were all informed and were able to explain to her that the stent wasn't 'surgery,' with a capital S. It was essentially going to be sticking a needle into her groin area where Dr. Gooch had performed the thrombectomy."
Rose agreed.
A few days after the stroke intervention they were able to perform a minimally invasive procedure to place the stent in the neck artery—just a needle in the groin area as promised. It was successful, and Rose was back on her feet within a week.
"I think the medical staff was as amazed at the recovery as everybody else," says Martin. "It was almost like nothing had happened."
"I feel fine," says Rose. "I have to do more walking though."
Today, she's back to cooking for family at her comfy old house, a frozen-in-time jewel box in Glenolden.
"My whole life, I've either worked or volunteered," reflects Rose. "It feels wonderful to give back. Service to others is wonderful. The doctors at Jefferson served me, and I'm grateful. They're miracle workers."