The Brooks Family
Moving Forward by Giving Back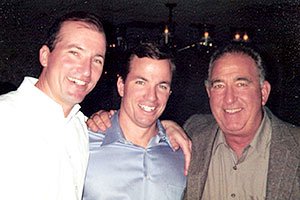 Judge would have been pleased.
Margaret Bennett Brooks, nicknamed Judge as a child for her occasionally stern expression, was a kind and generous woman who devoted her life to nursing and to helping those in need.
To honor her memory, her husband, Harry Brooks, and their twin sons, Stephen and Mike, created a nursing scholarship in her name.
Harry established the Margaret Rose Bennett Scholarship Fund at Abington Memorial Hospital's Dixon School of Nursing after his wife died of lung cancer in 1989. Since then the fund has continued to provide three annual scholarships for Abington's nursing students.
With the nursing school approaching its 100th anniversary, the family has made significant new gifts to bolster the fund.
"My mom had very humble beginnings," says Mike, "and a scholarship helped her start her own nursing career. The whole idea of this scholarship is to help people in similar circumstances."
Margaret Bennett grew up in Woodside, Pennsylvania, and graduated from Pennsbury High School. Money was tight in her family and her prospects were uncertain. It was a scholarship from the Yardley Rotary Club that made it possible for her to attend Abington's nursing school.
After completing the program she worked first as a nurse at Abington Memorial Hospital, and then became a public health nurse in Philadelphia. When she and Harry married they moved to Levittown, where they raised their sons and where Margaret continued to work as a nurse. When the boys left for college she began working with Easter Seals, a cause that the family continues to support.
"What I wanted to accomplish with starting this fund at Abington," says Harry, "was to give others the same opportunity she was given."
"Without that scholarship," stresses Stephen, "she may never have been able to go to nursing school. That's a big issue, when people without means don't have the same chances as others. Education is very important. Hospitals are very important. Both help the advancement of people. I like being involved in something that helps to give people opportunity."
Like Margaret, Harry pursued a distinctive path to opportunity. After earning a degree in metallurgical engineering from Lehigh University and working in the field for 10 years, he decided to switch careers. He went back to school at night, earned his MBA at Temple University and then ran a company making pipes and fittings for water treatment plants. In the early eighties, he started working for Suburban Cable, a company owned at the time by H.F. "Gerry" Lenfest.
"Gerry was expanding his cable industry and needed some help," recalls Harry, whose sister, Marguerite, married Mr. Lenfest. "I spent the next 16 years working for Suburban Cable, and ended up the chief financial officer before retiring in 1999."
Stephen, a father of three, saw his own career unfold somewhat like his father's. "I have the same DNA!" he says with a laugh. "I also went to Lehigh, and I also got an engineering degree. Then I also decided to get an MBA and leave engineering, too."
After graduating from Columbia he worked as a financial analyst for a chemical business. When that business got sold to a group in Indianapolis he decided he didn't want to move. He and his boss started their own company, Carbon Management, where
he has worked for the past 13 years importing chemicals for aluminum production.
Mike graduated from Bloomsburg University and is now running an insurance agency. For 12 years he also ran the youth basketball league in Montgomery Township where he served as coach for his three sons, who have all since gone on to play college ball.
"All of my children were born at Abington," he adds. "And I had a hip replacement there. I'm a big Abington fan."
For some 15 years Mike was the administrator for the family's scholarship fund, but as the fund grew more complex he eventually turned the running of it over to the school. Today the fund awards three scholarships each year to help nursing students with financial need to pay their tuition, purchase books and buy supplies.
"We're very happy that our mom's name lives on with this scholarship," says Stephen. "She was a very giving woman, and even though she's moved on, it's nice that she's still giving."
Mike agrees: "She was a good example of somebody who did things for the betterment of her surroundings. She's a good example of why you want to help people."
"The whole reason this fund exists," adds Harry, "is because one day Judge Brooks got a scholarship to Abington. I'm happy to help others in the same way.