First LGBT Scholarship Established at Thomas Jefferson University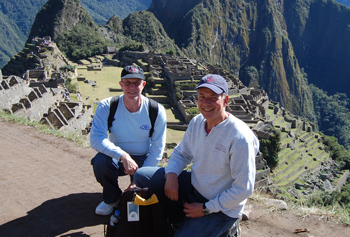 Mark Zwanger, MD and Malcolm Kram, DVM
Mark Zwanger, MD and Malcolm Kram, DVM know the importance of supporting LGBT students who wish to pursue careers in medicine.
Dr. Zwanger, '82 is an alumnus of the Sidney Kimmel Medical College and a former Thomas Jefferson University emergency medicine faculty member. Dr. Kram, a graduate of Cornell University's College of Veterinary Medicine, is a veterinarian and certified veterinary acupuncturist. Together, the couple made a $100,000 gift in honor of their parents Shirley and Bennett Zwanger and Janet and Martin Kram, to establish the Mark L. Zwanger, MD '82 and Malcolm A. Kram, DVM, LGBT Scholarship at SKMC.
This is the first LGBT scholarship established at Thomas Jefferson University.
"We have both been blessed that we come from loving and caring families who have supported us and have encouraged education and learning.  This has allowed us to achieve much and to hopefully help others—many times you hear stories of gay and lesbian kids who have been kicked out of their homes or have dealt with a variety of discriminatory types of issues," Zwanger said.
"So, this is a way for us – on a personal level – to support those individuals and SKMC, and if possible, to be role models to encourage others to give back as well if they are fortunate enough to be able to."
"We both have been fortunate with what we've accomplished in our lives and we're happy that we are able to give back and support these initiatives," Kram said. "They're important to us and we're glad that they're also important to the University."
The couple's gift will help provide need-based scholarships to students in SKMC with preference given to first year, LGBT students. The scholarship gift will also be matched thanks to the Sidney Kimmel Medical College Kimmel Endowment Matching Program.
Zwanger and Kram have made contributions to various institutions to support LGBT students.
In 2005, Dr. Kram established the Anna and Hyman Greenberg Scholarship in honor of his grandparents to support gay and lesbian students at Cornell University's College of Veterinary Medicine. And most recently, the couple established the Dr. Mark L. Zwanger '78 and Dr. Malcolm A. Kram LGBT Scholarship at Muhlenberg College in Allentown, PA.
"We have tried to support institutions that are important to us, are valuable to the community that they serve, and to assist LGBT students who might not have support from their families or have the resources they might need to succeed. These goals match with SKMC, so our commitment to the medical school was a natural fit," Zwanger said.
Zwanger and Kram are hopeful that their generosity will spread.
"One of the things that we have both found with the other two scholarships that we have established is that a variety of alumni have either made commitments or have mentioned to the colleges that knowing about a scholarship like this has encouraged them to give a more directed gift to help support that scholarship for LGBT students," Zwanger said.
Zwanger and Kram's contributions align with Thomas Jefferson University's mission to promote and cultivate an inclusive environment that celebrates the diversity of its patients, families, students, workforce and the communities it serves.
Jefferson has been recognized by the Healthcare Equality Index as a leader for providing programs and care to support the LGBT community, offering diversity training to clinicians and staff, and satisfying several requirements to provide appropriate care for LGBT patients.