Reach It Back
The Positive Impact of Scholarship on Student and Benefactor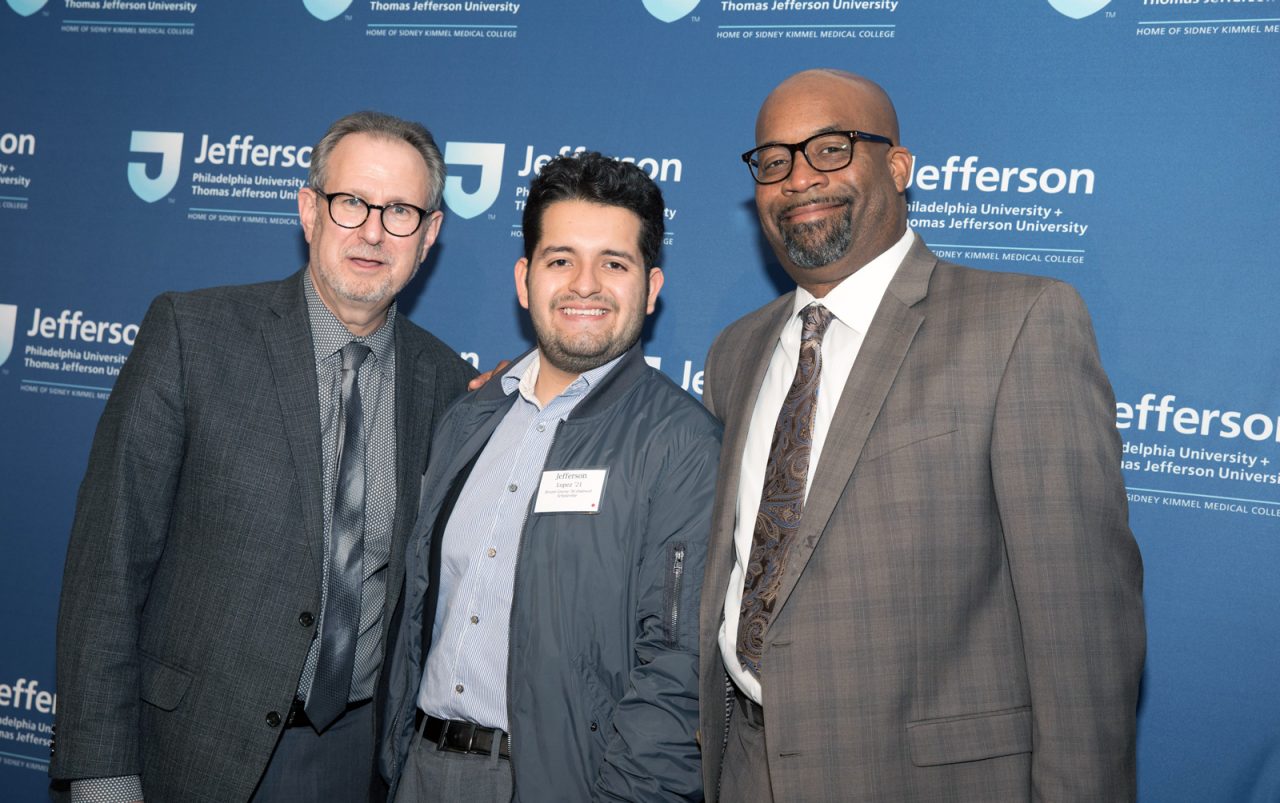 L to R: Dr. Matt Dane Baker (Senior Vice Provost, Academic Affairs), Jefferson Lopez '21, and Bryant Greene, MBA '96
Bryant Greene, MBA '96 wasn't always an entrepreneur. He credits a combination of factors, including the faculty and curriculum at Thomas Jefferson University (then Philadelphia College of Textiles and Science), with giving him the spark. Today, as owner and operator of Always Best Care Senior Services, Greene is determined to take his success and "reach it back" to help future generations.
"I like to give," says Greene with a contagious smile on his face. "I come from a modest upbringing where we had no choice but to share. Now, I'm fortunate enough to be in a situation where I can help others, and it's very important to me to do so."
When Greene established a scholarship at Jefferson in 2016, he did so with the intention of helping business students find their own path—just like he did some 20 years ago.
He never imagined this selfless gesture would also create a lasting friendship.
The Recipient
Jefferson Lopez '21 knew he wanted to study in Philadelphia, but with so many universities to choose from, he wasn't certain which would be the best fit. While visiting Jefferson's East Falls campus, he was immediately drawn to the International Business Program at the Kanbar College of Design, Engineering, and Commerce. Lopez had the skills and the drive to excel, but he faced a financial hurdle.
"When I came to Jefferson, my parents told me they would support me as best they could," Lopez says. "But, I knew they couldn't support me financially."
So, Lopez got to work, hunting for scholarships, grants, a job—anything to make his education possible. It was during his second semester that he learned about the Bryant Greene '96 Endowed Scholarship.
"For somebody who doesn't have money, this scholarship meant everything," Lopez says. "I now had the peace of mind to give my all to my education."
A Mentorship Like No Other
When Lopez learned about the opportunity for mentorship from his scholarship benefactor, he didn't know what to expect, but he was excited. "As a Hispanic guy coming to Philly without friends or family, it was so impactful to know I had someone here to support, guide, teach, and listen to me," Lopez says.
From the moment they first met, Lopez and Greene felt an immediate connection. "I couldn't get enough of him," Greene recalls. "He has very similar ideologies that I had at his age, and being able to bond over that positive energy has resurrected a sense of purpose for me."
After that first meeting, Greene jokes that he "essentially adopted" Lopez. The pair bonded over their shared passion for music and performing. They sat front row to see Sting. Greene invited Lopez to his horror movie marathon, an annual gathering on Greene's farm where friends and family would stay up all night watching horror classics. And, through it all, Greene would impart his advice, experiences, and unique perspective to help Lopez on his journey.
"Our backgrounds are so similar that we didn't need to spend much time getting to know each other," Greene explains. "With so many of the same interests and passions, we formed an immediate admiration for one another."
On a shared Zoom call, Lopez nods in agreement. "Greene has really taken me under his wing and helped me develop a vision for my future career and my life in general. It's more than a scholarship and mentorship– it's become a friendship."
Every Experience Is a Lesson
For Greene, establishing a scholarship is personal. Since he started working at the age of 5, Greene has learned a lot about what not to do. "Every experience is a lesson," Greene says. "Life is hard, and sometimes it hits you right in the face. When that happens, consider it a lesson and grow from it."
After a lifetime of hard-earned success, Greene finds joy and fulfillment in helping new generations find their own path. "Sometimes there are traits in you that you can't see for yourself. Having a positive mentor is a great way to reveal that side of you," he says.
Down the road when you're successful and meet the next young version of yourself, reach it back. Reach it back, pay your good fortune forward, and help guide the next generation. As a future leader, never forget that we all become stronger when we help each other.
Happy to play a role in Lopez's success, Greene only asks for one thing in return: "Down the road when you're successful and meet the next young version of yourself, reach it back. Reach it back, pay your good fortune forward, and help guide the next generation. As a future leader, never forget that we all become stronger when we help each other."