Patient Credits Jefferson's Quick Action and Compassionate Care With Saving His Life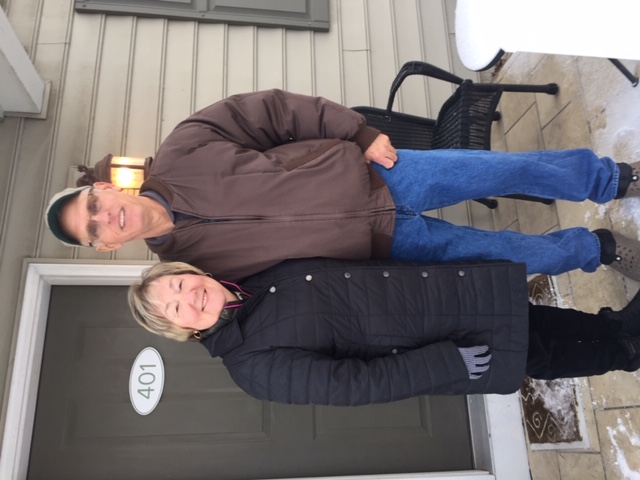 David Fish thought he was Iron Man. At 57, he was still doing intense, physical labor at the construction company he owns, never missing a day on the job, never getting sick. His work gave him a great sense of security in his own health.
Until one night in 2012 when he "just didn't feel right."
"I knew something was wrong. I knew I needed to go to the hospital," David remembers. The community hospital near his Swedesboro, New Jersey, home performed a CAT scan to determine the cause of the severe pain in his abdomen.
"In the morning, the doc came in with the results," David recalls. "He said I had a large mass around the pancreas, liver, and other vital organs. Then he told me I had pancreatic cancer."
Patricia, his wife, told the doctor if that diagnosis was correct, her husband needed to go to Jefferson. "The doctor did not argue with me," she says.
Two days later, the couple traveled across the bridge to Thomas Jefferson University Hospital to see Anthony J. DiMarino, Jr., MD, who gave them some good news and some not-so-good news.
"He said, 'I don't think you have pancreatic cancer. But you have something, and I think it's lymphoma,'" David says. He was immediately admitted to Jefferson for testing, and the next day, the diagnosis was confirmed—David had diffuse large B-cell lymphoma (DLBCL), the most common type of non-Hodgkin lymphoma in the United States and worldwide.
Dr. DiMarino gave me a glimmer of hope. He told me, 'This is something we can work with.'
In spite of the diagnosis, David was relieved. "I spent two days thinking I had pancreatic cancer, which does not usually have a good prognosis," he says. "Dr. DiMarino gave me a glimmer of hope. He told me, 'This is something we can work with.'" When caught early, DLBCL is highly treatable.
David was referred to Sidney Kimmel Cancer Center oncologist Neal Flomenberg, MD, whom Patricia calls "the whole package—all the knowledge and demeanor needed to make people well."
"Dr. Flomenberg came into the hospital room, and his mannerisms were very calm and comforting and reassuring. He told us, 'I am your doctor, and we're going to do what we can to get you better,'" Patricia says. "For the first time, I thought there was hope for David."
But the mass was large—and it was growing. Flomenberg began the standard protocol of six chemotherapy treatments right away. However, after only two sessions, tests showed that the mass was completely gone.
"The doctor was stunned. He told me this almost never happens, but I was free of cancer after just two treatments," David says. He credits Jefferson and the prayers of 150 fellow congregants of his church for what he calls the "miracle." Just to be on the safe side, the doctor ordered two more chemotherapy sessions.
The regimen took its toll—David lost his hair, his weight dipped by 30 pounds, he felt weak and exhausted. But he says he got through the ordeal with the help of his wife, his strong faith, and all the caring people at Sidney Kimmel Cancer Center: Flomenberg, who assured him, "we're going to get through this together"; the staff who doted on him in the hospital; the compassionate nurse in the doctor's office who offered a sympathetic ear and shoulder to lean on.
"All the people who work at Sidney Kimmel Cancer Center—from the person who cleans the rooms to the top doctors—have dedicated their lives to helping people who are very sick," Patricia says. "They gave me my husband back, and I am forever grateful to them."
It took about a year and a half for David to get back into "construction worker" shape, but today—seven years after the initial diagnosis—he is still cancer free. At 64 years old, he says he's at 110 percent and able to do it all, from climbing ladders to performing carpentry work. 
"I'm walking this earth today because of modern medicine," David says. "And for that I thank the Lord—and everyone at Jefferson."