Grateful Patient Finds Hope at Jefferson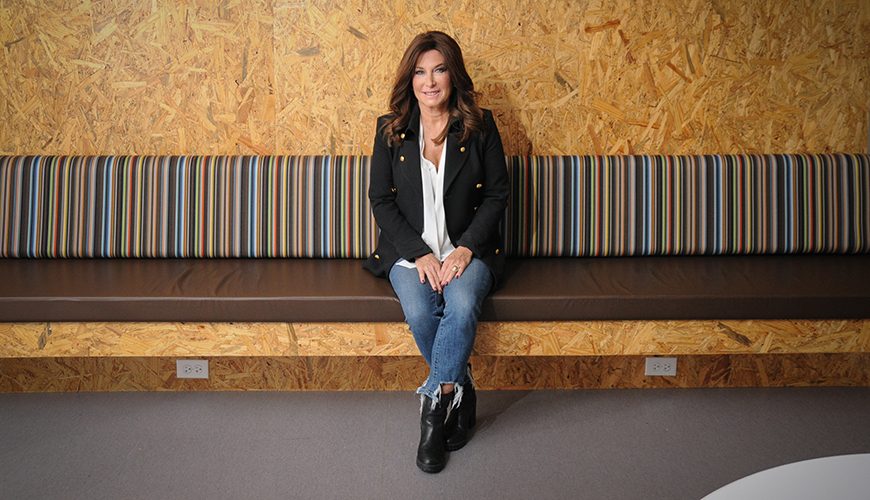 Learning that you have cancer is always a devastating experience.
For Denise Garnick, 57, it was even more shattering because for months she'd attributed her pain to what she thought was a simple toothache.
"I initially had a root canal and was in excruciating pain for months," she says. "I went to a variety of doctors and nobody could diagnose me. I thought it was just an abscess or something."
In July 2015, Garnick came to Jefferson, where she learned that her assumed toothache was actually Double-Hit Lymphoma (DHL), a highly uncommon and aggressive type of non-Hodgkin lymphoma. The cancerous tumor, located very near to her brain, added even more risk and greater complexity to any treatment option.
Garnick, an avid traveler, the founder of her own law practice, and a wife and the mother of two adult children, shuttered when she heard the news. Questions swarmed her mind: How would her diagnosis affect her family? Her practice? Would she even survive?
Then came the moment that Garnick says she'll never forget; the moment that helped her get through what would be a challenging, yearlong battle against the aggressive cancer. Jefferson medical oncologist Ubaldo E. Martinez Outschoorn, MD, held Garnick's hand, looked her in the eyes, and said, "We're going for the cure."
"At first, when you hear the word 'cancer,' it's like you're in another world," she says. "But Dr. Martinez's words just resounded in my mind and the positive, personal feeling that I felt from him gave me that little bit of confidence that I needed to know I was going to be able to work through this."
Denise was still worried but also determined to take control of her health. She began reading every book she could find about her type of cancer, survivor stories, and information about treatments. She sought second opinions at two other area hospitals; both told her to prepare for the worst. Ultimately, remembering Dr. Martinez's optimistic words, Garnick returned to Jefferson to begin her treatment.
Dr. Martinez and a multidisciplinary team of physicians crafted an individualized treatment plan for Garnick. First, she would undergo a round of standard chemotherapy. Then, to address the uniqueness of her type of cancer, she would receive eight intrathecal rounds of high-dose methotrexate during an inpatient stay at Jefferson followed by radiation therapy.
Dr. Martinez was honest with Garnick. He couldn't guarantee that the proposed treatment plan would work; he warned that the type of cancer she had was very resistant to treatment, but foregoing any treatment would certainly lead to an undesirable end.  Garnick was pleased that Dr. Martinez was forthright about the potential results and that he'd crafted a customized treatment plan that would meet her specific needs.
"At Jefferson, they weren't just stuck on protocol," she says. "I really think that's where Jefferson differs from other area hospitals. I really felt that the individualization for me as a patient was extraordinary."
Garnick's cancer went into remission after two rounds of chemotherapy. She completed radiation therapy in January 2016.  She's had some limitations due to side effects from radiation, but she's continued leading her law practice and she's gotten back to doing many of the things she enjoys most.
"Before cancer, I had the happiest life, and I still do," she says. "I have two incredible children, a wonderful husband, and loving friends. I love to cook and travel, and I love having my own law firm. I'm back to doing almost all of those things now. I've always been grateful for everything that I have, but now I have a whole new level of appreciation."