From Head Injury to Healing
The Road to Recovery Includes Honoring Jefferson Neurosurgeon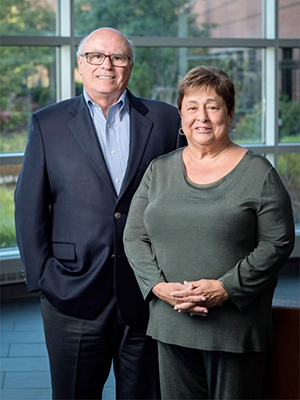 Richard T. Clark and Angela Clark
On May 29, 2020, Richard T. Clark walked onto the 8th floor intensive care unit of the Jefferson Hospital for Neuroscience and announced he was there for brain surgery. The nurse was stunned, telling him: "People don't usually walk into this unit!"
He quickly countered: "The key isn't walking into the unit—it's walking out!"
And while Clark didn't walk out of the unit—the staff insisted on a wheelchair—he is walking today. And talking. And working. And playing with his three grandchildren. And spending quality time with his wife of 50 years, Angela. And crediting world-renowned neurosurgeon Pascal Jabbour, MD, with saving his life.
Clark's journey back from a head injury to health began in early May when he took a tumble. The retired chairman, CEO, and president of Merck & Co., Inc, thought nothing of the fall at first—then the headaches began. After two weeks, he visited Doylestown Hospital near his home for a CT scan. When the scan showed a subdural hematoma—or brain bleed—he was immediately loaded into a helicopter bound for Thomas Jefferson University Hospital.
Although he had never been a patient at Jefferson before, his doctor decided that Jefferson—and the surgeons at the Vickie and Jack Farber Institute for Neuroscience—were Clark's best bet for recovery.
"I knew Jefferson had a great reputation in the neurosciences, and I knew they wouldn't send me anywhere that wasn't the best place to go," Clark says, adding, "Plus, when the helicopter is waiting, you don't have time for a second opinion."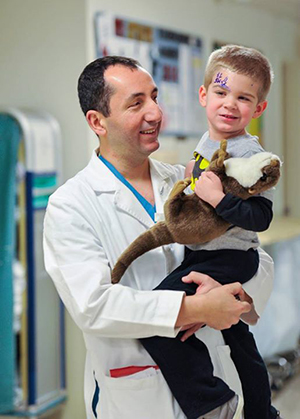 Pascal M. Jabbour, MD
Seven minutes later, the chopper landed at Jefferson; waiting for him was Jabbour and Robert H. Rosenwasser, MD, MBA, the Jewell L. Osterholm Professor and Chair of the Department of Neurological Surgery and President of the Vickie and Jack Farber Institute for Neuroscience – Jefferson Health.

Clark underwent an embolization, a minimally invasive treatment to stem the brain bleed, spent several days in the ICU, and was released, still being carefully monitored by the doctor. When a follow up CT scan showed more blood on the brain four days later, Jabbour called and told him to get to the hospital immediately—a second, more intricate surgery was already scheduled for the next morning.
He checked himself into the unit on May 29, telling the surgeon he had one wish: to be home with his wife by June 6 so they could celebrate their 50th anniversary together. After six days in intensive care, his wish came true. While it wasn't the big bash they had originally planned thanks to COVID, the couple was happy to sip wine, opens gifts friends had sent, and enjoy a quiet, socially-distanced driveway affair with their children and grandchildren.
Now given a clean bill of health, Clark reflects on the outstanding care and outpouring of compassion that he and his wife received while he was hospitalized.
"From the time I was admitted to the time I left, everyone—from the admissions clerk to the doctors and nurses—treated me exceptionally well. And it wasn't just me—I saw all the other patients were being treated exactly the same. You don't see that everywhere—it's just the Jefferson culture," he says.
The couple says the ICU nurses in particular hold a special place in their hearts.
"I've never met a group of more spectacular nurses—they all treated me like I was their father," Clark says, noting that the ICU during a pandemic can be a very lonely place. "I'm in a hospital, I'm isolated from my family. It was those nurses taking care of me that made a huge difference."
Philanthropy furthers research, education, and the sharing of clinical data across the world that will save lives.
Angela Clark, who was not allowed to visit her husband the hospital because of pandemic safety measures, is also grateful to the nurses. "They all kept me informed every step of the way. I didn't have to call and find out if my husband was okay—they called me constantly with updates."
Jabbour also went above and beyond expectations for a medical professional, she says. "He was in constant contact, he was compassionate, and gave us great comfort."
The couple is honoring Jabbour by establishing the Angela and Richard T. Clark Distinguished Professor and Division Chief of Neurovascular Surgery and Endovascular Neurosurgery, and naming him to the inaugural post.
The professorship will support research and personnel, finance specialized post-residency training, and establish a lectureship to foster ongoing exchanges among prominent physicians, researchers, and the future leaders of the discipline.
"I wanted to recognize Dr. Jabbour for not only being a great surgeon and a great clinical researcher who is advancing science, but also for how he takes care of his patients—his outstanding bedside manner and empathy," Clark says.
He adds that the couple feels blessed to be able to show their gratitude by supporting the fields of science and medicine—something they say is crucial for the health and wellbeing of the next generation.
"Philanthropy furthers research, education, and the sharing of clinical data across the world that will save lives," says Clark. "It's a wonderful legacy for Angie and me!"