Rolling Along to Save Lives
Mobile Unit Brings Cancer Screenings to Underserved Areas
If people can't come to the cancer screening, Jefferson Health will bring the cancer screening to the people. The Sidney Kimmel Cancer Center and Dietz & Watson Mobile Cancer Screening Van is a lifesaver on wheels, traveling the region to bring important medical tests to underserved areas.
The 45-foot long vehicle is a generous gift from Dietz & Watson, and was designed specifically for Jefferson Health. It houses private changing rooms, an exam area, and a 3-D screening mammography unit. The van offers screening for cancers of the breast, prostate, head and neck, as well as melanomas
"This is just so convenient," says Stephanie Bush, a resident of the Somerton neighborhood in Northeast Philadelphia, as she steps into the van. The 59-year-old grandmother of nine knows the importance of regular screening—she is a 30-year breast cancer survivor. She is thrilled that she was able to get her annual mammogram just a few blocks from her house.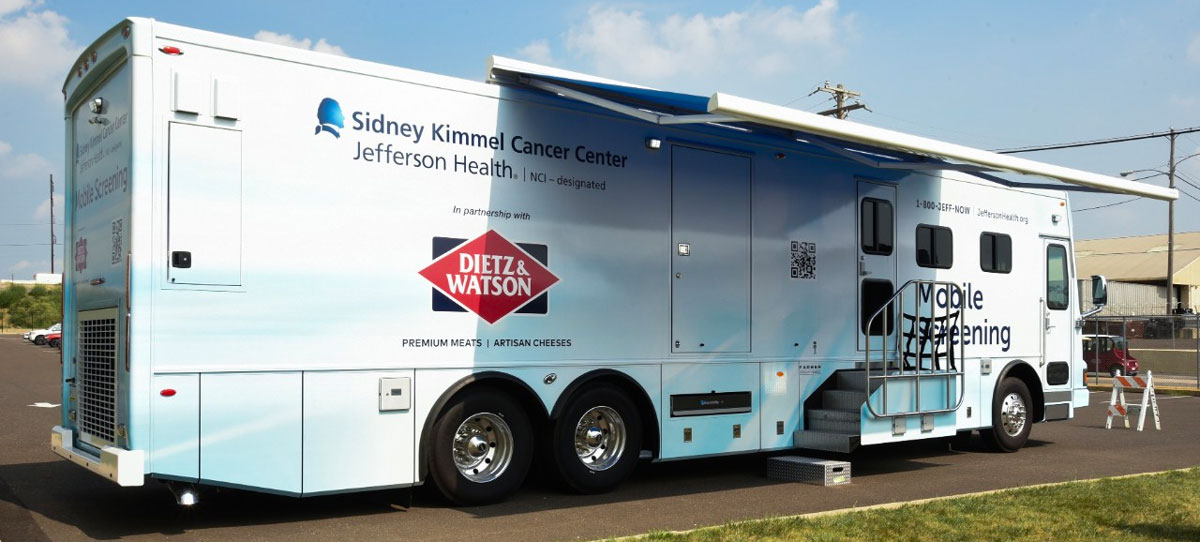 The mobile unit, which hit the road in August 2021, is designed to serve vulnerable populations in the Greater Philadelphia and South Jersey area—areas where the people might not be able to find transportation to hospitals or clinics for regular testing, or be able to afford medical screenings.
The program works with community and business partners to make testing convenient and to remove barriers to getting the tests. About 25 percent of households in Philadelphia lack transportation for health care appointments. By bringing the cancer screening to their neighborhoods, Jefferson Health hopes to increase rates of early detection when prognoses are good.
In addition, there is no charge for the services.
"There's never a copay, never a bill. We rely on donor funds and grants to cover everything," says Christina Yurick, program coordinator for the mobile unit, who notes that about 30 percent of the van's patients have no insurance. "It's not just the cost of the screening, but if a person with no insurance needs follow up care we've vowed to cover that, too.
Having received feedback from several women screened who stated that they would never have had the time or support to get the screening done is a game-changer and an effort that could not make me prouder of our SKCC team.
Cancer is second leading cause of death in region, and racial and ethnic minorities are at particular risk. In fact African American men have a 111 percent higher risk of dying from prostate cancer; African American women have a 39 percent higher risk of dying from breast cancer; and African American and Hispanic women are 30 percent more likely to be diagnosed with advanced breast cancer.
Although the van was paid for by the $1.4 million gift from Dietz & Watson, Yurick says keeping it on the road and operating takes ongoing funding. "Gas, equipment, staff, supplies, tests that are not covered by insurance… it all adds up, and donor funds are greatly appreciated."
For Stephanie Bush, the visit to the van was the highlight of her day. She got her mammogram and was on the road a short time later to have lunch with her son.
"I'll be back next year," she says cheerfully.
Contact
Senior Director of Development, Sidney Kimmel Cancer Center, Office of Institutional Advancement