Second Opinions for Docs, Second Chances for Patients: Stanley Ginsburg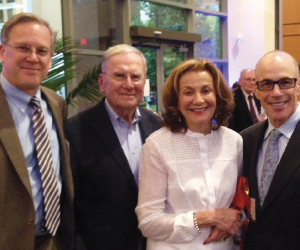 Stanley Ginsburg will never forget the day his father, just 43, died of a sudden heart attack. The loss was a shock to Ginsburg's entire family, but also taught him a powerful lesson: take care of your heart.
"My father's death made me very careful," Ginsburg said. "I never smoked. I exercise, I walk a few miles a day, and I eat sensibly. I know that I could die like him, with a 30-second heart attack."
In the ensuing years, Ginsburg attended college, served in the U.S. Army, enrolled in law school and eventually became president of the business his father once owned. For the longest time, Ginsburg led a successful life with very few health issues.
It came as a surprise when, at 75, he went for an annual checkup and learned he had a blockage in his heart. His physician, Bernie Segal, MD, referred him to angioplasty specialist Michael P. Savage, MD, who offered several options. With the widow maker artery in his heart roughly 85% clogged, Ginsburg was a candidate for open heart surgery. A less invasive option was to have a stent placed in his heart. Dr. Savage advised Ginsburg to get a second opinion.
After seeing another cardiologist, Ginsburg was told he didn't need surgery, despite his heart functioning with less than optimal blood flow. Dr. Savage disagreed with the second opinion.
"I got a call from Dr. Savage, and he very aggressively said, 'Stan, you're an active person for your age. You cannot walk around with inadequate blood flow. I'm going to put a stent in and you'll be a lot safer,'" Ginsburg recalled.
Dr. Savage implanted one stent in the vital LAD artery of Ginsburg's heart in 2007. A year later,
he installed another stent in a smaller artery that was also severely clogged. Both procedures were successful. Nearly 10 years later, Ginsburg lives a full and active life—for which he thanks Dr. Savage.
Between a variety of business and philanthropic activities and trips with his wife, children, and grandchildren, Ginsburg's calendar stays pretty full.
After receiving such compassionate care, Ginsburg felt compelled to give back. He wanted to ensure that others had access to the same life-saving care that he received so he made a generous gift supporting the ongoing research of the Jefferson Angioplasty Center. As for his largess, he explains, "It supports people like Dr. Savage and the other doctors in the hospital who care about people...it supports creativity, and it supports the research that can make things better, faster."