Jefferson Has a Permanent Place in the Hearts and Minds of Patient and Partner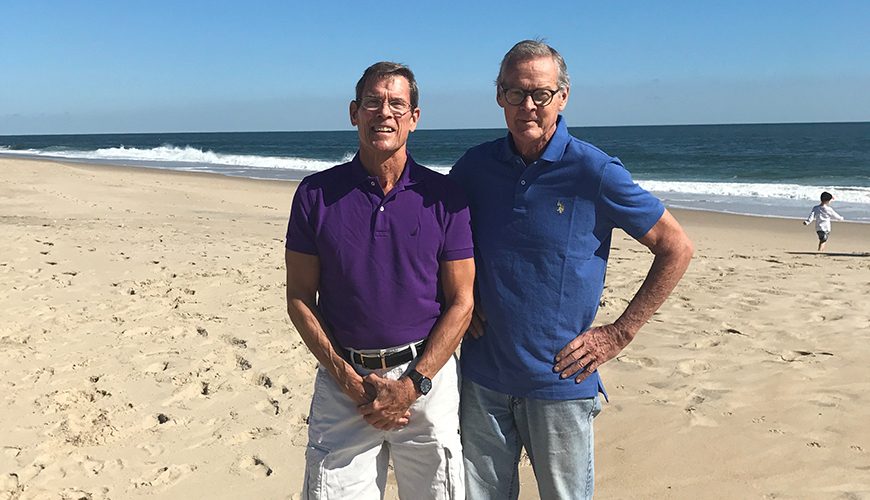 The word "family" has a new meaning for H. Craig Kellerman and Thomas Hill. It is no longer limited to relatives—it now includes the doctors, nurses, and staff of Thomas Jefferson University Hospital.
"During what was the toughest time in Tom's and my life, the Jefferson Hospital for Neurology was there for us with its science and outstanding medical knowledge—and its heart and soul," says Craig.
On June 28, 2017, Tom started complaining of back pain after doing some yard work at their Washington, D.C., home. At first, Craig attributed it to Tom overdoing it. But when the back pain worsened the next day, and was followed by the "worst headache" of his life, Craig rushed his partner to a local hospital. There, Tom was diagnosed with an aggressive case of listeria meningitis, a bacterial infection that causes inflammation of the brain or brain stem. The morning after he was admitted to the hospital, he became unresponsive and was immediately medevacked to Jefferson.
As Craig was driving to Philadelphia, Anthony Stefanelli, MD, of the Department of Neurological Surgery, called him. Stefanelli calmly and carefully explained that without immediate surgery Tom likely would not survive. The operation was successful, but the prognosis was unclear.
"When they moved Tom to ICU, Dr. Matthew Vibbert took the time to explain with great compassion how the meningitis and surgery would affect Tom, and what the range of possible outcomes would be, including death or permanent brain damage," remembers Craig. "Dr. Vibbert stayed with Tom even after his ICU rotation was completed; he was more than just Tom's physician, he was my friend and ally during this ordeal, as were the hero nurses that took care of both of us."
Tom spent more than three weeks in the ICU. When it was time for him to be released, a Jefferson case manager secured a bed at a rehab facility specializing in brain injury close to home in D.C. so that Craig and his friends could visit and boost Tom's morale.
Four weeks into his physical therapy, Tom was walking, talking, and making great progress toward recovery. And he attributes it all to "Jefferson and its kind, compassionate staff."
"The hospital became our family in every sense of the word," says Craig. "Jefferson heads a world-class neurological hospital—one that has a permanent place in my heart and mind."