Going the Distance for Cancer Care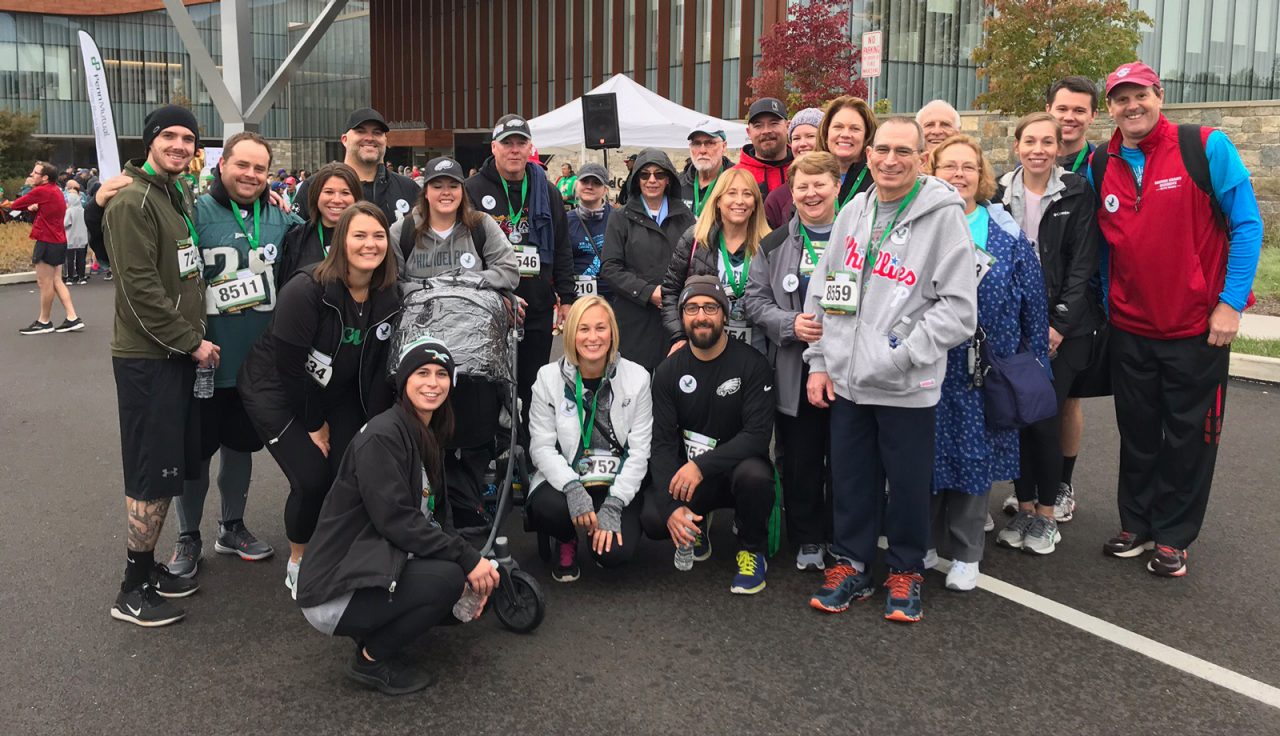 Survivor Will Walk to Reimagine Cancer Care at Asplundh Cancer Pavilion
On October 20, 2019, Tom Cicala laced up his sneakers and walked a half mile. The 60-year-old North Wales, Pennsylvania, resident wasn't attempting to set any records for speed or distance. He was just trying to show his appreciation for the people who were there to support him on the journey he started just a few months earlier—a journey that would take him through a cancer diagnosis, radiation treatments, chemotherapy, two stem cell transplants, and finally, remission and recovery.
His short walk during The Race to Reimagine Cancer Care at the Asplundh Cancer Pavilion was largely symbolic; after all, he was only six months into his treatment regimen for multiple myeloma, which left him weak and tired. But every step he took—and every dollar he and "Team Tom" helped to raise for the cancer center—was confirmation of the heartfelt gratitude he felt for those who were championing his fight for life.
When Cicala was diagnosed with cancer in April of 2019, his daughter, Christa Segal, said there was no question where he would seek treatment.
"It had to be here," Segal says. "Here" is the Asplundh Cancer Pavilion, which she describes as a beautiful, calming, and relaxing place to heal—a place where everyone knows you by name and anticipates your every need.
"They have all been nothing but spectacular," Cicala says of his Asplundh clinical and ancillary care team. "I can`t say enough about what a pleasure it is to be surrounded by such a wonderful and knowledgeable staff. Their care and concern are second to none."
Segal remembers the day the family was told that her father had cancer as the "absolute worst day," but also the "start of some really special relationships."
Those relationships include everyone from the valet who parked their car and the volunteers who brought Cicala lunch on infusion says, to the outstanding nursing staff and the oncologist who oversaw the clinical care, Christian Fidler, MD. She describes their nurse navigator Jesse Scholl as "our rock… who lifted extra burdens from the family's shoulders by taking care of everything—from insurance and appointment scheduling to problem-solving and communicating with the doctors."
In January 2020, Cicala entered the transplant center at Jefferson in Center City for a bone marrow transplant. However, the first procedure didn't achieve the results the doctors had hoped for, so he underwent a second a little more than a month later. That one was a success.
Today, Cicala is in remission, feeling great, working out, and getting ready for the 2020 Race to Reimagine Cancer Care. "This year will be different" proclaims Cicala, adding that a great attitude is "that is the biggest part of the journey."
So, on Sunday, October 25, 2020, he will again lace up his sneakers, take his positive attitude, and join "Team Tom" for the race—and this time he aims to go the distance, to finish the journey he started a year ago.