Working Together to Save Lives
Jefferson and Seed the Dream Team Up to Vaccinate Holocaust Survivors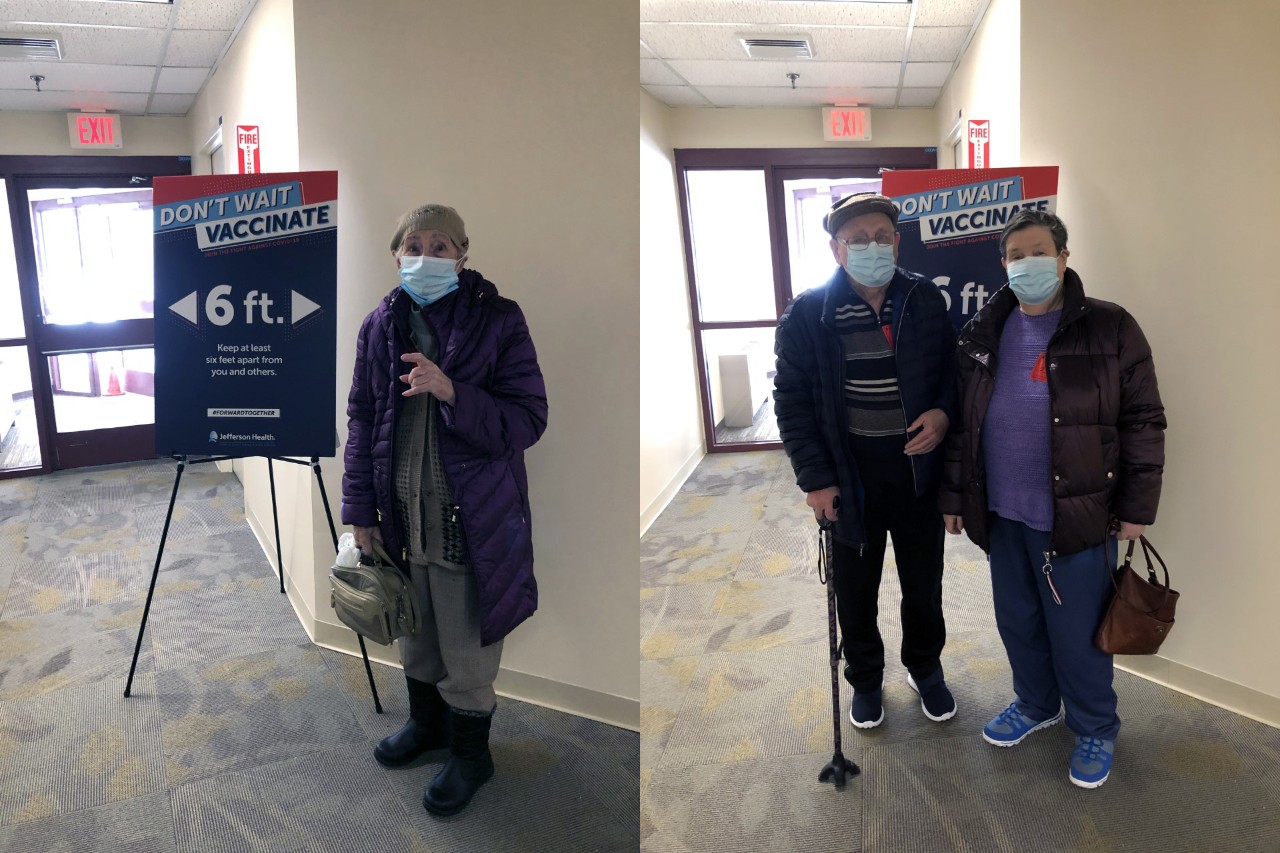 They experienced untold horrors in their youth. Some survived Nazi concentration camps; others endured years in hiding or on the run. Those who emerged from the physical and psychological trauma of the Holocaust sought to build new lives in new places, many settling in the Greater Philadelphia region.
Now elderly and often unable to leave the house without assistance, these local survivors have been deeply impacted by the COVID-19 pandemic. Isolated and without access to transportation, they couldn't get the life-saving vaccine when it became available.

In late January, Jefferson teamed up with Seed the Dream, a Philadelphia-based foundation that supports services for Holocaust survivors across the country, to ensure that these most vulnerable members of the community received the vaccine.
"Holocaust survivors have suffered the unimaginable, and the layers of additional trauma they faced being isolated, and without access to services they needed, made the access to vaccines even more urgent," explains Dr. Marcy Gringlas, President of Seed the Dream Foundation.
Founded in 2011 by Gringlas and Joel Greenberg, Seed the Dream Foundation is a private grant-making organization committed to fostering meaningful educational opportunities for people of all ages, as well as addressing the needs of Holocaust survivors.
"Joel and Marcy reached out to the Jefferson leadership to explore what would be possible; and the Jefferson response was swift and resolute," says Talia Kaplan, executive director of Seed the Dream Foundation. "They were committed to helping most vulnerable populations in the area, to work with us to get the vaccine to Holocaust Survivors, all of whom are between the ages of 75 and over-100."
Jefferson and Seed the Dream Foundation, along with Jewish Family and Children's Service of Greater Philadelphia, Jewish Federation of Greater Philadelphia, Jewish Relief Agency, and KAVOD SHEF, another national agency that aids survivors, worked tirelessly to make these efforts possible. Jewish Family and Children's Service of Greater Philadelphia took the lead in conducting outreach and registration for vaccine appointments, and coordinated transportation to the clinics. 
"The Jefferson operations team stepped up and made this happen with compassion, ultimately delivering on our mission to improve lives," says Stephanie Conners, chief operating officer for Jefferson Health.
There are an estimated 860 Holocaust survivors living in the Philadelphia area. Within a month of launching the program, all of those who still required a vaccine—about 240—had gotten their shot.
"Under the direction of Dr. Edmund Pribitkin (executive vice president, Jefferson Health, and president, Jefferson Medical Group) and Stephanie Conners, and with the help of a huge multidisciplinary team, we positioned ourselves as quickly as possible to get as many eligible people vaccines as quickly as possible," says Catherine L. Cristofalo, senior vice president of strategic operations at Jefferson Health. All of the vaccination sites were run by Jefferson employees, many of whom were volunteers.
Kaplan called the program an "incredible success," crediting Conners and Elizabeth A. Dale, EdD, MPA, executive vice president and chief advancement officer at Jefferson, for their leadership and outstanding efforts. "Their kindness, professionalism, and understanding made this gallant effort possible in a most challenging time."