Pharmacy Services at Honickman Center Are State-of-the-Art
The Facilities Are Designed With Patients and Staff in Mind
For Brian Swift, PharmD, MBA, the pharmacy services at the Honickman Center are a win-win situation.
"It's going to be a wonderful experience for the patients—the design of the building is very customer-friendly," says Swift, Chief Pharmacy Officer for Jefferson Health, and Associate Dean of Professional Affairs at Jefferson College of Pharmacy. "It also benefits the staff; this brand new, state-of-the-art technology space will provide the most efficient flow for doctors, nurses, pharmacists, and other healthcare providers."
The Honickman Center will house two pharmacies: a retail pharmacy operation on the mezzanine level and a distribution pharmacy on the 12th floor that will support the operating rooms, infusion areas, and clinics.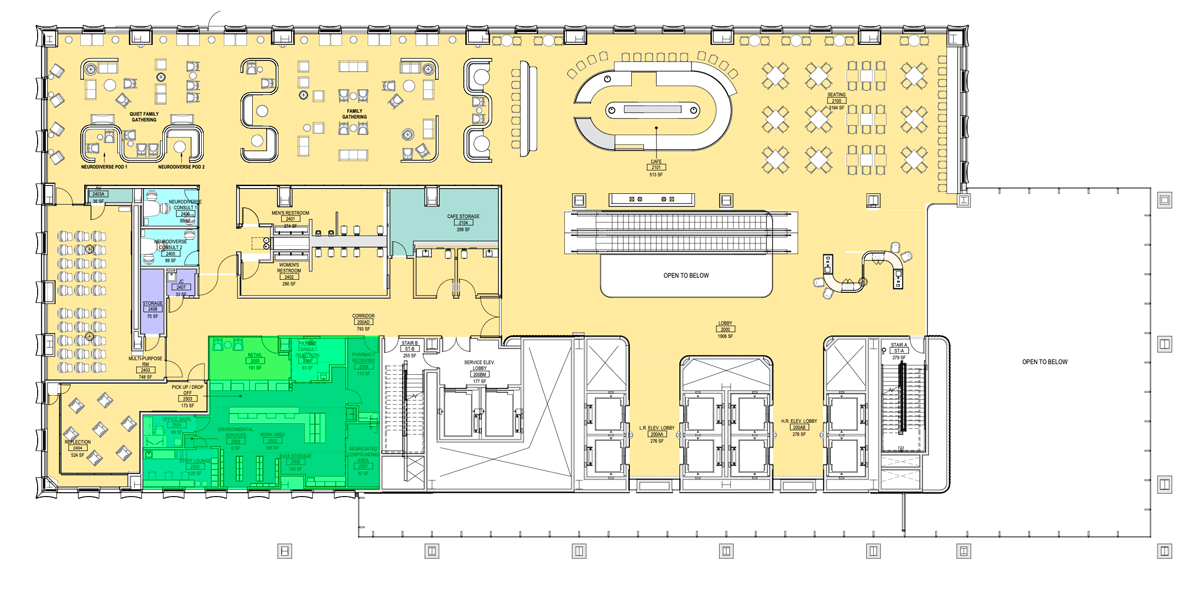 Retail pharmacy on mezzanine level shown in green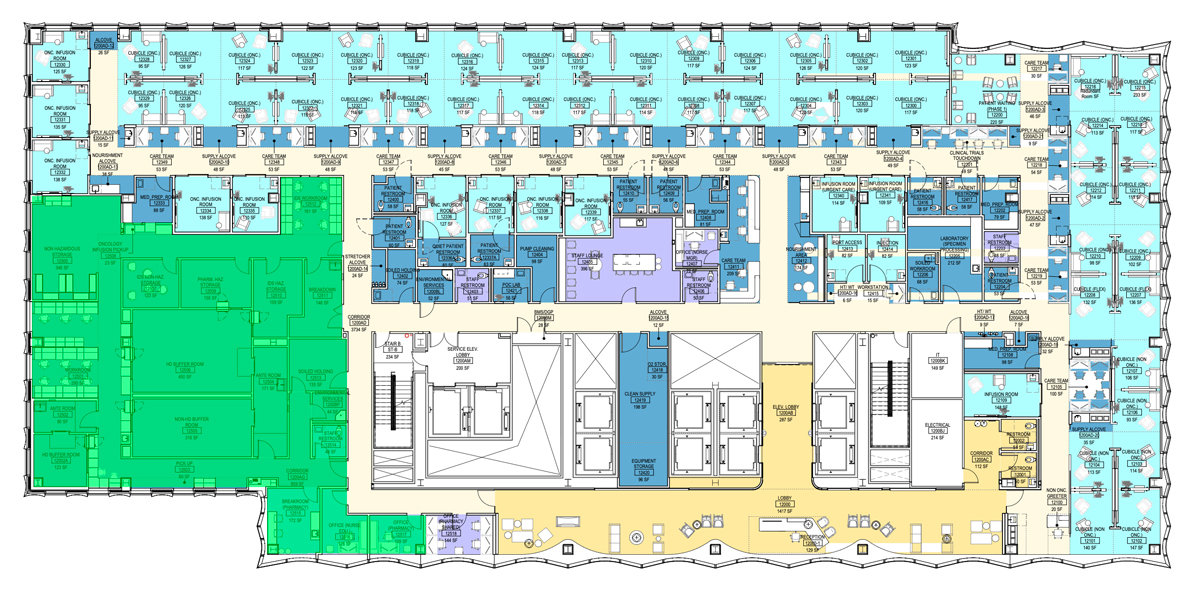 Distribution pharmacy on level 12 shown in green
Aside from the two new pharmacies, Swift notes other exceptional features in the building:

"Meds to Beds": Patients coming in for surgical procedures or other clinical services will have their medication in their hands before leaving the building.
Vaccinations: There will be a dedicated area for administering vaccinations and dissemination of information about vaccines.
Sterile compounding facilities: These facilities, designed to prepare medications are compliant with the latest requirements as mandated by US Pharmacopeia (USP), which oversees quality in the manufacturing and distribution of medications.
Investigational Drug Service (IDS): This service provides the medications and pharmacy support for the clinical trials occurring across Jefferson campuses, and allows primary investigators to track how drugs are received, distributed, stored, and monitored. "It keeps the science pure," Swift says.
Robotics: The Honickman Pharmacy has a robot that facilitates the preparation of chemotherapy drugs. The robot, says Swift, does not replace humans, but helps to ensure their safety by minimizing employees' exposure to chemotherapy agents and reducing the repetitive motion of compounding the drugs that may lead to hand and wrist injuries.  "And it frees up staff to do many of the other tasks that need to be done."
Patient Education: There are areas where pharmacists can answer questions and provide information and counseling.
Swift notes that the Honickman Center design will also benefit the College of Pharmacy students who rotate through the department as part of their education.

"We're a mentoring site for our students, and we are looking to expand the student experience by getting them more involved with medication reconciliation and patient education, among other things," he says.

Swift says that he is grateful for the benefactors who have supported the Honickman Center and made this cutting-edge facility possible.

"We're very fortunate that we've had such generosity from our community to help us build the right facility."