Designing the Future of Home Fashion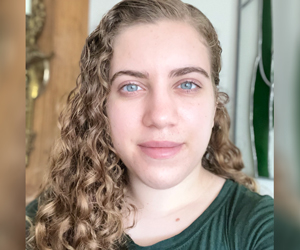 Chana Aidman, Fashion Merchandising & Management Category
Six standout undergraduate students from Thomas Jefferson University with promising futures in home fashion have gained an early advantage in their careers.
In collaboration with Jefferson, the Home Fashions Products Association (HFPA) recently announced their scholarship program winners. This joint initiative aims to support and inspire young creatives representing the industry's future.
Following a rigorous selection process that included an interview process where students displayed their work and discussed their status in the program, the winners were divided equally into three categories, recognizing excellence in Textile Design, Fashion Design, and Fashion Merchandising & Management.
Angelo DiProspero, Fashion Merchandising & Management Category
Skylar Strouss and Misty Limeburner were awarded in the Textile Design category; Chana Aidman and Angelo DiProspero were chosen in the Fashion Merchandising & Management category; and Diana Cornejo and Miriam Badri were selected in the Fashion Design category.
Scott Goldstein, CEO of S. Lichtenberg & Co., Inc., and senior account executive, Jim Geise, had the honor of presenting the well-deserved scholarships to the students on April 11.
"We were impressed by the quality of work and professionalism displayed by all six scholarship recipients," Scott Goldstein told Home Textiles Today. "We believe that supporting the education of the next generation of industry professionals is essential to the continued growth and success of our industry."
Diana Cornejo, Fashion Design Category
The HFPA and Thomas Jefferson University partnership exemplify the power of collaboration between industry leaders and educational institutions. It highlights the importance of bridging the gap between academia and the professional world, equipping students with the necessary tools, knowledge, and networks to excel in their chosen careers, ensuring a vibrant and successful future for the home fashion industry.
And the winners seem to agree.

The award has given recipient Angelo DiProspero the ability to prioritize his schoolwork and further his creative endeavors. "I plan on using my scholarship to help fund future projects!" says DiProspero.
Chana Aidman says she is grateful for the scholarship and the opportunities it has granted her. "[It gave me] significant financial assistance," says Aidman, "and allowed me to meet two experienced and knowledgeable members of the home furnishing industry."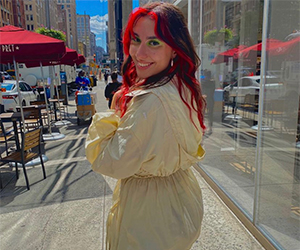 Miriam Badri, Fashion Design Category
Miriam Badri, a rising senior in the fashion design program at Jefferson, explains that the scholarship will benefit her academic studies.
"It will allow me to explore supplies and materials to empower my creative freedom for my senior collection," Badri says.

"Because of [this generous scholarship], I was able to cover my rent for my last month this school year, not have to stress about work, and focus entirely on my final projects for the semester," says Diana Cornejo. "Their dedication and focus on extending their support into the Fashion Industry is a great way for up-and-coming young artists to see just how diverse the industry really is."