Jefferson Honors Kelly Zabriskie, MLS, BS, CIC with Inaugural Healthcare Hero Award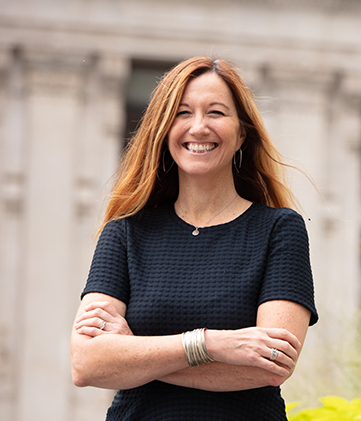 Kelly Zabriskie, MLS, BS, CIC
Enterprise Vice President of Infection Control, Kelly Zabriskie, MLS, BS, CIC, will be honored at the (virtual) 2020 Jefferson Gala on December 3, 2020, with the inaugural Faegre Drinker Healthcare Hero Award.
Kelly began working around the clock on COVID-19 back in January. There's no doubt: Her tireless work, clear thinking, and leadership saved lives.
Kelly's unique expertise buoyed Jefferson Health and Thomas Jefferson University beyond our emergency response. She participated in a $34 million grant that allowed us to provide safety services to over 300 nursing homes in our region. She provided key insights for businesses around the globe through our partnership with Aramark to develop EverSafeOS. Perhaps most importantly, Kelly helped keep us safe as verified by Thomas Jefferson University Hospital's rise to No. 21 in the Vizient national rankings and improvements in our Leapfrog safety grade.
For nearly two decades, the annual Jefferson Gala has celebrated Jeffersonians who have inspired the Jefferson family and the community we serve. We are proud to honor Kelly Zabriskie, a leader who exemplifies Jefferson's values of putting people first, being bold and thinking differently, and doing the right thing with the Faegre Drinker Healthcare Hero Award.
In a year like no other, her leadership has brought courage, clarity, and calm to these unprecedented times.