The Friends of Einstein Montgomery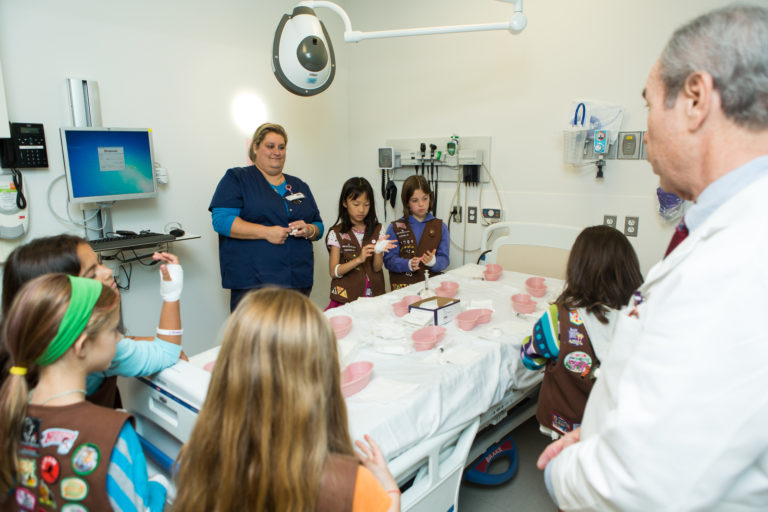 Annual Girl Scout Event
Every fall, Girl Scout troops from across Montgomery county are hosted by The Friends of Einstein Medical Center Montgomery for a day of programs and activities designed to help them earn their first aid badge.
With the support of physicians, nurses, and staff from Einstein Montgomery's Department of Emergency Medicine the young ladies make first aid kits, learn about what to expect when visiting the emergency department, how to treat minor wounds, and respond to a medical emergency.
Annual Walk & 5k Run Through the Park
Bringing Jefferson Einstein Montgomery and the community together, every spring more than 500 walkers and runners lace up to help support projects at Einstein Montgomery.
In 2022, dedicated runners and walkers like you helped us to raise over $64,000 to support transportation needs for cancer center patients and their families in order to help ease worries and facilitate access to treatment.
The Friends of Einstein Montgomery seek to make a positive difference in the lives of others. Funds raised through the annual Basket Raffle support projects that benefit our patients and employees. In 2022, The 10th Annual Basket Raffle raised more than $13,000! These funds raised by the Basket Raffle supported "See Me for Who I Am:  The Real Healthcare Worker," a rotating photography display that highlighted the dedicated caregivers at Einstein Medical Center Montgomery by showcasing their multifaceted passions within the hospital and beyond.